Michael C. and his wife Lyndsay C. each tell their perspective on Michael's journey with hearing loss, Mondini malformation and getting a cochlear implant. Read to see how his cochlear implant affected his and his wife's life:
Michael's Perspective: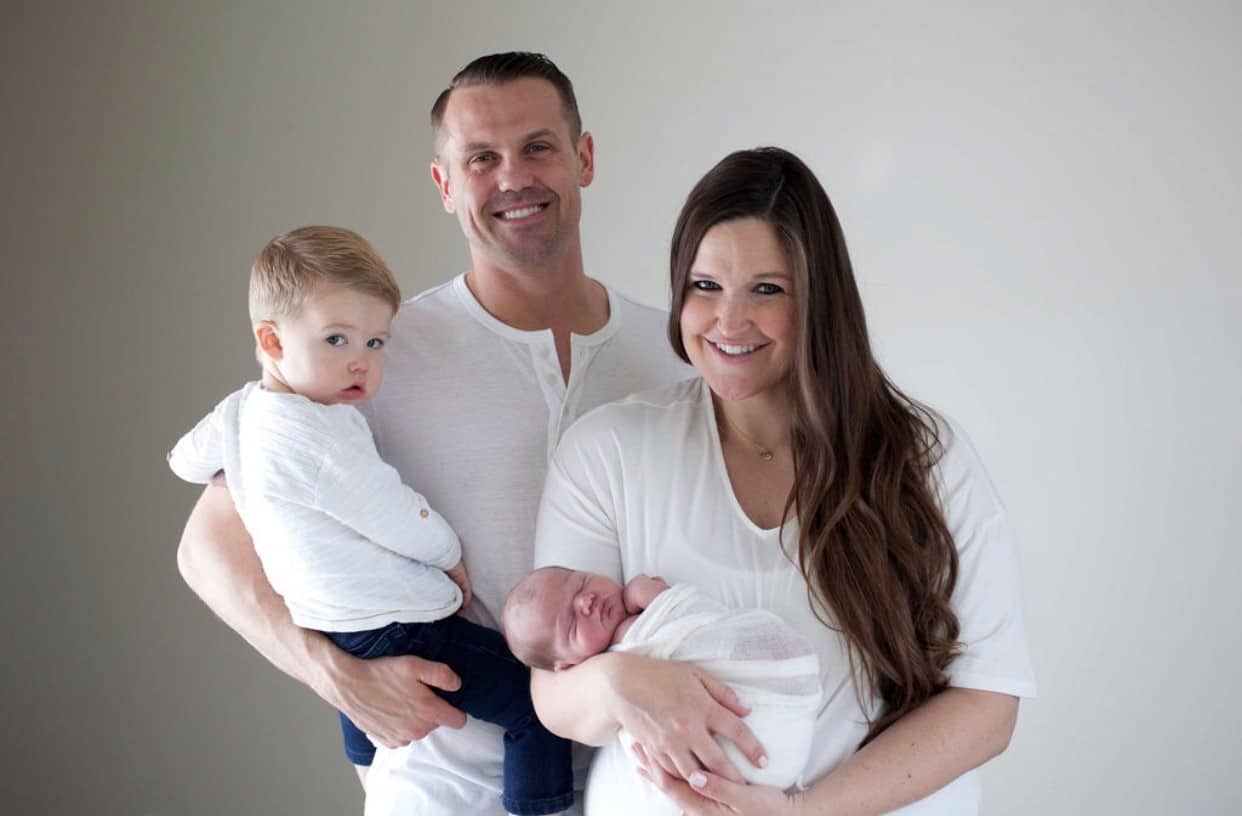 "Last year I went through one of my toughest seasons in my life as I woke up one Saturday morning not being able to hear from my right ear. Every Saturday, my little boy and I eat some donuts or a waffle (don't tell mom) and watch some cartoons. This Saturday was different in that I turned on the TV but could not hear a thing. What made things worse and elevated my anxiety was that I could not hear my little boy or my wife. In that moment, I was scared, hopeless and was scrambling for answers. Questions kept running through my mind like, 'Will I ever hear my kids again, will l I ever hear my wife again, will I be able to keep my job?' I was now really struggling with my hearing. These questions left me with an uneasy and heavy heart.
Mondini malformation diagnosis
I immediately setup an appointment with my doctor and after a couple of weeks, it was revealed that I had 0 percent hearing in my right ear and was diagnosed with Mondini malformation in both of my ears. Mondini malformation basically means my cochleas are not fully formed and makes me extremely prone to traumatic hearing loss. Most people that have Mondini malformation lose their hearing before the age of 10-15. I can tell you I was fortunate and blessed to understand 'sound' and talk normally in my 33 years before losing my hearing, but I did not want to miss out. My doctors then both highly recommend that I get a cochlear implant since I was an ideal candidate, especially since I already understood 'sound.'
Both doctors reviewed many devices with me and in the end, both of them guided me towards the Cochlear™ Nucleus® 7 Sound Processors, which I believe is the best device out there! I did my own research and the device was highly regarded, had great reviews and made it seamless for the user in 'hearing' everyday sounds again. For me though, I just wanted to hear my family, friends and still perform at a high level at work. After doing my own review of the Nucleus 7 Sound Processor, coupled with both doctor's recommendations and support from my family, I chose it with strong confidence.
Life changed for the better
Since my surgery and activation day, life has completely changed for the better! I can HEAR! I feel like I can actually hear better now than before my hearing loss. I remember on activation day, driving home I kept hearing a small sound and could not figure it out. I asked my wife what it was, and she said it was the AC. I have never heard the AC until then. AMAZING!
I love using the Bluetooth®1 feature where I can play music and also take a phone call if need be. I also love the ability to change settings between group, single-person or café; it is very dynamic. The extra features like the Aqua+2 waterproof case, that I wear a lot if I am going swimming, or going to be near a pool or ocean, totally sounds the same too. I even wear my Nucleus 7 Sound Processor during workouts, CrossFit and any Olympic lifting sessions- I do not want to miss out on life!
Ready to help others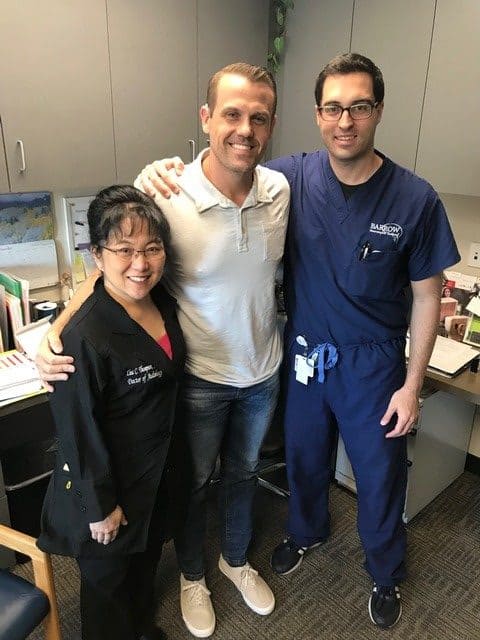 What has been tugging on my heart as of lately is learning ASL and helping others 'hear' again with their cochlear implants. I would love to support, help and guide others who are nervous or are struggling hearing. I feel like I am here for something bigger and have been extremely blessed to be given another shot at life!
It is honestly the little things that choke me up about hearing again. I now can hear my little boy saying, 'Daddy, I love you,' or my wife saying, 'I miss you.' It is the little things that I now step back and do not take for granted." – Michael C.
Lyndsay's Perspective:
"I will never forget that morning. It seems like yesterday. I was walking down our stairs that Saturday morning and like normal, I said, 'Good morning' to my husband and my 1 year old eating breakfast. I never realize right away if my husband is wearing his hearing aids in the morning, so when he ignored me, I thought nothing of it. It was not until I walked into the kitchen and we brushed shoulders that he jumped and said, 'You scared me, I didn't see you or hear you.' It was a few minutes later, Michael told me his ear was ringing and he could hear nothing.
Michael's Mondini malformation diagnosis
I was nearly eight weeks pregnant with our second child and over the next several weeks of medication, doctor appointments, an MRI and a miracle doctor, it was discovered that Michael was born with Mondini malformation in both of his ears. This was the first time Michael had been told his cochleas, in both his ears, are only about 40 percent formed, meaning he has congenital hearing loss.
Our perspective immediately shifted, and we were now so grateful for the 33 years of partial hearing he had, realizing he could have lost all of his hearing at a much younger age. Our doctor mentioned that the good news was that a cochlear implant was a solution. Although, he could not promise success with the cochlear implant, we knew we had to go for it and see if it would work.
Cochlear implant surgery for Michael
Fast forward four months and Michael underwent cochlear implant surgery. After four weeks of recovery, his device was activated and he could hear again!  We were so grateful to learn that Cochlear offered a progressive hearing device that featured cutting edge technology and would give Michael the best results possible. He has not only been able to regain his hearing but is thriving with the many features and options the Nucleus 7 Sound Processor includes.
Our life now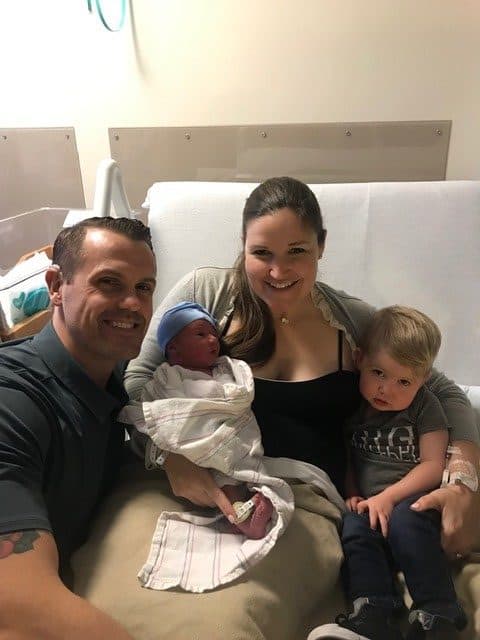 Whether we are out to dinner, at the park with our two boys, or traveling, the many settings on Michael's device can be adjusted for each of those environments, allowing him not to skip a beat. This has been a game changer for our family with Michael being able to hear again. Michael will soon undergo his second cochlear implant surgery for his other ear and we are so grateful for this journey.
We look forward to the future of his new hearing capabilities and the opportunities that he will be able to participate in and those he will not miss out on. I am thrilled my kids will be able to communicate with their Daddy and those moments of silence will be far and few. Our faith, friends and family have kept us afloat with their unconditional support throughout this journey and we could not have stayed optimistic and positive if it were not for them. We are also thankful for technology and Cochlear for being a part of our journey!" – Lyndsay C.
Were you or a loved one diagnosed with Mondini malformation? Learn more about cochlear implants as a potential solution for you or your loved one.
The Bluetooth® word mark and logos are registered trademarks owned by Bluetooth SIG, Inc. and any use of such marks by Cochlear is under license.
The Nucleus 7 Sound Processor with Aqua+ is water resistant to level IP68 of the International Standard IEC60529. This water protection rating means that the sound processor with the Aqua+ can be continuously submerged under water to a depth of 3 m (9 ft and 9 in) for up to 2 hours. This water protection only applies when you use a Cochlear Standard Rechargeable Battery Module or Cochlear Compact Rechargeable Battery Module.