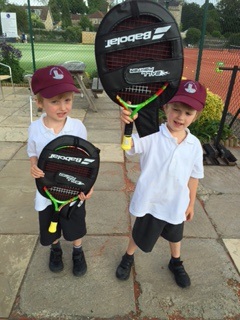 As twins, Zack and Dylan A. do almost everything together. They play together, participate in the same sports, and go to the same school. The pair even received their bilateral cochlear implants together. "We are the same, so I love it," says Dylan.
Zack and Dylan were both born with profound sensorineural hearing loss. Although they tried hearing aids for a period of time, they did not provide Zack or Dylan with functional hearing. After meeting other parents of kids with Cochlear implants who were thriving, Zack and Dylan's parents decided to pursue getting Cochlear implants for their sons.
For their mom, Deborah, "It was really tough at the beginning, so we needed to work hard. We also have a daughter, so we had three little kids at the time. It was difficult when we discovered their hearing loss and very tough with the surgery, activation and auditory-verbal therapy. But when you start seeing improvements, you feel better. It helped to see one reach a goal because I would know to push the other one to reach the same goal. They are both fighters so they both eventually reached all the goals, and after the first two years it started to be easier and to be fun."
Today, Zack and Dylan are active and talkative four year olds who love to play sports. They especially love tennis.
Deborah sees tennis as a valuable sport for her boys, as "it's much quieter than other sports, and I wanted them to understand the instructions and to learn to focus and follow directions. I think it gives them more confidence and independence."
Dylan particularly enjoys tennis because "I'm alone with Zack and the coach, and I can hear better. I love when we put the racket in front of our face and we hit the ball. We win if we hit it."
Both Zack and Dylan utilize the CochlearTM True WirelessTM Mini-Microphone in order to hear their coach, Dan.
A Cochlear coach
What makes tennis even more special for Zack and Dylan, aside from the fact that they get to spend time together and be active, is that their tennis coach also has a cochlear implant.
Until a few months ago, Zack and Dylan simply accompanied their mom and older sister to the tennis club. Then, one day, Dan approached Deborah to ask if he could coach the boys. Deborah believes Dan felt "he had to teach them."
About his coach, Zack says, "We love Dan. He's just like us. He is a champion." Dylan adds, "He is as normal as we are." Deborah loves the fact that her sons have a coach who also has a cochlear implant. "I chose him because it would give my twins the idea you can do everything with a cochlear implant because Dan has a normal life."
Some advice from future champions
When they grow up, Zack hopes to be an astronaut, and Dylan plans on being a fireman. Both also hope to be champion tennis players.
Zack encourages other kids with cochlear implants to, "Do sports. It's good for your health and your bones." Dylan recommends to, "Win but also have fun. Focus because if you do not listen to the instructions you cannot win." Both also suggest using the Mini-Microphone.
Why Cochlear?
Deborah is grateful for all her sons' cochlear implants allow them to do, including play tennis and connect with their awesome coach. "The benefits are amazing. Since the day of the activation, Zack and Dylan started improving day-by-day. They speak normally and already read and write. They are also bilingual in English and Italian."
For Deborah and her family, Cochlear was the perfect choice. "We travel a lot and have moved to three different countries. We decided on Cochlear because it is everywhere. We are very happy. In both the United States and the United Kingdom, we have all the help we need."
To find more hearing loss resources and learn more about cochlear implants for your child, visit IWantYouToHear.com.