Danielle G. tells the story of her daughter, Kylie, and her journey with unexplained severe to profound hearing loss. After getting a cochlear implant, Kylie has continued to embrace every hurdle and overcome anything that stands in her way. Now a softball player with a cochlear implant, Kylie is striving for her future goal of playing college softball.
"Let me tell you about Kylie's story. Up until two years ago Kylie was a normal 10-year-old girl. All of that changed one evening while she was doing what she loved most, playing softball. Kylie was at practice one evening and went for a fly ball and fell hard. She got back up shook it off and went back at it. The remainder of the practice went as usual, until the next morning.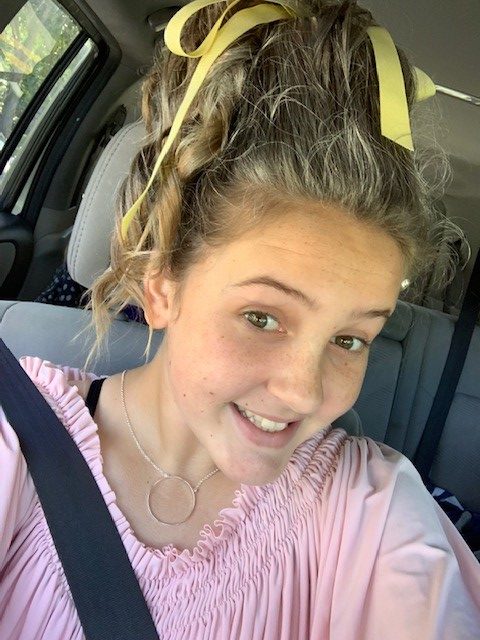 I will never forget the morning of August 24, 2017. As soon as Kylie woke up, she complained about not being able to hear. I really did not think anything of it for the fact that we had been dealing with ear infections and diagnoses of swimmer's ear over the years, so I chalked it up to her being over tired from the previous night and perhaps beginning another ear infection.
After a day or so of her not being able to hear, I decided a trip to the doctor was necessary. After three different doctors' visits, we were sent to the ear, nose and throat doctor (ENT). Our ENT did not give us the answers we were looking for. Why couldn't Ky hear?
Tests and more tests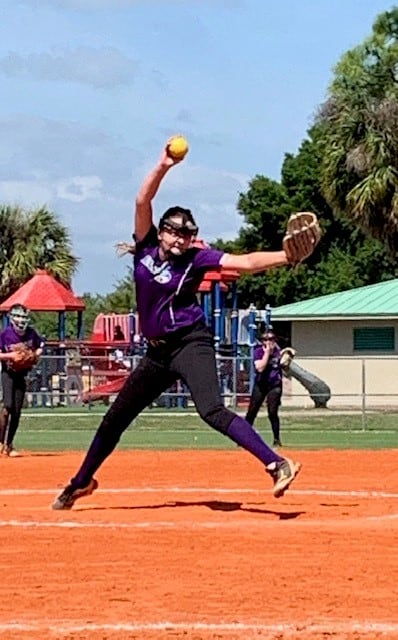 After multiple tests were performed and after learning that she failed the audiograms, the doctor still could not explain why or how Kylie could no longer hear. After steroids and more rounds of antibiotics, nothing worked. After reviewing her results, the ENT scheduled her for an auditory brainstem response (ABR). At that time and according to the doctor, she passed. We were told to follow up with the ENT again and after further testing and multiple audiograms, the end result was still Kylie's loss of hearing without any answers. After multiple doctors' visits, she was finally referred to our local university for further testing.
Upon our arrival at the local university, we met with the doctor who again set her up with audiograms and another full 2-hour ABR test. In this ABR test, it showed that Kylie had severe to profound hearing loss in her left ear and had profound hearing loss in her right ear. Kylie was deaf and we still had no reasons or answers as to how and/or why.
After learning about her diagnosis, we went to doctors' appointments after doctors' appointments. She was fitted for 'temporary' hearing aids, which they did not think would work, but we had to try to put her on the track for cochlear implants. They also wanted to keep what was left of her left ear's nerve 'alive.' With these, Ky could hear slightly out of her left ear, but did not have any success with the right.
The process for her cochlear implant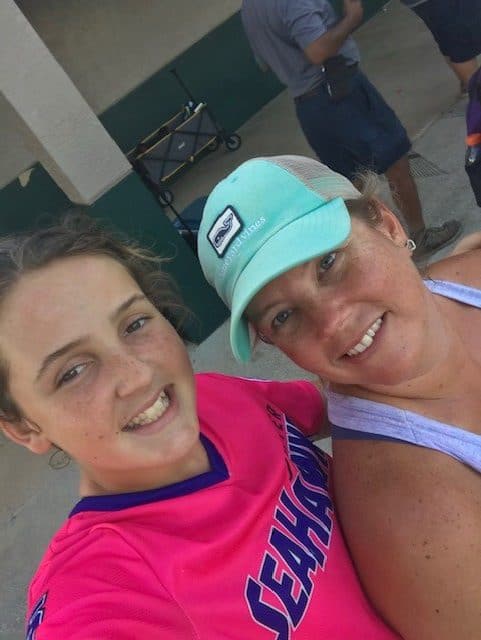 The process for her cochlear implant was not a very long one. I knew that the best thing for Kylie would be to have a cochlear implant due to her having normal hearing for almost 11 years. The question would be figuring out what she needed and go from there.
In the process, we were given three choices for sound processors and right away Kylie chose Cochlear and the Cochlear™ Nucleus® 7 Sound Processor. The selling feature was the Aqua+ kit1. Kylie is very active and being that we live in Florida surrounded by water, that was the best choice.
On December 17, 2017, she was implanted in her left ear with a cochlear implant. Then on July 20, 2018, they performed the same procedure for her right ear. 10 days after her last cochlear implant surgery, Ky was back to playing softball and pitching in the World Series tournament in Jenson Beach.
How our world has changed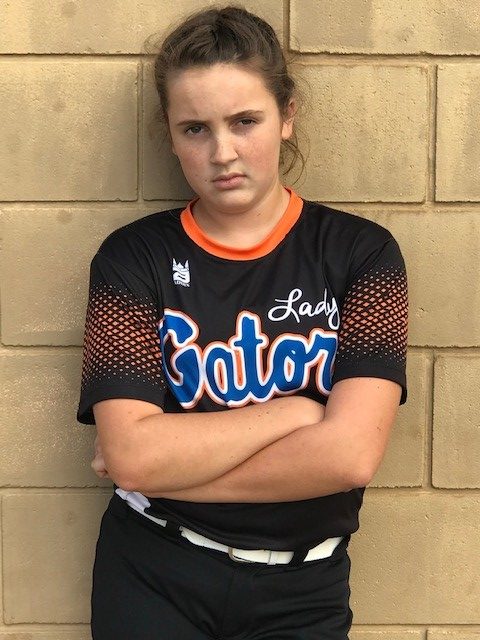 Kylie's journey has changed the dynamics of our family a lot. We went from having a normal kid to one who heard nothing for six weeks, then hearing aids and then a child who has cochlear implants. In the beginning, it was very hard for her. She was so tired, and I did not understand why. As I went through the learning process, I found out that hearing with devices is so much harder than normal hearing. We are also learning sign language because sometimes she just wants silence. I think sometimes I am being a helicopter parent with her just because she wants to be seen as a normal teenager, and I want to make sure she is not missing anything.
After this ordeal with her ears, we had another setback. We had just arrived at my best friend's house on New Year's Eve when Kylie took a fall and landed on her left arm. I did not immediately think it was broken, perhaps just sprained, but wanted to be 'safe than sorry.' We drove to the emergency room and found that Kylie had indeed fractured her fibula into her elbow and needed surgery to fix it. Her orthopedic surgeon had to put three heavy duty wires in her elbow. Ky was in a cast for four weeks, then a splint for two to three weeks after. After slowly progressing out of the splint, Ky slowly returned to her favorite sport, softball.
Just as the softball season began for summer travel ball, Ky fell while trying out a skateboard and ended up re-breaking the same elbow in the same exact position. Back to the doctor we went for surgery. This time, Kylie received a plate and five screws. Her doctor was very concerned about why her body stopped repairing her previously broken bone. She had blood tests ordered that confirmed Kylie's body was not absorbing vitamin D. We are currently in the process of trying to figure out why that is happening and how we can overcome this.
Being a softball player with a cochlear implant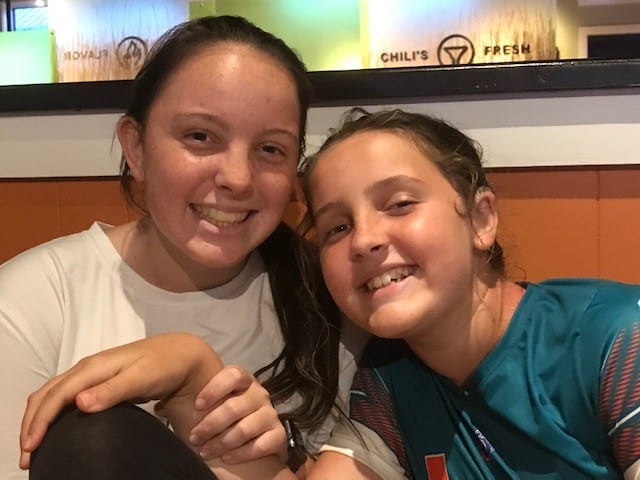 Through all of this, Ky has remained strong, even though the frustration of not understanding why this is happening to her attempts to bring her down. Kylie is best described as a fighter, strong willed, very smart and sometimes too smart for her own good. Her strength and will to fight is what allowed Kylie, and quite frankly myself, to NEVER give up throughout all of this. Despite the hurdles, she continued to look at the good in this situation.
So many things have happened to this soon to be 13-year-old; however, the fact remains that she still refuses to let any of this bring her down. Kylie is an avid softball player with a cochlear implant and her passion and love of this game is incredible to watch. She is on our town's rec team, along with her middle school team. During the summer, she plays travel ball for Wicked Fastpitch along with anything else she can do to fulfill her passion. She has a 4.0 GPA and is in gifted classes. She is the girl that will NOT let her hearing loss or anything else stop her from dreams. Her ultimate dream would be to play college softball at University of Florida! Go Gators!"
Was your child recently diagnosed with hearing loss? Are you interested in learning about cochlear implants? Find out more information today.
The Nucleus 7 Sound Processor with Aqua+ is water resistant to level IP68 of the International Standard IEC60529. This water protection rating means that the sound processor with the Aqua+ can be continuously submerged under water to a depth of 3 m (9 ft and 9 in) for up to 2 hours. This water protection only applies when you use a Cochlear Standard Rechargeable Battery Module or Cochlear Compact Rechargeable Battery Module.