Grayson felt a pop in his left ear, became dizzy and lost his hearing in a matter of minutes. His sudden single sided hearing loss turned their whole world upside down. His family immediately tried finding a solution to help their young son, which led them to cochlear implants. With the use of his cochlear implant, Grayson is now able to continue his goal of becoming a big wall professional rock climber. Read on:
"COVID-19 turned the whole world upside down. For some, it had lasting impacts. My 13-year-old was one of them.
His hearing was gone in a matter of minutes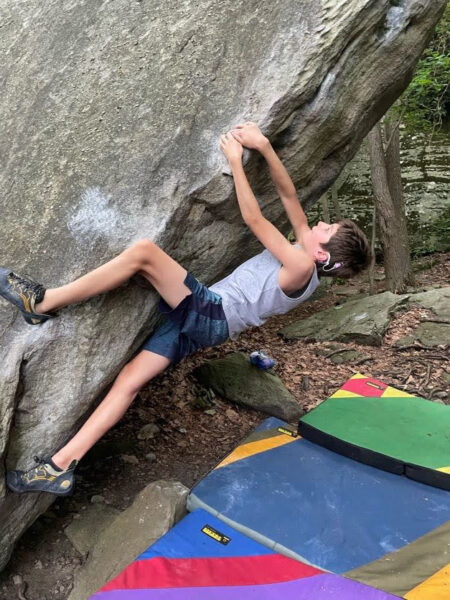 We distanced from extended family and prayed we could keep ourselves healthy. On Black Friday, our oldest son Grayson, who was 10 at the time, became symptomatic; covid worked its way through our family. A few weeks after his illness, Grayson felt a pop in his left ear, became dizzy and lost his hearing in a matter of minutes. After many doctors' visits, audiology tests, blood tests, genetics tests and anything else you could imagine, his doctors concluded – COVID-19 was the cause of his sudden single-sided hearing loss.
Grayson's first ear, nose and throat (ENT) doctor  told us that Grayson was deaf in one ear and there was nothing to be done. He didn't think that a cochlear implant would benefit Grayson. Our second ENT provided a different opinion and suggested various options, but they were a smaller ENT office and we lived near the city of Philadelphia. They recommended that we utilize the services of the nearby children's hospital. Then, things began to quickly develop. The children's hospital gave Grayson a Cochlear™ Baha® Sound Processor as a loaner and talked to us about a cochlear implant. We were not sure about moving towards a cochlear implant and wanted to take some time to think about it.
A trial run and a new solution
Grayson wore the Baha Sound Processor to school in the fall of 2021. Although we were thankful, it did not give him the level of hearing he wanted. The Baha Sound Processor was also a loaner, and he eventually had to return it to the hospital a few months later. After returning the device, listening fatigue became immediately visible. By the time Grayson would get home from school, he was tired and grumpy – even irritable. His conversations at school suffered and behavioral issues developed. These new realities were only amplified by his pre-teen hormones and emotions. A decision was necessary.
Grayson is an avid rock climber; his new reality impacted his climbing immediately. He couldn't hear his feet on the wall while climbing. For a climber, those small auditory nuances are important. He also couldn't hear his belayer/climbing partner when he was on high walls. This posed huge safety issues, especially when considering his long-term goals of being a big wall professional rock climber. We did not want his sport to dictate our decision, but the benefits of a cochlear implant – in climbing and school – were obvious.
Deciding the future for our child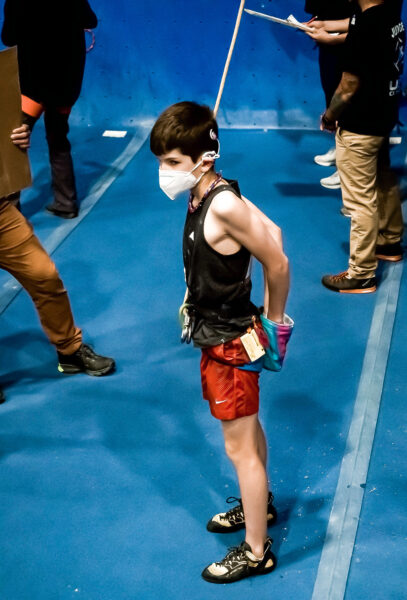 We looked at all of the cochlear implant brands, studied the comparison sheets while simultaneously talking to our ENT. He highly recommended the Nucleus® 7 Sound Processor, sharing the surgery details and the smoothness of Cochlear's products in surgery. In our research, we also downloaded each of the apps and were impressed with the intuitiveness and the ease of use of Cochlear's Nucleus® Smart App1. We chose the Nucleus 7 Sound Processor and Grayson had his surgery in February 2022.
Grayson's activation day was in March and his hearing has been progressing with the Nucleus 7 Sound Processor faster than we could have imagined. He immediately had a positive mindset: 'own it at school.' He wanted to get his hearing back. His teachers used the Mini Microphone 2+ in each class. At his most recent three-month check-up, his audiology team were pleasantly surprised with his progress.  He was three months ahead of expected outcomes.
Grayson is able to continue pursuing his passion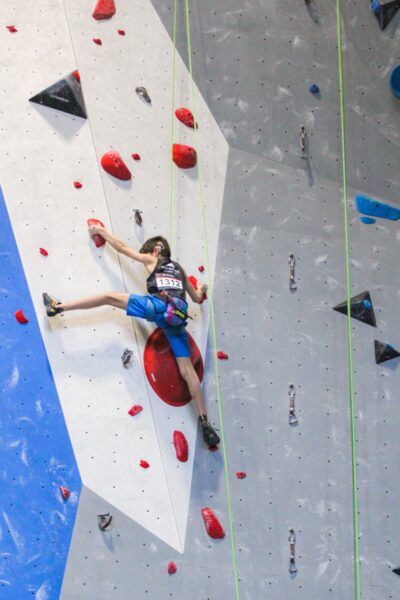 Grayson asked to do a climbing camp this year, spending a week with local guides and climbing in the mountains of West Virginia. As parents, we were nervous, asking ourselves: 'What if he loses his cochlear implant in the woods? Would other campers make fun of him? Will he be able to manage his cochlear implant gear in addition to his climbing and camping gear?' But, climbing and adventuring speaks to Grayson's heart. He needed the trip. So, we sent him with plenty of disposable batteries, a portable dry caddy, a waterproof box and a sports necklace with a retaining cord.  And all our worries were just that, worries. Grayson had a great time, pushed himself towards new climbing goals and proved to himself and us that he can continue to do the outdoor adventures he loves with his cochlear implant.
In addition to his love of outdoor climbing, Grayson is also a part of a youth climbing team and participates in climbing competitions through USA Climbing2. USA Climbing had done a great job honoring accommodations for him before his cochlear implant surgery. However, new challenges arose post-surgery – Grayson is the first youth climber on record, within the organization, with a cochlear implant. As his parents, we've had to educate organizers about the cochlear implant and advocate on his behalf. Because the cochlear implant has Bluetooth®3 capabilities, USA climbing sees it as a potential means for cheating. On one hand, it's a tool that has provided our son the ability to hear; on the other, its capabilities are held-up with their existing structures. Being the first is not always easy. But, through continued discussions and advocacy, we hope to set Grayson on a more equal playing field. We also want to help set the stage for future deaf climbers. We hope that his example and love of adventure will encourage others to give the sport a try.
Looking back on this journey, Grayson has demonstrated amazing perseverance. The decision to get a cochlear implant was a hard one to make for him and for us. It solidified our new reality. But it turns out it was the best decision we could have made. It has given Grayson the access to sound he had lost on his left side and has improved all of the experiences and activities he loves."
Has your child experienced sudden single-sided hearing loss? Click here to see if cochlear implants are a solution for you.
4
5