Riley was born profoundly deaf in both ears and was identified to be a cochlear implant candidate just a couple of years later. Her parents prioritized communication and decided that cochlear implants were the best path forward for her. That helped pave a life of participation, advocacy and fulfillment for the young dancer who has found success in college on her dance team. Read more:
"I was born profoundly deaf in both ears. My parents didn't find out I was deaf until I was 16 months old; they didn't know what to do, but with the help of audiologists and doctors who explained the different ways of communication, they made the decision to go with cochlear implants. I had my first surgery about a month before I turned 2 years old, then had my left ear implanted when I was 5. After each surgery, my mom would help take care of the site so carefully, making sure it stayed clean and healthy.
My mom, Tiffani, said that at the time Cochlear™ was one of only two brands available for implantation, based on reputation and device quality. I started out with the Esprit™, then the Esprit 3G BTE, then the Nucleus® Freedom® Sound Processor, then Nucleus 5 Sound Processors and now the Nucleus 7 Sound Processors. I love the Bluetooth®1 capability of my Nucleus 7 Sound Processors! I use it all the time when listening to music, practicing for my dance performances, watching movies or talking on the phone2. It also helps when I'm watching videos for class and studying. During a basketball game last fall a player collided with me and damaged the internal device in my right ear, which was my first implant. The damaged implant was removed and I received a new one in January and now I have the Nucleus 8 Sound Processors, which are even better than the N7s!
A solution for my future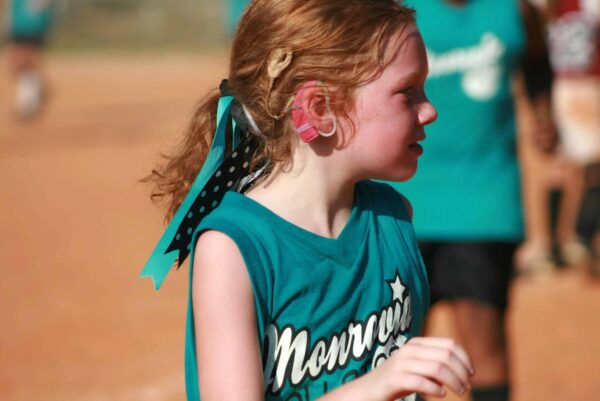 My parents chose cochlear implants because we have a big extended family, and they wanted me to be able to communicate with all of them. Music, dance and sports were also a big part of our life, and my family wanted me to be able to enjoy those things too. It worked out because I'm a dancer now!
I didn't even know I was deaf until my mom explained it to me before my second implant surgery when I was 5! I just thought that my cochlear implants (CI) were part of me. As I got older, I questioned why I had to be different and why I had to have the CIs for the rest of my life, but it turned out to be the coolest thing. If I get tired of listening to all the noise that can be in the world, I just pop off my coils and get some peace.
Of course, there were a few things that I missed out on growing up because the processors I had were not waterproof or they could be zapped by static. The playground at my elementary school was so staticky that I had to take the sound processors off before we went to recess, so I could not hear anything during recess. I learned to swim without being able to hear in the water, however, as technology improved, so did the sound processors and I was able to hear my friends on the playground and swim3 with my 'ears' on. All while able to hear at the same time.
Hearing has helped me thrive in college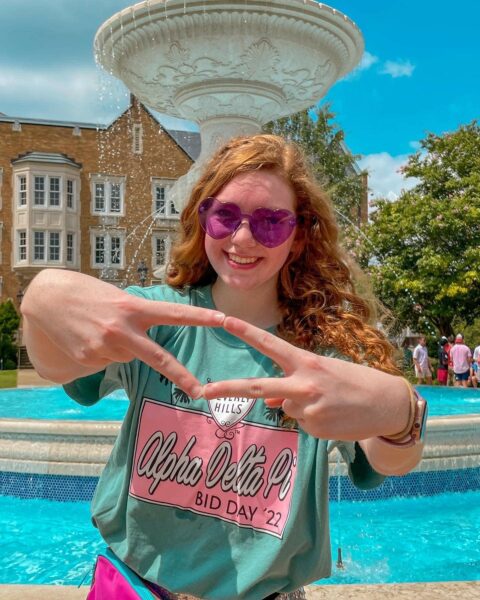 Having access to sound through my CIs has helped me live a full and rich life! I have been a dancer for 15 years, both in the studio and as part of dance teams. As a co-captain my senior year, my high school team and I finished in the top 6 at National Dance Alliance4 Nationals competition. My freshman year of college, I earned a scholarship as part of The Roar, the dance team at the University of North Alabama5. I'm currently in my fourth year on the team.
Being able to hear via cochlear implants also allowed me to participate in the medical academy at my high school and earn an internship with local hospitals. This helped me decide on a major: Interdisciplinary Studies with an emphasis in Health. I will be able to combine several interests, such as health, diversity, disabilities and fitness, into one degree.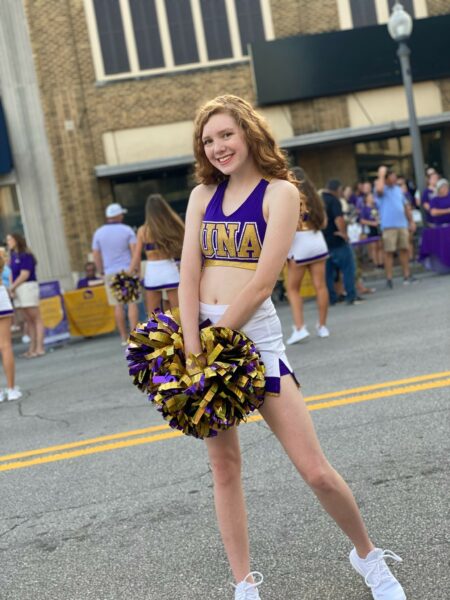 Now that I'm in college, I've been able to get involved in several organizations. I am wellness director and the Director of Diversity and Inclusion of my Alpha Delta Pi6 sorority. Also, I'm the president of my university's Diversity Student Ambassadors, vice president of History Club and member of American Sign Language club. I was also inducted into Delta Alpha Pi Honor Society and Rho Lambda7 Honor Society.
People seem interested in learning about my life with hearing loss and cochlear implants. I have been interviewed for newspapers, TV and social media about my dance journey; how I overcame my challenges, and what it's like to be deaf. In 2009, Children's Hospital of Alabama®8 interviewed my mom and me about the surgery. When People of Alabama9 saw me cheering on my friend at the Miss Alabama competition this year, they did a post about me and how I was not letting a disability slow me down. The TimesDaily10 newspaper in Florence, Alabama, picked up that story and reached out to me – I was completely shocked because that's our local newspaper and almost everyone in town is going to know my story.
Becoming involved and advocating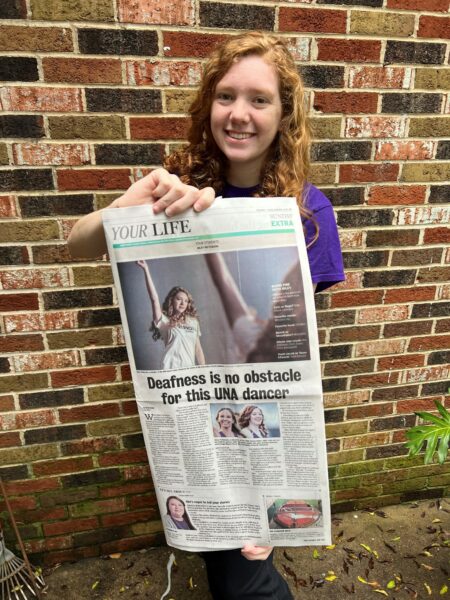 My cochlear implants play a big role in helping me be successful and be involved both on campus and in the community. Through Diversity Student Ambassadors, I was nominated for homecoming court. I was also chosen to be a part of the 'Women of Action' panel last month – the Student Engagement office and the Mitchell-West Center for Social Inclusion chose me to be on this panel with other amazing women leaders on campus. I was able to share how I've gained leadership skills and they have helped me be more involved on campus. And how I am advocating for other students who have disabilities.
My life is always changing and leading me to new places. Even though some things are challenging and I fail sometimes, at least I'm not afraid to try. And the future will be no different.
I want to continue dancing after college, maybe I will stretch my limits and try out for the NFL®11 Tennessee Titans cheerleaders or the NBA®12 Grizzly Girls in Memphis.
I would like to continue to indulge my love for History, maybe by giving tours of local landmarks like Muscle Shoals Sound Studio13 or Helen Keller's home Ivy Green14.
I want to continue helping people who have similar experiences with cochlear implants and/or hearing aids. I enjoy sharing my story, and I hope it will help someone keep going and realize ANYTHING IS POSSIBLE."
If your child was born or diagnosed as profoundly deaf in both ears, a cochlear implant may help! Contact us to see if they qualify today.