With no family history of hearing loss, Joey's parents were shocked to learn that their newborn was deaf. After many tests and doctor's appointments it was identified that he had profound hearing loss with GJB2 or connexin-26. This diagnosis helped Joey become a cochlear implant candidate and his family was hopeful this would help him level the playing field in a hearing world. With his cochlear implants, he now loves to dance, listen to music and even swim! Read on:
"We are so happy to share and welcome you to Joey's journey. He was diagnosed with bilateral profound sensorineural hearing loss…Joey is deaf, but yes, he hears you!
We are a hearing family. To our knowledge, there is no hearing loss to any degree on either side of the family. To say that this came to us as a shock, is an understatement. We were terrified new parents trying to understand our newborn's diagnosis. 'Was it something we did? Could we have done something different? Was it the pregnancy?'
Starting a journey we had not expected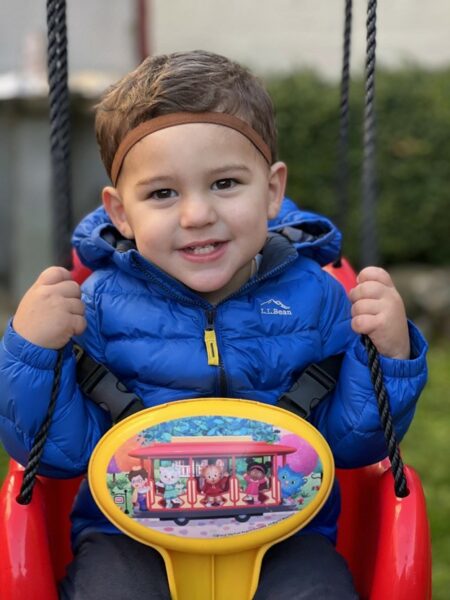 We started this journey with a failed newborn hearing screening day one of parenthood. At 2-weeks-old, Joey failed his auditory brain response test. With each doctor's visit, it was another shock. We went home from the hospital thinking it was just fluid in the ears to finding out he was deaf.
Joey had more doctors' visits than we can count. They were followed by genetics testing, MRI and CT scans. It was hard. The hardest nine months of our lives but we knew we wanted to find a way for Joey to be part of the hearing world.
We received a call from one of his doctors. After reviewing the MRI, they told us there was no auditory nerve. All our research, we knew what that meant. Even a cochlear implant would most likely not give Joey sound. We found ourselves asking, 'will the surgery even be worth it?'
Finding a new journey after a connexin 26 diagnosis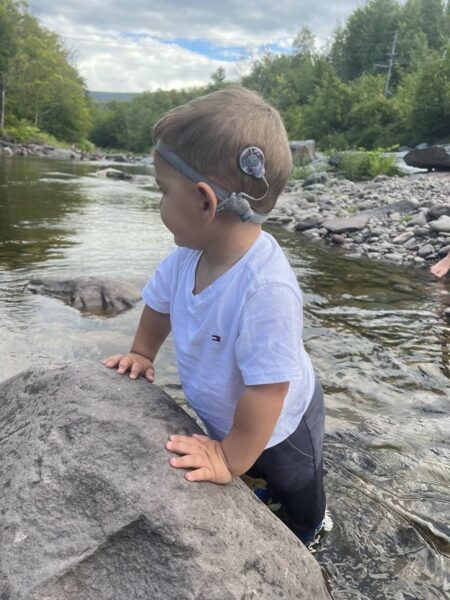 Two weeks later we found out Joey has a mutation in the GJB2 gene. Most commonly known as connexin 26. Our doctor had told us there is no medical link between connexin 26 and a missing auditory nerve. Finally, some promising news! Yes, it could be absolutely worth it. We are back on path for cochlear implants.
Your mind never shuts off. You're doing research, reading articles and medical journals trying to find answers and solutions for your child. We spent hours researching the different companies. Between talking to our doctors, audiologists and reps from all companies we knew Cochlear was the choice for Joey.
Taking the stress and worry off our shoulders
When he was 9 months old, we sent Joey off for bilateral cochlear implant surgery in hopes of somewhat leveling the playing field for a deaf child in a hearing world. We still had no answers. We would have to wait two more weeks until he was healed and activated. It just felt like a whole year of worry and stress was lifted off our shoulders. We were at a point that we felt we had done everything we could for Joey.
Five and a half hours later, Joey was done with his surgery. We still remember that day when the audiologist came out of surgery. She told us they had tested the implants while Joey was still sedated and they received a full response in both ears. They would not get those responses without an auditory nerve. Our little man has an auditory nerve! The cochlear implants are in place and working. Still no way of telling how he will respond to the implants but we are on our way!
Joey now has everything he needs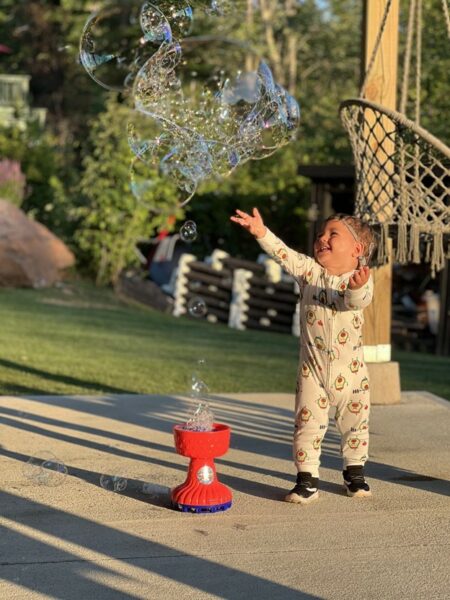 Joey was activated shortly after. This is where Joey's Journey with Cochlear really began. The day he was activated, Joey responded to our voices right away. There was no monumental experience that one typically sees on social media. That being said, we knew this was the beginning!
Joey's first year being implanted was a rollercoaster. After activation, he started using his voice right away. Then, we had days and weeks without seeing much progress. Then he would develop new sounds followed again by days and weeks without much progress. This cycle continued for one full year.
We were told that it would take time for speech to develop but our anticipation was high. Joey continued working with our wonderful speech therapists and teachers four times a week. Watching him hit his speech milestones was such an exciting part of the roller coaster.
Right after Joey reached his one year of activation, his speech exploded! Joey, now 2 years old, only hearing 15 months, has about 40-50 words. He loves to identify and say numbers (1-15), colors and shapes. Joey can also identify and say the letters in his name. Joey absolutely loves his ears and loves to talk. Every day his articulation is improving and he is saying new words. Joey is quickly closing the speech gap and tracking on par with his typical hearing peers.
Joey loves to dance and listen to music. This summer he spent almost every day in the pool with his Aqua+ kit1. We use our Mini Mic 2+ at the park and in group settings. We are a very active family that loves the outdoors. Cochlear, with each life experience, has proven to be the perfect choice for us. No matter what the day brings us, we are confident Joey won't miss a beat!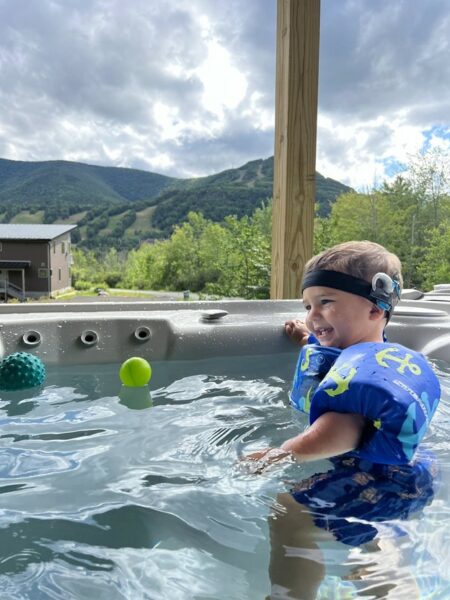 Joey is the sweetest, HAPPIEST boy. To know him is to love him. Whenever we tell people our son is deaf and they respond 'oh, I am sorry', I smile and say, no please don't be! He is the happiest person in my household. Which, if you ever met my husband and I, it's not an easily won title.
Our boy is deaf but yes, he hears you! Cochlear has given Joey the opportunity to be part of our hearing community. We never ask the questions of why or what if anymore. We are so proud and beyond blessed with our special little boy. We still have a long journey ahead of us but we know Joey will move mountains.
We are so grateful for all that his cochlear implant has made possible!"
Does your child have profound hearing loss associated with the GJB2 gene commonly known as connexin 26? Cochlear implants may help, contact us today for more information.
2
The Nucleus 7 Sound Processor with Aqua+ is water resistant to level IP68 of the International Standard IEC60529. This water protection means that the sound processor with the Aqua+ can be continuously submerged under water to a depth of 3 meters (9 ft and 9 in) for up to 2 hours. This water protection only applies when you use a Cochlear Standard Rechargeable Battery Module or Cochlear Compact Rechargeable Battery Module. The Nucleus 7 Sound Processor is water-resistant to level IP57 of the International Standard IEC60529 without the Aqua+ accessory for the Nucleus 7 Sound Processor.
The Nucleus 24 cochlear implant system is intended for use in children 9 to 24 months of age who have bilateral profound sensorineural deafness and demonstrate limited benefit from appropriate binaural hearing aids. Children two years of age or older may demonstrate severe to profound hearing loss bilaterally. In younger children, limited benefit is defined as lack of progress in the development of simple auditory skills in conjunction with appropriate amplification and participation in intensive aural habilitation over a three to six-month period. It is recommended that limited benefit be quantified on a measure such as the Meaningful Auditory Integration Scale or the Early Speech Perception test. In older children, limited benefit is defined as ≤ 30% correct on the open set Multisyllabic Lexical Neighborhood Test (MLNT) or Lexical Neighborhood Test (LNT), depending upon the child's cognitive and linguistic skills. A three to six-month hearing aid trial is recommended for children without previous aided experience.