Ariana was born deaf, but after genetics testing, it was discovered she had the myosin XVA gene more commonly known as MYO15A. Thanks to an amazing team of professionals, Ariana was identified as a cochlear implant candidate. Her cochlear implants help her not miss a beat – she now loves to play tennis and figure skate. She even recently was crowned a Virginia Commonwealth Games Champion. For more on her hearing journey, read more:
"Ariana was born profoundly deaf. After genetic testing, we discovered her hearing loss was due to the myosin XVA gene (MYO15A). As soon as we got the diagnosis, we hit the ground running and never looked back!
She received hearing aids at 2 months old, received a cochlear implant at 13 months old and graduated speech therapy at age 5. At one point we had some form of speech services four days a week between a university-based program and private speech as well. Our profoundly deaf daughter was even asked to be a language model for typical hearing children. Someone pinch me! How amazing, right?!
Laying the Foundation of Deaf Education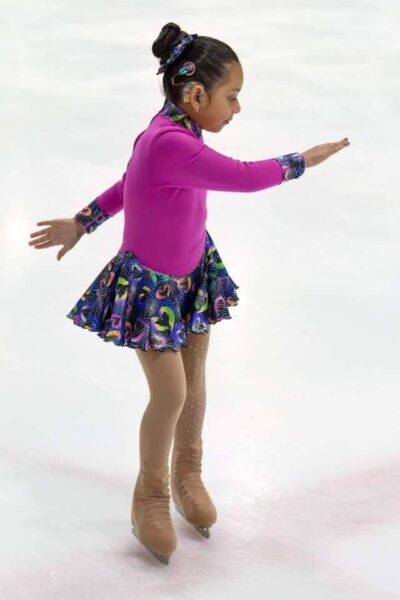 We were blessed to have an amazing team in Mississippi that really helped lay the foundation for us and really understand oral deaf education, and how our daughter would hear with cochlear implants. After 4 years in Mississippi, the military took us to Florida and once again we had amazing support there.
Now in Virginia, our girl is thriving and participates in tennis and figure skating. She has played tennis since age 5 and started figure skating this year. Recently she participated in the Virginia Commonwealth Games1 and was awarded 1st place in her category. While some may think figure skating is risky for anyone, especially an implanted child, we want our daughter to live a full life and bloom where she is planted.
Ariana doesn't skip a beat with her cochlear implants
Our daughter expressed interest in tennis and figure skating and we told her 'let's do it, mommy and daddy will be right there cheering you on!' With her cochlear implants, Ariana doesn't skip a beat. My husband and I often think she can hear better than us!
One thing that never fails to amaze me is how well she hears in noisy restaurants and is able to carry a conversation like nothing. We decided to go with Cochlear because of their reliability and saw they had been around the longest. Speaking of reliability, when our daughter was potty training, she dropped her processors in the toilet. I don't think I have to elaborate any further. I cleaned them up, put them in the dry box, and they powered up like nothing!
Our favorite accessories and uses for them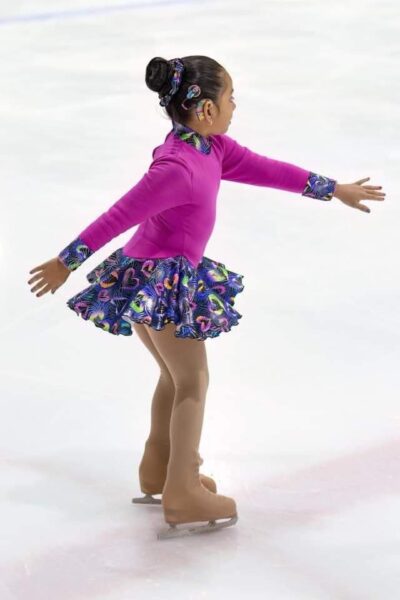 Our favorite accessories are the Aqua+ kit2 and the Mini Microphone 2+. My husband and I often joke that when she starts dating, we're going to talk to her through the Mini Microphone if she's out front and say 'hey your date is over, time to come inside!' The range is that good on the Mini Microphone!
We love this cochlear implant journey we are on, and hope to continue paying it forward and volunteering with Cochlear and mentoring new families. We hope that the cochlear implant friendships/community that we have built for our daughter continues when she's an adult, and she always realizes how amazing she is!
At the tender age of 8, our daughter says her goals are to swim with the dolphins, ride a horse and be a veterinarian and an artist on the side. She has been implanted for seven and a half years and we as her parents still have those 'aha' moments and are so thankful for hearing technology."
It was announced in November 2022 that through the Cochlear Foundation's Achieve Anything Program – whose goal is to inspire children and young people with hearing loss to share their personal stories of achievement – Ariana has been selected as a National Inspirer.
If your child was born deaf from myosin XVA more commonly known as the MYO15A gene, learn more about how cochlear implants may help.
3
*© 2013 Virginia Amateur Sports. All rights reserved. No part of this site may be reproduced without our written permission.
The Nucleus 7 Sound Processor with Aqua+ is water resistant to level IP68 of the International Standard IEC60529. This water protection means that the sound processor with the Aqua+ can be continuously submerged under water to a depth of 3 meters (9 ft and 9 in) for up to 2 hours. This water protection only applies when you use a Cochlear Standard Rechargeable Battery Module or Cochlear Compact Rechargeable Battery Module. The Nucleus 7 Sound Processor is water-resistant to level IP57 of the International Standard IEC60529 without the Aqua+ accessory for the Nucleus 7 Sound Processor.
In the United States, the Cochlear Nucleus Implant System is approved for use in children 9 to 24 months of age who have profound sensorineural hearing loss in both ears and demonstrate limited benefit from appropriate hearing aids. Children 2 years of age or older may demonstrate severe to profound hearing loss in both ears.