Lisa B. is back to share bit more about her son, Carson, and his hearing loss journey after failing his newborn hearing screenings. She is excited to provide an update with how he is doing two years later after her first blog on his story!
Be sure to check out Lisa's first blog too: https://hearandnow.cochlear.com/hearing-loss/children/carsons-cochlear-implant-story/
"When Carson was born, the nurse came in to our hospital room to do his newborn hearing screening. Since he was our first baby, we had no idea newborns had their hearing checked while still in the hospital. They hooked up the machine, and I honestly did not even pay much attention to it because I just knew this would not be something we had to worry about.
Then I looked over at the nurse who was repeating the test a couple times. She said he was not passing, but it was probably because I had a c-section and he still had fluid in his ears from the delivery. She said they would try again before discharging us. At the repeat test, he still did not pass it. We still were not too concerned as we were sure it was just the excess fluid. They told us to bring him back two weeks later for another repeat test, and they discharged us.
Failing his newborn hearing screenings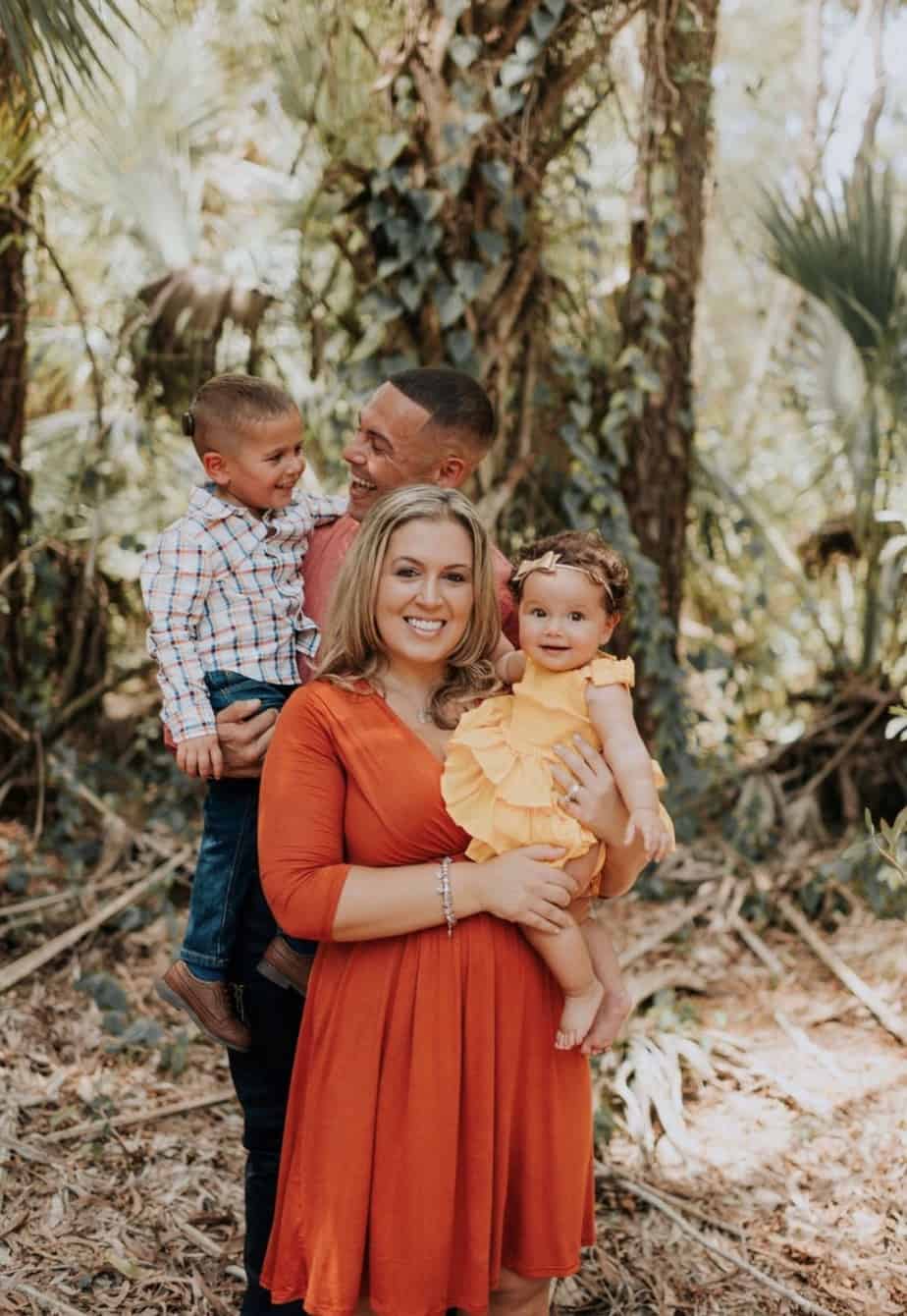 We brought our beautiful new baby home, and I really did not even think much about the hearing test during those first two weeks. We spent the next two weeks in the busy newborn phase! Carson was the sweetest baby and such a good sleeper. When he was 2 weeks old, we brought him back to the hospital for the repeat hearing screening. This time I knew he would pass as I thought the fluid should definitely be cleared by now. After they finished the test, we were told he passed in one ear (his left ear) and still failed in his right ear. The next step was a referral to a pediatric audiologist for a more in-depth test.
We made an appointment at our local university. They have a children's hearing program, and they were able to get us in right away. They did a test called an auditory brainstem response test (ABR). The baby has to be asleep for this, and it measures the brain's response to sound. At the end of the test, we were told he had a severe to profound hearing loss in his left ear and his right ear had a moderate to severe hearing loss. Nothing can prepare you for hearing your brand-new baby is going to start off his life struggling to hear.
The next steps in Carson's hearing journey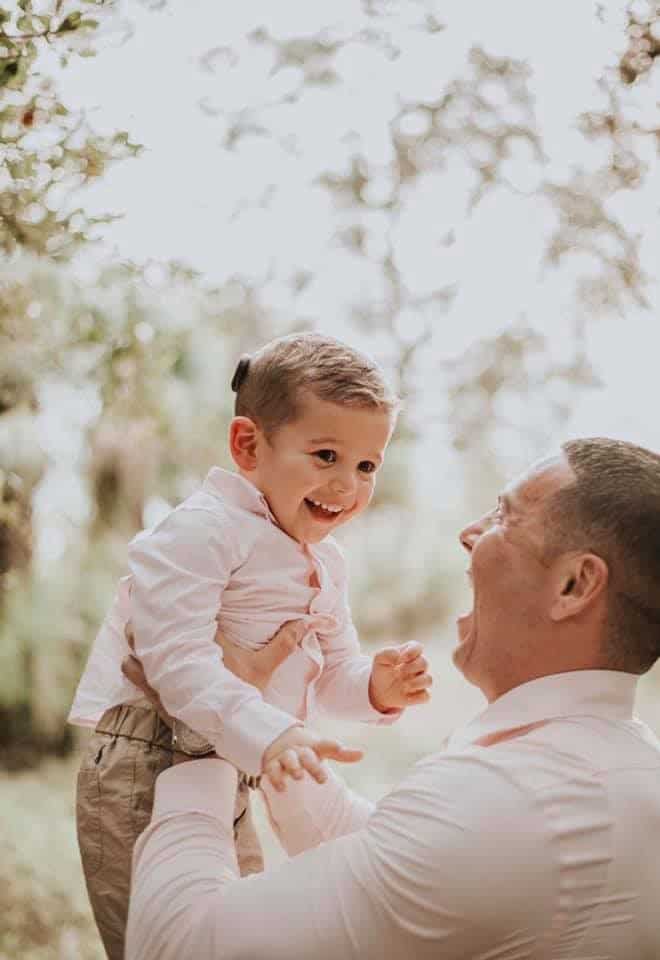 I immediately started replaying the first two weeks of his life…all the songs we had been singing him, each time we said, 'I love you,' he had not heard any of it. It was devastating and such a shock. We were told we had a few options. He would be fitted with hearing aids in the next couple months, and he possibly would be a candidate for cochlear implants. This was all foreign language to us, as we knew nothing about hearing loss, hearing aids or cochlear implants. No one in our families has hearing loss, and all of this seemed so overwhelming.
When Carson was 4 months old, he received his hearing aids. He heard some sounds with them. If we clapped our hands, he would turn and look. Or if we played music or sang to him, he was able to hear it. But we learned, because of the severity of his hearing loss, the hearing aids would only amplify sounds, they would not make sounds, and specifically speech, clear to him. Cochlear implants would be the best bet for him to learn and speak spoken language.
Carson's cochlear implants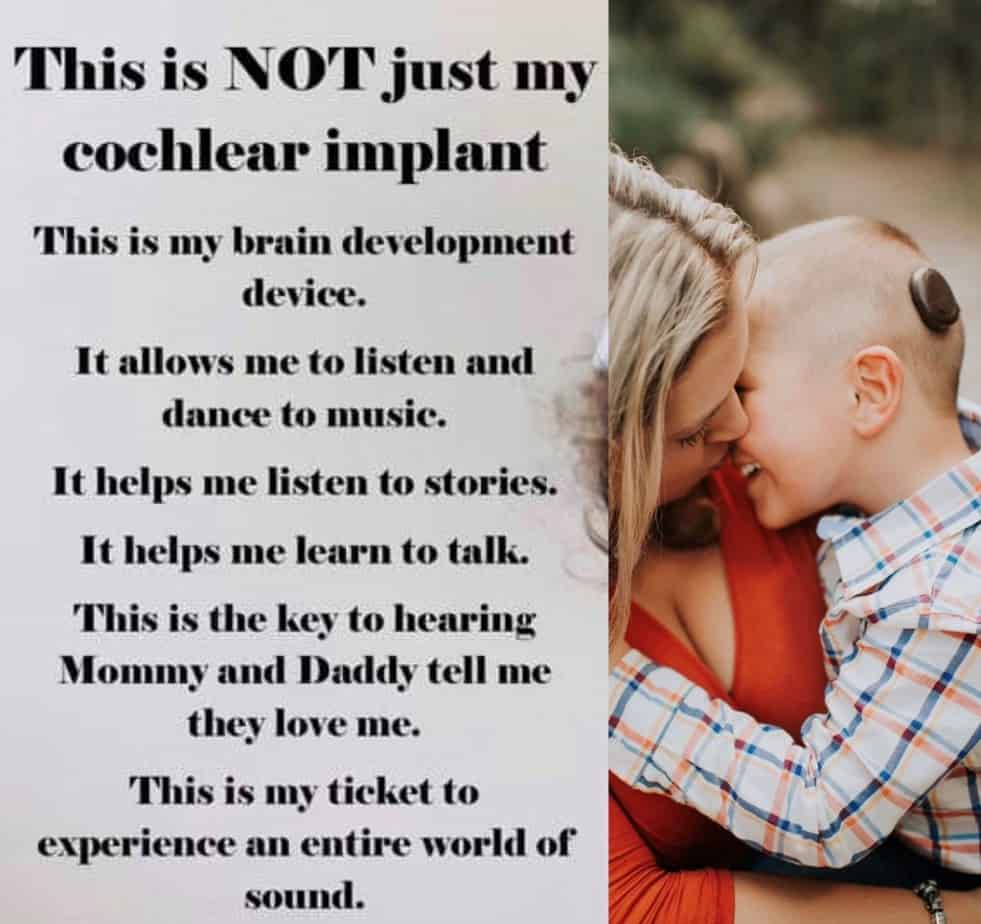 Carson received his cochlear implants a week after his first birthday. The surgery was five hours long, and it was outpatient. We took him home the same day. He had to heal for four weeks, and then we brought him back for his cochlear implants to be 'activated,' which is where they are turned on for the first time. At his activation, we did not have one of those big amazing YouTube moments, since he had heard some sound before, but you could definitely tell what he was hearing was a lot different from before. He smiled immediately and dropped a toy he was holding when he heard us speak to him. It was an amazing moment that I will never forget.
Since he was activated, we have worked hard every day to catch him up on his speech delay. He has been in weekly speech and auditory verbal therapy since he was 1 year old. Just last month, he started preschool at an all oral, DHH (deaf and hard of hearing) preschool. He absolutely loves school and is learning so much. He knows all his colors, can count to 20 and is starting to put three and four words together. It is simply amazing when you look back on how far he has come in just two and a half years of hearing.
What Carson loves to do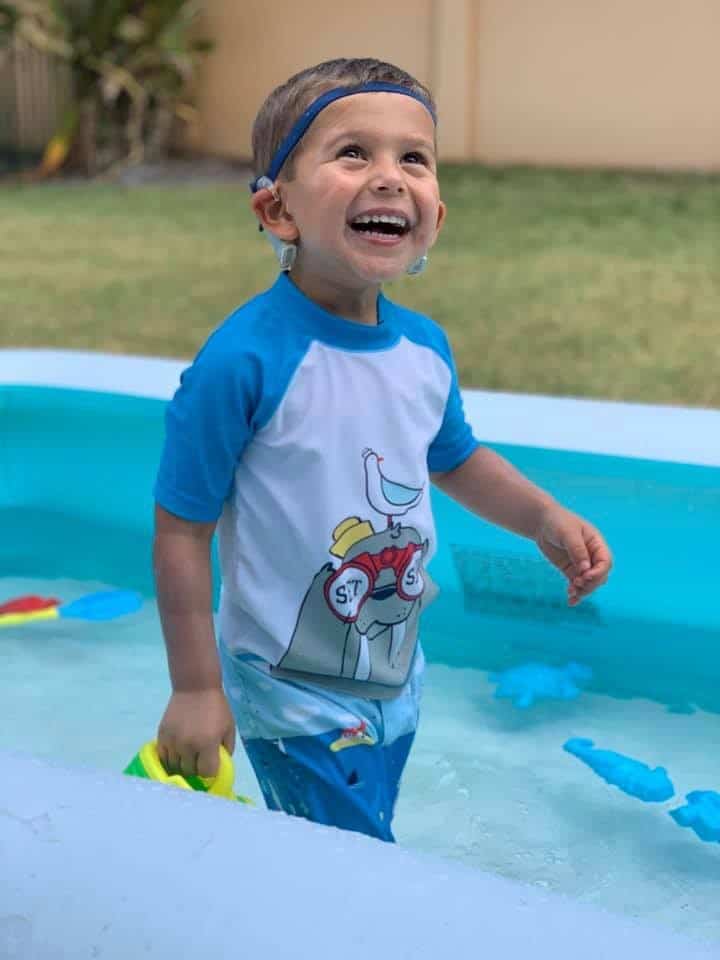 Carson loves to listen to music, dance and has recently became very interested in books. Carson also loves to swim and is an excellent swimmer. When he was 1 1/2 years old, we enrolled him in ISR swimming (infant survival swim classes). He first learned to flip onto his back and float (if he ever fell in or made it to water alone). After he learned that, he learned to actually swim and can even backstroke across the whole pool. We use the Aqua+1 kits every day to make his processors waterpoof. We use them for swimming and bath time. We are so thankful he can hear in the water, since it is one of his favorite activities.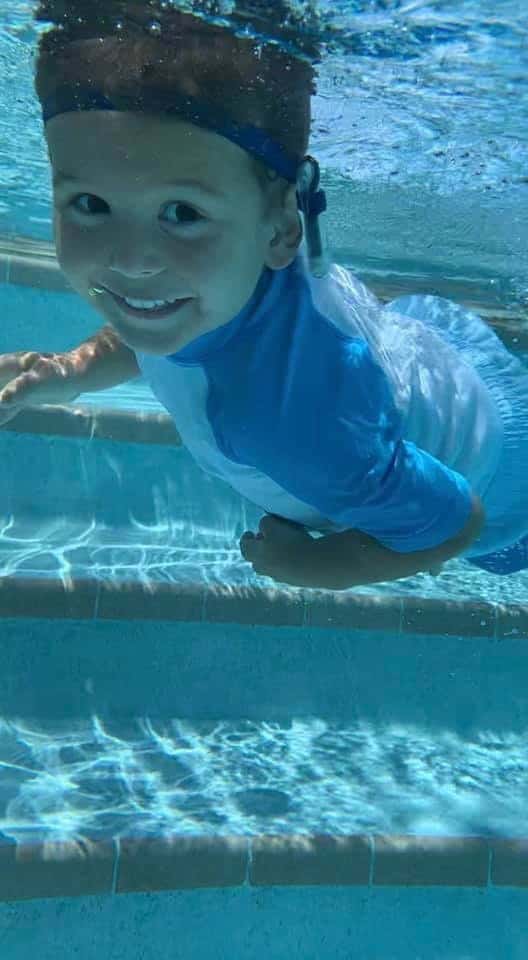 We recently had our second child, and our daughter passed the newborn hearing screening. She is hearing, and it is a completely different experience this time around. Although, we were fully prepared if she had not passed the hearing screening to start the cochlear implant process with her. There would have been no doubt or question of what to do, as we have seen firsthand the amazing benefits Carson has gained from his cochlear implants. Receiving cochlear implants was truly the best decision we could have ever made for Carson. We are so thankful he was able to get them at such a young age. I cannot imagine him not being able to hear us tell him we love him, or him not being able to hear us talk to him every day."
Did your child not pass their newborn hearing screening? Are you looking for resources to learn more about their hearing loss? Get more information here.
The Nucleus 7 Sound Processor with Aqua+ is water resistant to level IP68 of the International Standard IEC60529. This water protection rating means that the sound processor with the Aqua+ can be continuously submerged under water to a depth of 3 m (9 ft and 9 in) for up to 2 hours. This water protection only applies when you use a Cochlear Standard Rechargeable Battery Module or Cochlear Compact Rechargeable Battery Module. The Nucleus Aqua+ for Kanso is IP68 rated and approved for use with alkaline and nickel metal hydride batteries. The Nucleus Kanso Sound Processor is water-resistant without the Nucleus Aqua+ for Kanso accessory to level IP54 of the International Standard IEC60529