A recent research study outlines the connection between musical activities and the development of speech and language skills. Jo, mother of bilateral cochlear implant recipient Felix, agrees, having personally experienced the positive effects of music with her son. Read about their experience below:
"It was a simple ukulele on a holiday to Fiji that captured Felix's attention and inspired him to start guitar," says Felix's mom Jo. "His dad would pick up the uke and play it to everyone on that trip. He had fun with it and Felix saw the fun to be had just by learning a few chords."
Now aged 10, music is Felix's passion; he plays electric and acoustic guitar, writes his own songs and loves to regularly jam with his dad. But music may be playing an even bigger role in Felix's life.
An article published in the Hearing Research Journal supports Felix and his family's firsthand experience with music and his cochlear implant.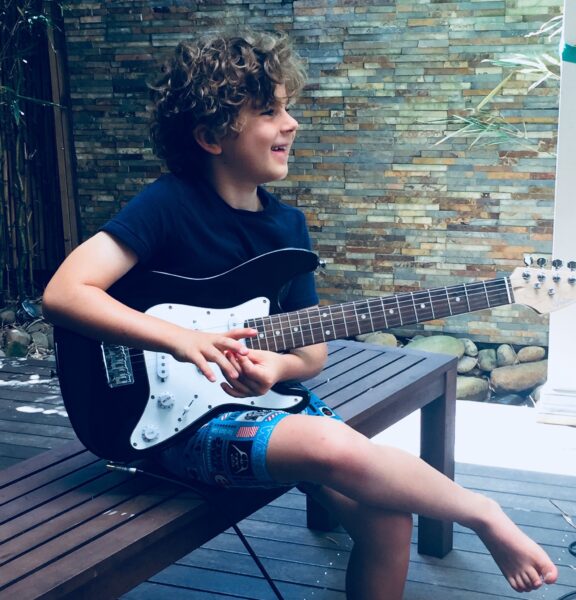 This study suggests that "enhancing a child's environment through exposure to music may help children achieve music appreciation. Researchers go on to report that that exposure to music may also support development of speech and language skills¹." The research identifies a wide variety of musical activities as being beneficial including singing, dancing and playing with musical instruments. This study also revealed that musical activities can improve ability to enjoy pitch and rhythm, which are important early steps to understand and develop spoken language1.
Researchers "encourage parents, therapists, and teachers to incorporate music as much as possible to increase enjoyment, improve upon musical skills, and support speech and language development for children with hearing loss1."
Here are tips outlined by the article as well as first-hand experience shared by Felix's family to help get you started:
Begin as soon as you can
Children may benefit from musical activities even before implantation of their cochlear implant.
"We always had music around. Even before Felix's implants and knowing he couldn't hear, we would put him near musical vibrations," says Jo. "I would sing lullabies with him on my chest or lay him on the piano while we played."
Dance and use body movements in the rhythm of the music
The research shows that dancing to music helps children to learn lyrics, get to grips with intonation and improve perception of speech. Let your body movements reflect the style of the music (fast or slow, happy or sad) to help your child learn the rhythm and beat of music, which are both important for the perception of speech.
Use your own singing as your main instrument
The Hearing Research authors say this can help improve speech perception.
Use several musical instruments
Playing an instrument may be more effective than listening only, the article review suggests, so let your child try different musical instruments.
"We always had a box of percussion toys when Felix was tiny. We bought small violins that we weren't worried about damaging, recorders, triangles and xylophones," says Jo.
Sing and play the same songs repeatedly
Repetition helps us to remember sounds and what words should sound like. Over the course of the repetitions, the brain makes the sound more and more precise.
Singing the same songs will help your child grasp the tune and meaning of the words.
Take turns
Use songs which include turn-taking. Give your child the opportunity to continue the song when you stop singing or sing a short section of a song and have your child repeat it. This allows your child to listen, to produce speech sounds and to compare your speech with their own.
Get the family involved
Involving everyone encourages music around your home, with plenty of repetition and opportunities to listen to and make music.
Jo says that this was also a bonding opportunity for Felix and his dad: "This is a beautiful way to connect. They practice together most days. Dad can play the guitar with him and he also takes on the singing role, showing Felix that it's ok to be out of your comfort zone."
Encourage life with music
Speech and language therapy take the primary spotlight for children with hearing loss. It may seem difficult to incorporate music when you want your child to focus on your child's speech production and language development.
Jo has no doubt that musical activities have helped Felix, who has bilateral Cochlear™ Nucleus® 7 Sound Processors, develop his language skills.
"I think it has given him the ability to tune in and focus his hearing in a fun and engaging way. He has learned to focus to hear a melody within a piece of music, or to hear lyrics in a song," she says.
"We made a specific point of listening to music while incorporating it into playing. We danced together, or bashed pans together, or had music playing while relaxing on the floor," says Jo.
She says: "We used baby CDs that just had one instrument playing a simple melody of something lyrical. We tried nursery rhymes set to different music, then we moved to ABBA®1 and The Beatles2 and then some '80s rock.'"
Check out these resources to see how music can help your child's speech and language skill development.
Reference:
Torppa R, Huotilainen M. Why and how music can be used to rehabilitate and develop speech and language skills in hearing-impaired children. Hearing Research 2019; 380: 108–122.