Missa U. and her family adopted their son, Eli, from China. After learning he has microtia and atresia, Missa, an audiologist, knew they needed to get him access to sound fast. Getting help from the Cochlear team, she had Eli using a Cochlear™ Baha® Sound Processor on the Softband as soon as possible to give him access to sound. Read their incredible story: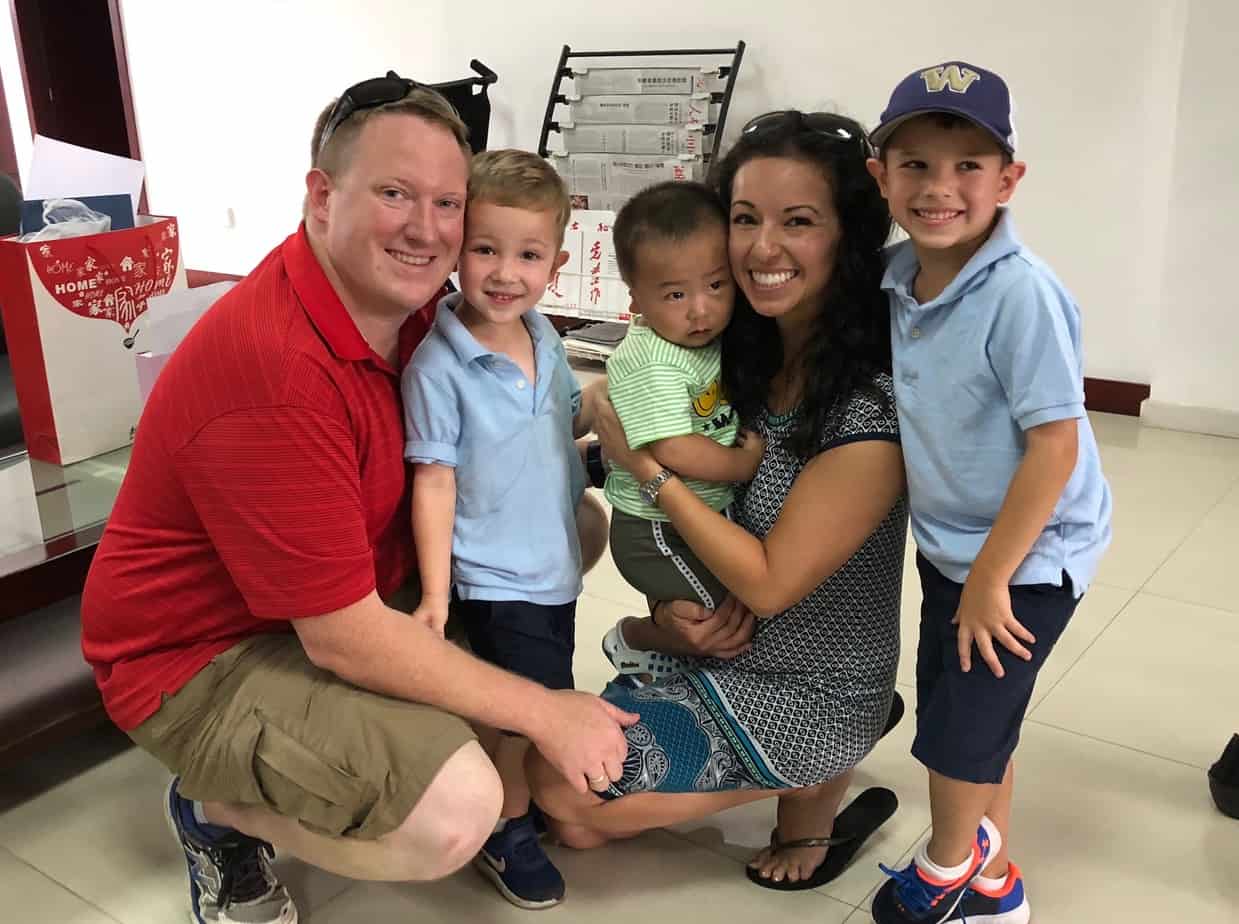 "On the morning of August 6, 2018 months after beginning our adoption process, we stood in a conference room in the Civil Affairs building in Wuhan, China. We chatted with the other adoptive family, all of us nervously waiting, when suddenly…there he was, the beautiful boy whom we would name Elias and bring home to join our family. Although initially wary of the strangers now surrounding him, Eli quickly fell in as one our own.
Our first two weeks as a family of five were a whirlwind of sightseeing and survival as we camped out in hotel rooms and waited for paperwork to be processed. We made it through the 13-hour flight to Seattle and then finally we were home. It was the end of our trip, but just the beginning of this new chapter for our family.
Microtia and atresia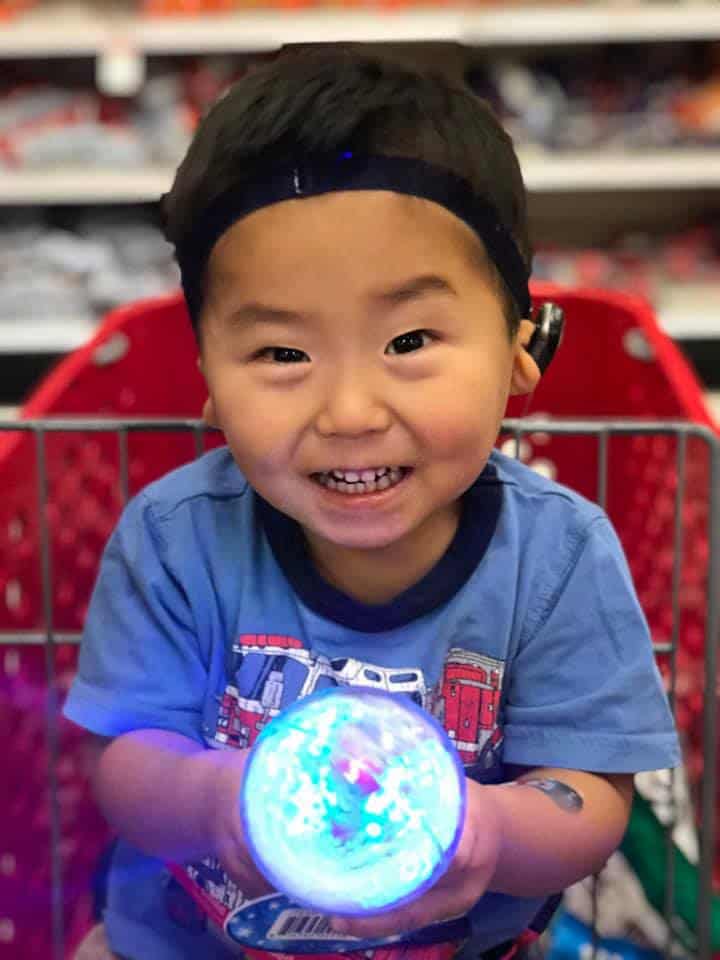 When we were matched with Eli in late March, his file noted bilateral ear microtia and atresia (microtia: malformed external ears and atresia: no ear canals). I am an audiologist, so I was familiar with this condition; however, I work primarily with adults, so we still had many questions. Researching on our own and consulting with colleagues was extremely helpful as we put together a loose game plan for evaluating and managing his hearing loss. We felt confident that whatever the unknowns might be, we wanted to say yes and give Eli a forever family.
Cochlear support
Throughout the adoption process (watch our video about adopting Eli here), we were blessed to receive tons of support from family and friends. One of the most tangible examples of this was from our Cochlear rep for my clinic.  The Cochlear rep was (and continues to be) extremely helpful, including providing us with a demo Baha 5 Power Sound Processor that we could take with us to China. She also gave me a crash course in Baha System programming. Because of this, Eli was able to begin hearing through a Baha 5 Power Sound Processor on the Softband shortly after we met him; something that we think has made a world of difference in his ability to bond with us and begin to communicate.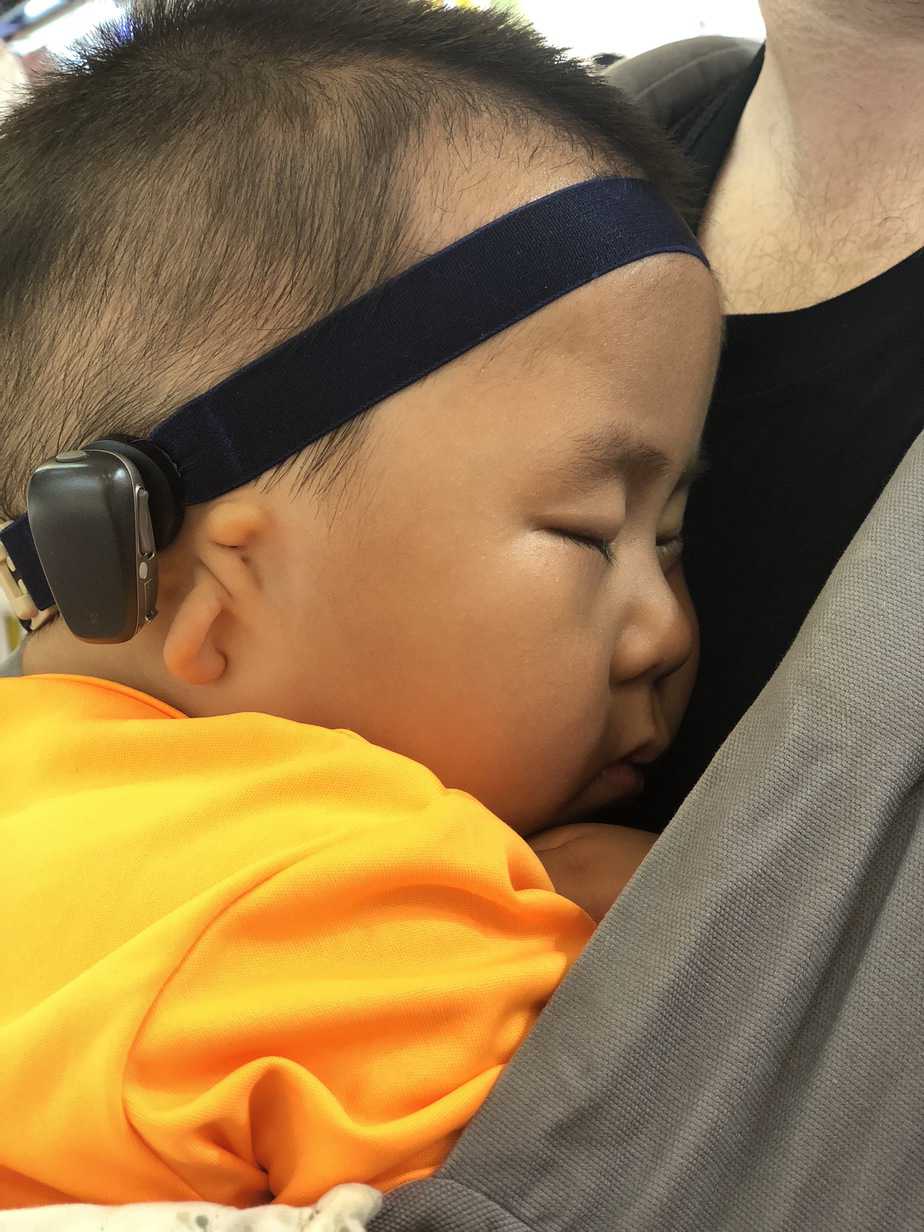 The first time we tried putting the Baha 5 Power Sound Processor on, it was a complete fail (no heartwarming 'first-hearing' video here!). Eli was not having it and there was too much going on… so we took a break and tried again the next morning. This time, he immediately pulled the Baha Softband off and I immediately put it back on. We did this a couple of times, provided a lot of distraction and then hustled out of our hotel room.
Eli kept the Baha 5 Power Sound Processor and Softband on that entire day and he has worn it full-time every day after that. Of course, it took some time for him to get used to it, but he quickly realized that he was able to interact with us when the Baha Sound Processor was on in ways that he was not able to when it was off. While I am sure it was, at times, scary and stressful to his little 2-year-old brain, it was also the beginning of a whole new world of hearing and communication for him.
Home life with Eli
We have now been home with Eli for about four months and life with three boys is that beautiful intersection of crazy and fun. Elias is adjusting amazingly to his new life and surroundings. He has seamlessly become part of our family and has brought new joy to our lives. His big brothers, Gabriel and Cyrus, love him and he loves keeping up with whatever they are doing.
We quickly remembered what it is like to live with a two year old… we are sleeping less, going out less and cleaning up more messes, but we would not have it any other way. Eli is truly a gift and we love him so much.
Helping Eli's hearing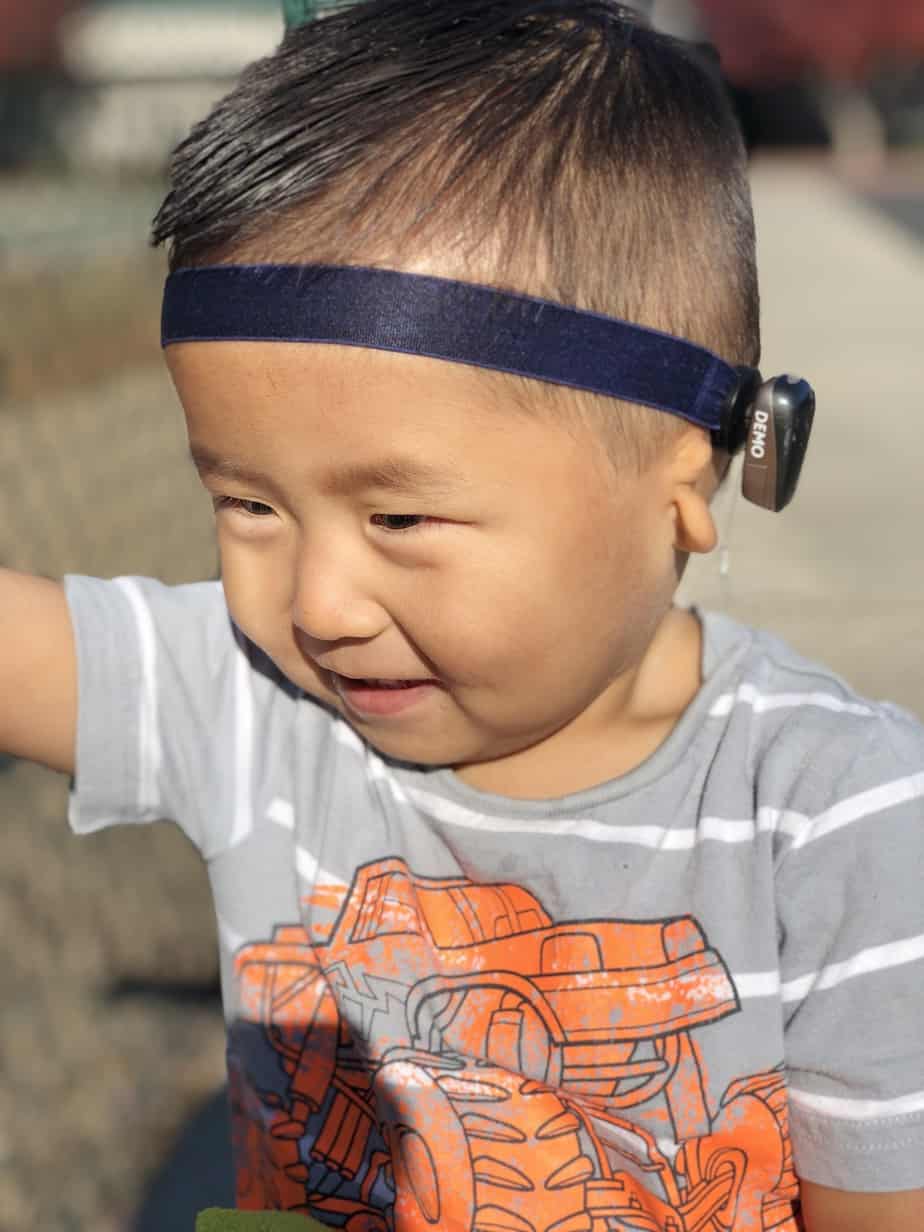 In terms of his hearing, we are slowly working our way through the process of correctly diagnosing and treating a child with hearing loss. Eli has had his hearing evaluated behaviorally three times now, with some successful in obtaining information and some not. We also once had a sedated ABR (auditory brainstem response) test. The ABR showed that, in addition to the conductive hearing loss resulting from his lack of ear canals, Eli also has some sensorineural hearing loss. We are continuing to determine which type(s) of treatment will give Eli the very best life we can possibly give him.
We are currently in the process of obtaining two of his own Baha Sound Processors so that he can hear from both sides. Eli has been working with a teacher of the deaf/hard-of-hearing for about two months and his expressive language level has jumped from 14 months to 18 months. He will begin working with a speech-language pathologist this month, and we are excited to watch his communication abilities continue to grow.
When we first met Eli, he had no spoken or signed language; he simply laughed or cried depending on the situation. He now has 14 signs, intermittently uses around five spoken words and is adding more everyday. Moreover, every morning we are so encouraged when our little man sleepily wanders out of his bedroom with his Baha Sound Processor in hand, eager to start hearing again.
A humbling situation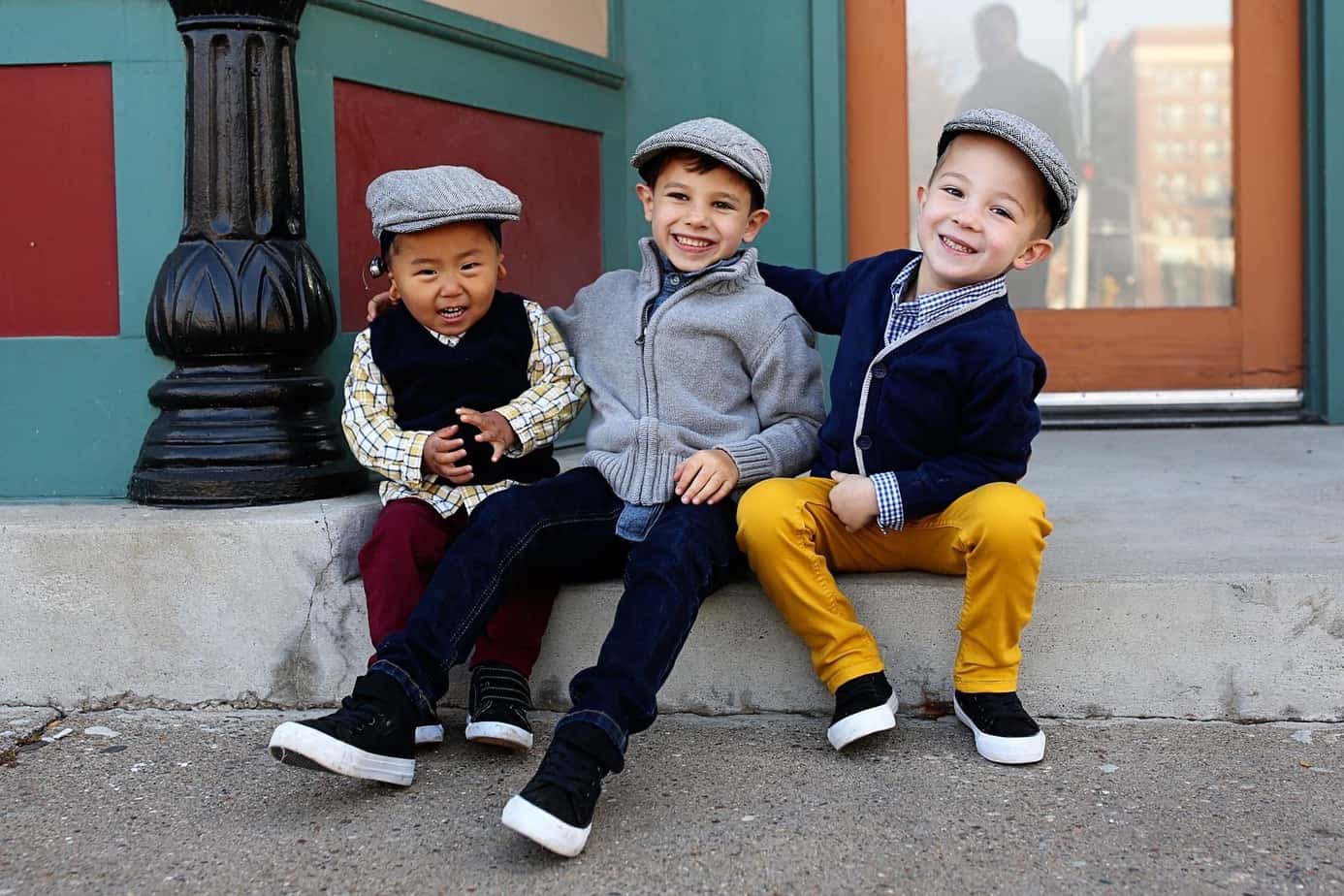 As an audiologist, I have been humbled and frustrated by the fact that we are still working through our insurance provider, still waiting to get two of our own Baha Sound Processors and still trying to figure out exactly how much hearing loss Eli has. It has given me a whole new respect for parents of children with hearing loss who are not involved in the healthcare field, are not familiar with the ins and outs of the system and yet fight everyday for their kids to have the resources they need in order to hear.
As we wait for answers and trudge too slowly through the process, we are grateful that, thanks to Cochlear, Eli currently has one Baha 5 Power Sound Processor that is providing a world of sound during this critical period of language acquisition. He is already a different child from the one we met that day in August, and we are so grateful that we get to be on this journey with him."
Was your child born with microtia and atresia? Help them hear their world today.