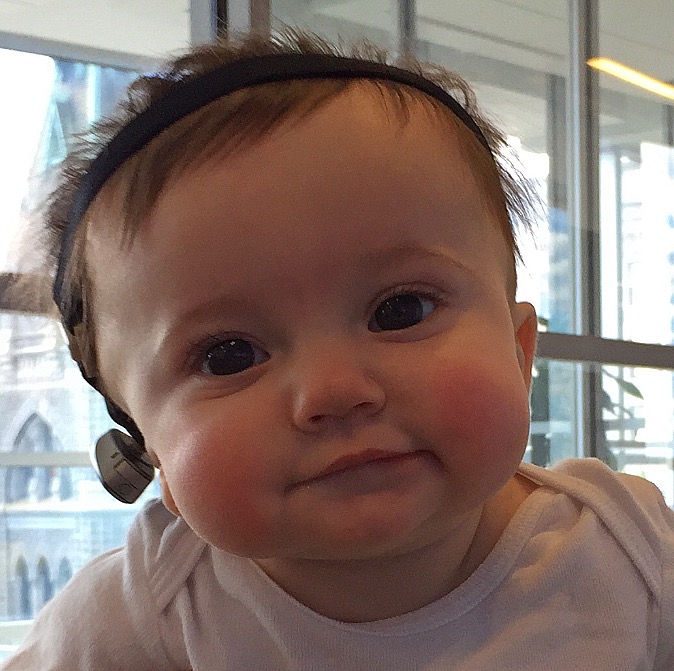 Mazie H. was born last July and diagnosed with Microtia and Atresia of her right ear and Hemifacial Microsomia.
When Mazie was first diagnosed, her parents were told that she would never have hearing on her right side. They went for a second opinion, and that's when they were informed about the Baha® device as a possible way to help little Mazie hear in "surround sound."
Like most parents, Mazie's moms had worried about the inability for Mazie to access auditory information. With Microtia and Atresia being so rare, getting all of the correct information can be hard to come by. While Mazie's parents, Carly and Shelley, were doing their research, Carly's sister, Amanda, was also learning more about Microtia and Atresia and thankfully found the Ear Community Organization.
Through the Ear Community Organization, Mazie received a donation of a brand new CochlearTM Baha® 5 Sound Processor on the Baha Softband to help her hear better.
When Mazie's moms anticipated the day of the fitting, the happiness and excitement built even more.  And when Mazie turned her head to Shelley that first time, while listening through her Baha 5 Sound Processor, their hearts exploded with emotions they could never even explain.
Mazie's moms said, "Thank you for helping us give hearing to our littlest one."
Ear Community is thrilled to give Mazie the opportunity to hear through both ears! We're also very proud of Mazie's family for doing their research and finding help through the Ear Community Organization for Mazie and together as a family.
For more on Mazie's story and on the Ear Community Organization, click here.
To learn more about the Baha 5 Sound Processor and the Baha Softband for children, click here.