Otto's birth seemed uneventful, but everything soon changed when he was diagnosed with meningitis, and later, a diagnosis of hearing loss. Thanks to his Cochlear™ Nucleus® 7 Sound Processors, Otto is now thriving and enjoying a life full of sound:
"I keep hearing 'Otto's birth was uneventful' – although I'd beg to differ, I know that from a medical standpoint his entry into the world gave no indication for what was to come after Nov. 26, 2020.
An emergency room visit, a lengthy hospital stay and test after test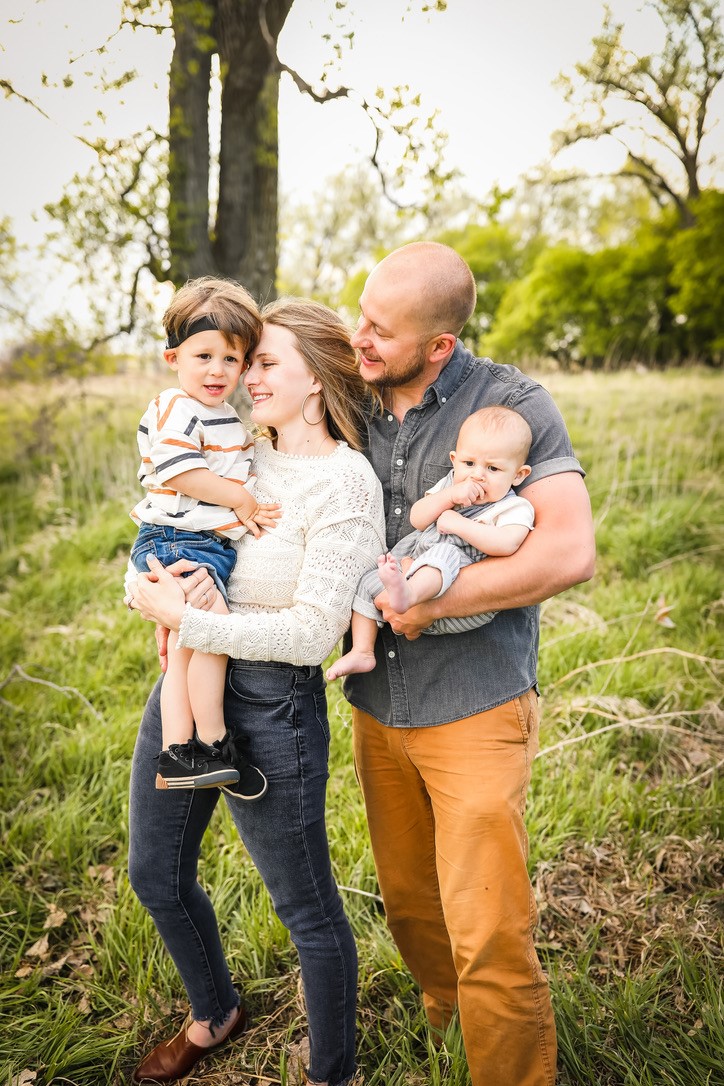 Nov. 26 was Thanksgiving and we spent most of the day in the emergency room in Belfast, ME. Otto had been sick for about 24 hours, and that morning his symptoms turned severe quickly. He was lethargic and non-coherent. He refused to eat or drink. After a round of IV fluids, there was no improvement and the doctor started suggesting more tests. A spinal tap for meningitis was the first recommendation, and our defenses were up. Meningitis? How? He was fully vaccinated and the bill of perfect health just two days prior at his 18-month checkup.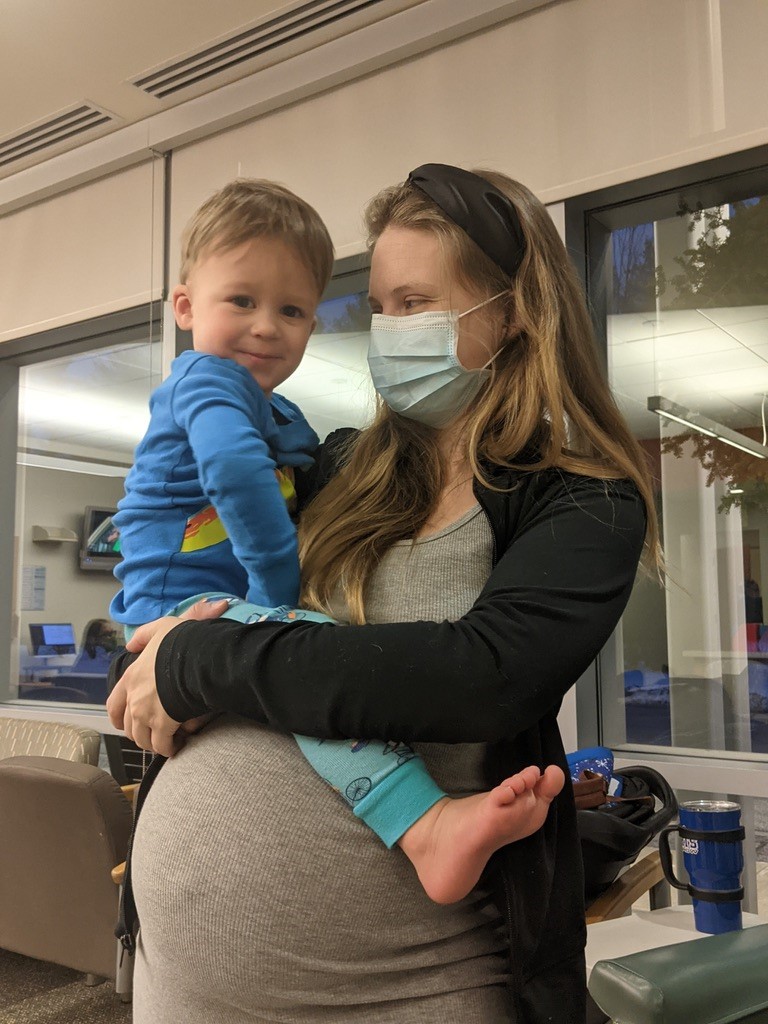 Several hours later we couldn't touch him without causing him pain, and his blood work came back with strep bacteria and sepsis. After an ambulance drive up to the emergency room in Bangor, a spinal tap was completed and confirmed the meningitis diagnosis. We were in the hospital for 14 days, during a pandemic, while our little boy fought for his life.
Hearing loss from meningitis and the quest for treatment options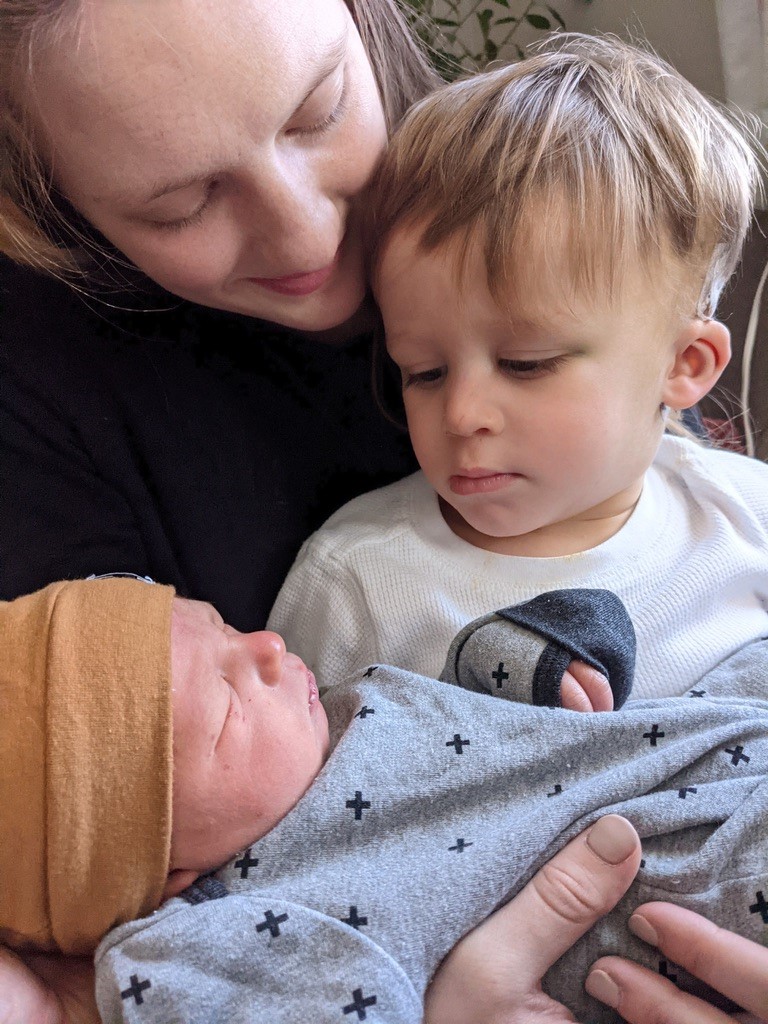 Hearing loss is a common symptom in meningitis cases, especially in small children. The whole time we were in the hospital, I would sing and hold my baby boy in my arms, and I would sing to his little brother in my belly. After discharge, I kept singing to keep us calm. On Dec.18, we were told Otto could no longer hear us. We received final confirmation of his deafness on Christmas Eve after an ABR (Auditory Brainstem Response) and MRI (Magnetic Resonance Imaging) at our local hospital in Lebanon, NH. The next step – cochlear implants.
Due to ossification of his cochlea, we had to move fast. We also had to move fast because his brother was due to be born in a matter of weeks. On New Year's Eve, we made a quick trip to the audiologist to make our equipment choices. My husband ultimately made the final choice to select the Cochlear Nucleus 7 Sound Processers from Cochlear based on his gut feeling and company reputation alone. Otto had bilateral cochlear implant surgery on Jan. 7, 2021, and his brother made an 'uneventful' entrance into the world on Jan. 13.
Facing our fears and embracing Cochlear technology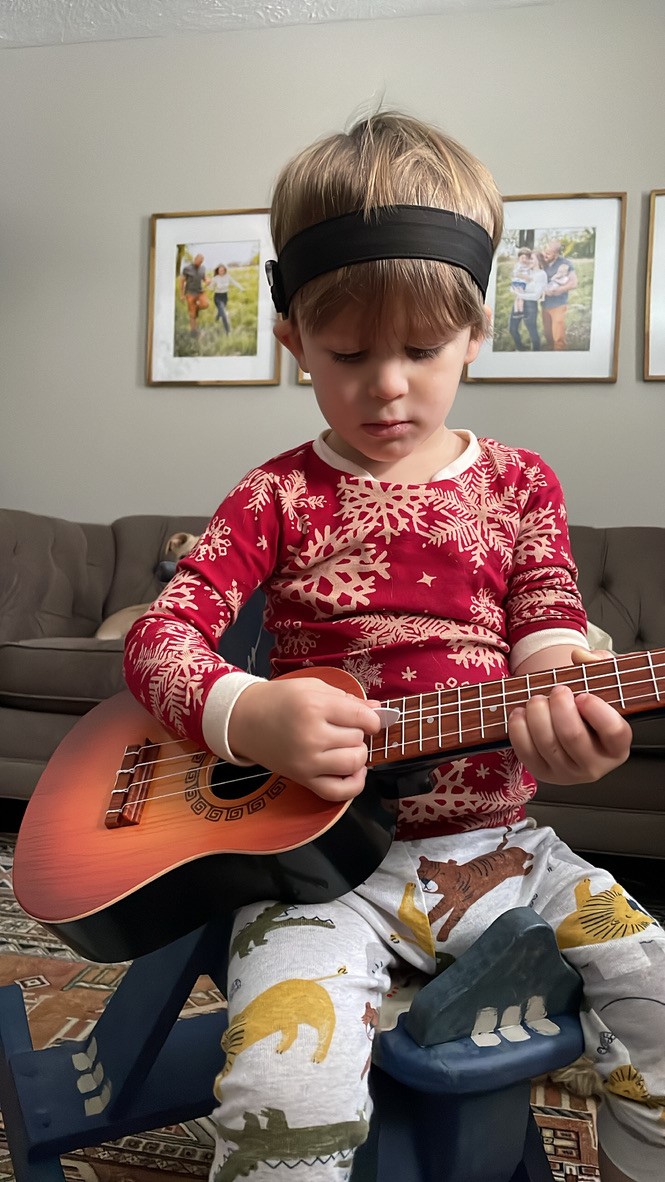 Certainly, there were doubts about what our future would hold after that surgery and activation. My husband was concerned about how he would communicate critical life lessons and successfully coach him in sports. I was nervous that he couldn't enjoy music and that he would lose the opportunity to form strong relationships with my family, who live out west in South Dakota and rely heavily on phone communication. We both were apprehensive of the energy needed to raise a deaf child while managing life with a newborn. After the dust settled, however, our worries were silenced, and we let the cochlear implants work their magic.
By the time that Otto's cochlear implants were activated on February 3 (left side) and February 10 (right side), he had been without sound for two months. He had a vocabulary of about 30 words prior to losing his hearing and regressed to using only two words. We immediately started with early intervention resources that were provided by the state of New Hampshire. Speech therapy and family ASL (American sign language) classes were a game changer, and it wasn't long before Otto was starting to talk again. ASL bridges the gap when he doesn't want to wear his sound processors – which is thankfully quite rare – and has ultimately started to connect him to his deaf identity.
Watching our boy thrive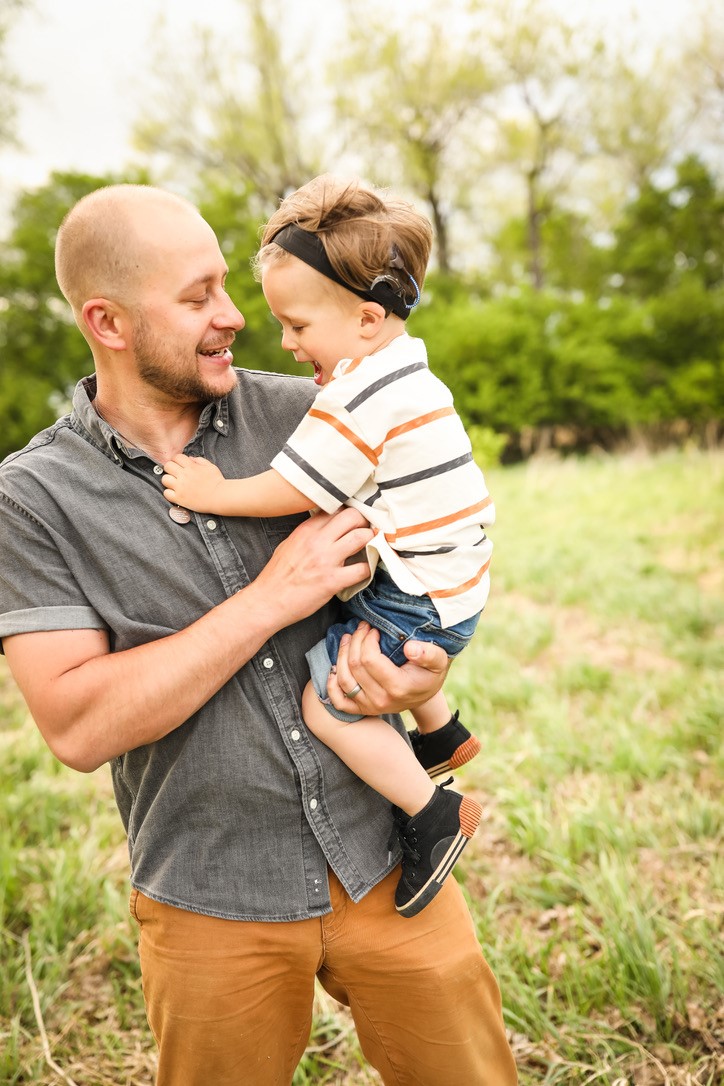 We had accepted (albeit begrudgingly) that we may not ever learn the cause of Otto's meningitis – most people don't know how or why they become ill. On Jul. 21, 2021, we had our second hospitalization for sepsis. Enter the immunology team at our local Children's Hospital and Otto was swiftly diagnosed with a compliment C2 deficiency, a genetic mutation that makes it impossible for his body to fight bacteria. He will be on an antibiotic for the rest of his life, but within a year of his original illness we were able to find the missing piece of the puzzle.
Otto was recently accepted into a Deaf and Hard of Hearing preschool program and will start in the fall of 2022. He can speak in 3-5 word phrases and knows over 100 signs. The live stream Bluetooth®1 feature on the Cochlear Nucleus Smart App2 has allowed us to stream music and movies on our phones directly to his processors – something that is quite handy with a toddler on an airplane. He listens to music every day and loves to play his guitar, but sadly he hasn't warmed up to my singing voice quite yet! We have gotten to see our brilliant boy thrive this past year and a half thanks to his cochlear implants and we couldn't be more thankful for the medical and educational teams that have gotten us to this point. Otto is a complete wonder, and his future will continue to be bright thanks in part to his Cochlear Nucleus 7 Sound Processors."
Has your child been diagnosed with hearing loss from meningitis? Learn more about cochlear implants today.
The Bluetooth® word mark and logos are registered trademarks owned by Bluetooth SIG, Inc. and any use of such marks by Cochlear is under license.
The Cochlear Nucleus Smart App is available on App Store and Google Play. For compatibility information visit www.cochlear.com/compatibility