After failing her newborn hearing screening, Bridget's parents quickly realized that they would have to face the battle of hearing loss and EVA together with their daughter. Acting quickly to find a resolution, Bridget's parents chose to implant her with the Cochlear™ Nucleus® 7 Sound Processor and couldn't be happier with the decision they made.
"Our daughter, Bridget, was born in 2020 with hearing loss. We were made aware of the concern before we left the hospital after her left ear failed the newborn screening twice. Everyone told us, 'It was normal' because she was born so fast. At 5 weeks old, Bridget had her first ABR (Auditory Brainstem Response) hearing test and to our utter shock (after all the not-so-great advice we got), it was confirmed that she actually had hearing loss, and we were completely devastated.
Hearing loss and EVA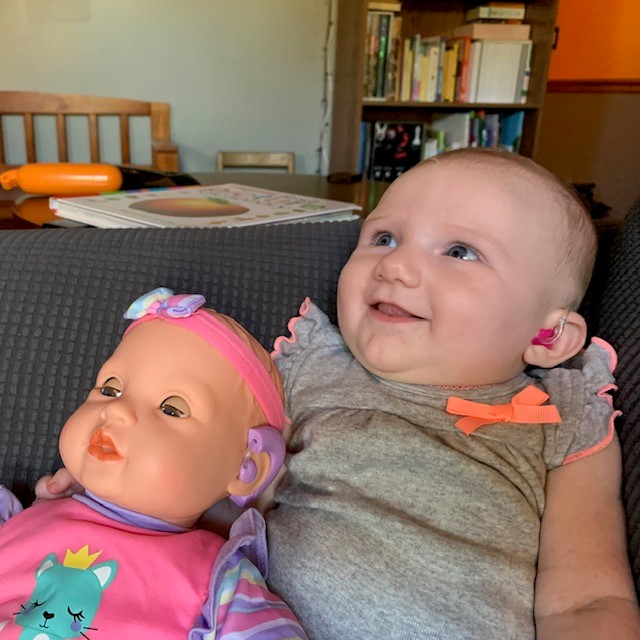 Over the next few months, Bridget had more tests, more appointments and got a hearing aid at 3 months old. Shocked again, at 4 months old, Bridget lost the remainder of her hearing in her left ear and was diagnosed with a bilateral inner ear malformation called enlarged vestibular aqueduct (EVA) which we quickly saw was progressive. With more tests and more appointments, we began the cochlear implant process.
Exploring options and choosing Cochlear
We thought this would be an exciting time, however, we were taken aback after we were denied by insurance time and time again. Finding a new strength and a new voice, we fought to prove to insurance why our daughter deserved to have access to sound from both ears. Our amazing team fought so hard to make sure Bridget got the care she needed. After being denied four times, Bridget finally got implanted on her left side a few days after she turned 1 year old.
It was an easy decision choosing Cochlear. As a teacher, I have taught a child with the brand, so I was familiar with it. I also heard from other families about the amazing customer service and functional water gear1.
The joy of watching Bridget grow up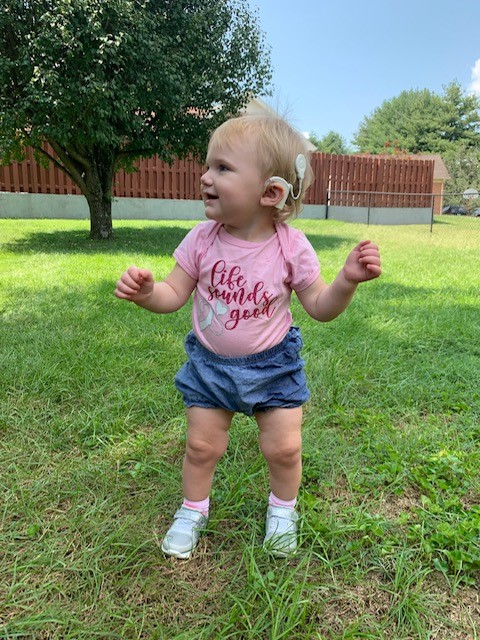 The process of having a child with hearing loss has been hard, but we wouldn't change it at all! We have hit a lot of bumps along the way, we have had people doubt us, we have had people tell us they think Bridget's hearing loss is fake and we have felt unaccounted for because Bridget has unilateral hearing loss.
We will do whatever we need to do for Bridget to be successful no matter what adversity we come across. After weeks of being implanted and activated, everyone could see a change in her. Bridget was happier and she was babbling more. Now at 18 months old she is mimicking, using ASL with spoken language, adding new words to her vocabulary, wants to put her 'ear' on and can even put her magnet back on all by herself.
Nucleus 7 Sound Processor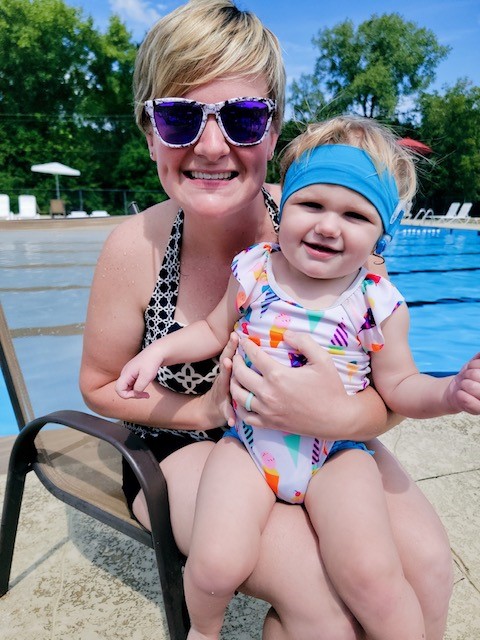 The Nucleus 7 Sound Processor is great for Bridget. She is so young she can't explore all the fun things the processor and Nucleus Smart App2 have to offer, but we can't wait to see how she uses everything as she continues to grow. For now, it is nice to be able to stream directly to her ear, to use the app to track how many time her sound processor comes off, see what the battery life is and to see if her processor is currently on. We live by the lake so knowing Bridget's Nucleus 7 Sound Processor is safe with the Aqua+ Kit3 makes our outdoor adventures more enjoyable.
No matter what Bridget decides to do in her life, we want her to feel supported and know that she can do anything she wants. Life has risks. With Bridget's hearing loss and EVA, there are risks. We don't want these potential risks to hold her back or make her feel like she can't do what she wants in life. We are excited to see her potential and where she goes. As for now, Bridget spends her days chasing around her older sister, Abigail, and living her life to the fullest!"
Has your child been diagnosed with hearing loss and EVA? Are you trying to find a hearing solution to address this problem? Click here to learn more about the Cochlear Nucleus 7 System today.
4