According to the American Academy of Pediatrics, cytomegalovirus (CMV) is the most common congenital viral infection and the leading nongenetic cause of deafness in children. This was the start of Jessica S.'s son, Dawson's, story:
"Dawson's hearing journey began before he was even born.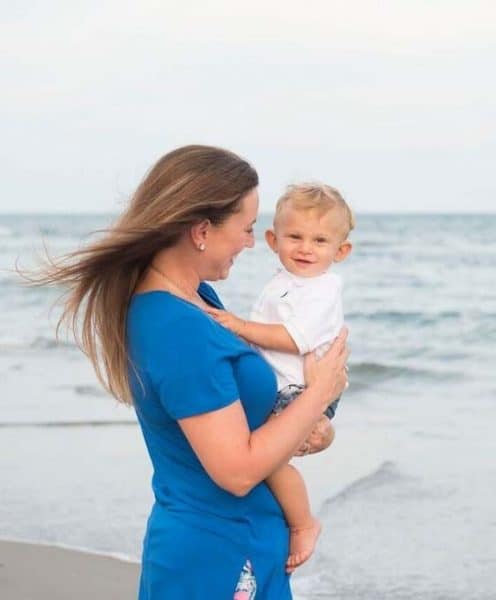 When I was around 12 weeks pregnant, I found out I had a primary infection of CMV.
After several immunoglobulin treatments and an amniocentesis, we found out Dawson had cCMV (congenital CMV). I read over results from different studies while receiving my immunoglobulin infusions and learned that one of the most common outcomes associated with cCMV was progressive hearing loss.
When Dawson didn't pass his newborn hearing screening, I wasn't surprised.
Within a week we were seeing an audiologist and having an ABR (auditory brainstem response) test done. His results were a little worse than I was expecting.
After the initial sadness and anger, I began to plan. We knew that if Dawson was a candidate for cochlear implants, we were moving forward as soon as possible.
After an initial consultation we decided to go with Cochlear. It wasn't a hard decision for us. In our surgeon's opinion, they were the most durable, and we liked the ease of the technology.
Dawson's surgery was performed by one of the best surgeons in the country (according to his colleagues), and he was activated 20 days later.
Dawson cried when he heard our voices, but I was so relieved that it worked and he could hear something!
We chose one set of CochlearTM Nucleus® 6 Sound Processors and one set of Kanso® Sound Processors, and we currently only use the Kansos.
In my opinion, Kanso is perfect for little ones. Dawson has never pulled at them or tried to take them off. We use the safety line to attach it to his clothes, and we don't worry about losing them. With the Aqua+, the Kanso is also very easy to waterproof for time spent in the pool or at the beach.
Dawson attends therapy once a week at UNC's Children's Cochlear Implant Center, and he has made so much progress. His first word was 'mama,' which completely melted my heart.
Dawson's vocabulary grows every day. He loves 'patty cake' and starts doing the hand gestures as soon as we start singing. Watching him enjoy the sound of birds chirping is priceless.
I will forever be grateful for Cochlear Americas and UNC. Thanks to them, Dawson's future is limitless."
If your child failed their newborn hearing screening and you're looking for more information on cochlear implants, visit IWantYouToHear.com.