Carson was a healthy baby, but after multiple failed newborn hearing tests, his parents had to look to experts for a way for their boy to hear. He was identified as a cochlear implant candidate and was given cochlear implants along with the gift of hearing. He cried the first time he heard sound but now loves school, violin and the sound of cars. More on Carson's journey here:
"When Carson was born, he was a beautiful healthy baby weighing 9.9 pounds! He was so perfect, and we were in love. When it came time for his newborn screening test we were so surprised that he failed it. The doctor reassured us that it was ok and that some babies don't pass them right away. Well, they took it again the next day and he failed again. They tried seven more times after that, and he failed them each time. We were a little concerned but so happy he was otherwise healthy. After a few weeks the doctor wanted him to have an Auditory Brainstem Response (ABR) test done. We took him for that appointment and at that time he was only a couple months old. They had him hooked up to different wires; sadly, he failed that test too.
They sent us to see an ear, nose and throat (ENT) doctor. After he looked Carson over, he realized the problem was more internal and suggested we set an appointment with a hearing doctor downstate in Michigan. We made the appointment at the local Children's Hospital. At our first appointment, they did another hearing test on him; we found out he had a little bit of hearing in his right ear and nothing in the left. We had an audiologist come in and talk to us and started mentioning hearing aids and cochlear implants; we were not familiar with cochlear implants and weren't even sure yet at that point was what they were.
Finding a cause for Carson's hearing loss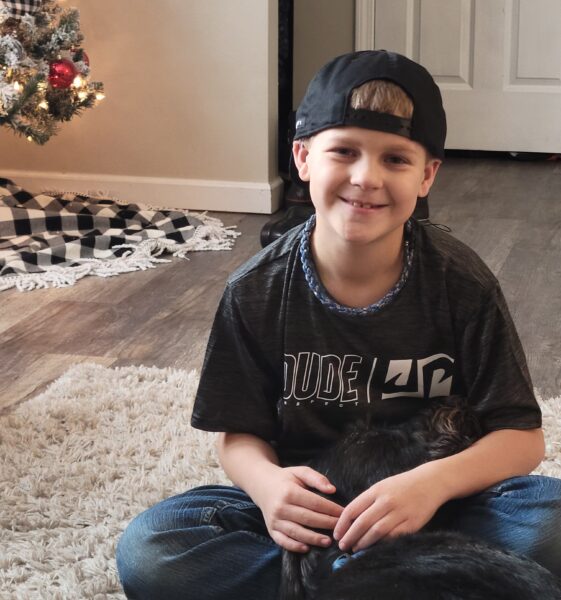 His doctor at the Children's Hospital suggested we start Carson out on hearing aids. He was 5-months-old when he received his first set. We started driving down to Children's (4-hour drive) twice a month for Carson to get new ear molds for his hearing aids. At 7-months-old Carson had an x-ray and CT scan so they could figure out what was causing his hearing loss. After the tests we found out Carson's cochlea did not develop. Even though Carson had the hearing aids, they were not giving him the proper sound that he needed. That's when we started researching more about cochlear implants. After looking into them more we decided this is what we want for Carson.
Because of Carson's anatomy his doctor needed to make sure that the implant would work. So, Carson went under for a test cochlear surgery. They take a small needle and insert it through the ear and see how much of a response they would get back. Thankfully they got a great response back and his doctor was pleased to say we could move forward with cochlear implants!
A crazy, emotional day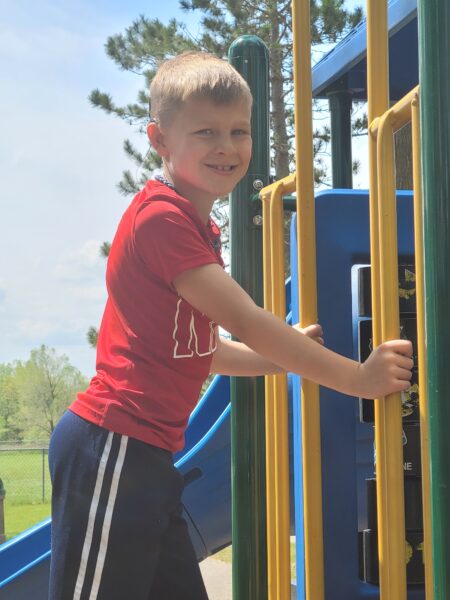 At 15-months-old, Carson received his very first implant. It was a crazy, emotional day, but we were so happy to be able to give Carson the beautiful gift of hearing. A couple weeks later Carson had his Cochlear™ Nucleus® 7 Sound Processor turned on. He cried the first time he heard sound but after that just took it all in. Two months later he said his first word: 'ball' and just took off after that with his speech.
At 2 years old Carson received his second implant. Since then Carson started speech therapy and school. He is 8 years old now and doing amazing! His speech improves every day. Because of his wonderful 'ears' Carson can talk and hear.
Choosing the right brand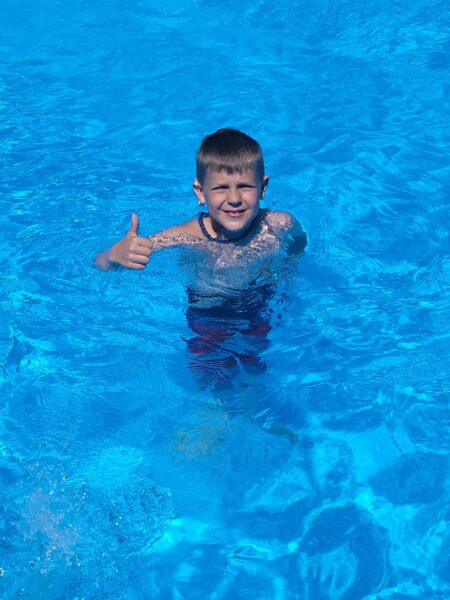 We chose the Cochlear brand because we heard so many good things about them and we have been so happy with our choice. We are so thankful for this company in providing such wonderful service to us for the last 7 years. One accessory we really love is the Aqua+ kit1 for his ears. Carson is able to go swimming and hear at the same time.
Carson is currently in 3rd grade and doing amazing in school. His favorite subject is math and he just started violin lessons, which he loves. We are so happy we made the choice seven years ago to do implants for our sweet boy. He always says his favorite sound is the sound of a car. He loves his cars!
He is our miracle boy"
Has your child failed a newborn hearing test? We are happy to assist in seeing if Cochlear is a solution for you.
2
The Nucleus 7 Sound Processor with Aqua+ is water resistant to level IP68 of the International Standard IEC60529. This water protection means that the sound processor with the Aqua+ can be continuously submerged under water to a depth of 3 meters (9 ft and 9 in) for up to 2 hours. This water protection only applies when you use a Cochlear Standard Rechargeable Battery Module or Cochlear Compact Rechargeable Battery Module. The Nucleus 7 Sound Processor is water-resistant to level IP57 of the International Standard IEC60529 without the Aqua+ accessory for the Nucleus 7 Sound Processor.
The Nucleus 24 cochlear implant system is intended for use in children 9 to 24 months of age who have bilateral profound sensorineural deafness and demonstrate limited benefit from appropriate binaural hearing aids. Children two years of age or older may demonstrate severe to profound hearing loss bilaterally. In younger children, limited benefit is defined as lack of progress in the development of simple auditory skills in conjunction with appropriate amplification and participation in intensive aural habilitation over a three to six-month period. It is recommended that limited benefit be quantified on a measure such as the Meaningful Auditory Integration Scale or the Early Speech Perception test. In older children, limited benefit is defined as ≤ 30% correct on the open set Multisyllabic Lexical Neighborhood Test (MLNT) or Lexical Neighborhood Test (LNT), depending upon the child's cognitive and linguistic skills. A three to six-month hearing aid trial is recommended for children without previous aided experience.