Shortly after Miles' birth, he failed his hearing test and was diagnosed with profound hearing loss. His family was in shock with no history of hearing loss in the family. They immediately sought early intervention for their child and discovered he was a candidate for cochlear implants. After becoming the youngest cochlear implant recipient in Western New York, Miles is now able to speak and comprehend at or above the level of his hearing peers. Read more:
"Our son, Miles, was born in July 2020. When I held him in my arms for the first time, becoming his mother was the only thing in the world that seemed comforting, and to make sense, amid a global pandemic. He is a good-natured boy and has always been very sweet. Even in the hospital, the nurses would all dote on him and comment how the sound of the other babies crying never seemed to bother him. He would simply lay in his bassinet, eyes wide-open and stare up at the ceiling waiting to be held or fed. It seemed like such a sweet anecdote. As I laid in my hospital bed, I imagined myself telling him that same story when he was older. Perhaps, in front of his friends to embarrass him a bit and make him blush. However, that daydream quickly faded into a stark fear when Miles failed his newborn hearing test in the hospital the next day.
A shocking diagnosis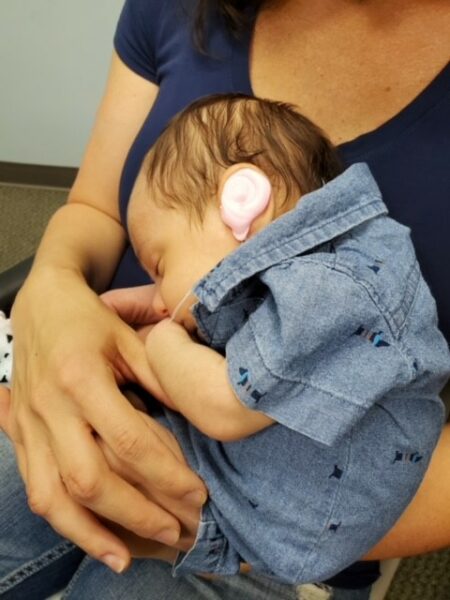 Despite two failed hearing tests, the nurses told my husband and me not to worry; that it was most likely fluid in his ears from the delivery and assured us everything would be fine. However, the hospital scheduled an appointment for us at a local audiology practice just to be sure. It was at that appointment, when Miles was 6 days old, we found out he had profound hearing loss; bilateral sensorineural hearing loss to be exact. I thought my heart was going to explode in my chest. My body was burning like I was on fire; I felt sick to my stomach and immediately lost all self-control hyperventilating and bursting into tears. I had a million emotions and thoughts rushing through my head and could not find the words to communicate any of them. The feelings of shock, disbelief, and grief were too much to handle. Looking at my perfect, beautiful, sweet, newborn baby, I could not comprehend how this was possible; neither of us had any family history of deafness. Breaking the news to our family when we returned from our appointment only compounded the sadness and fear we felt, especially when most of them rejected the idea he was deaf and continued to assert that 'he would grow out of it.'
Starting on a mission for early intervention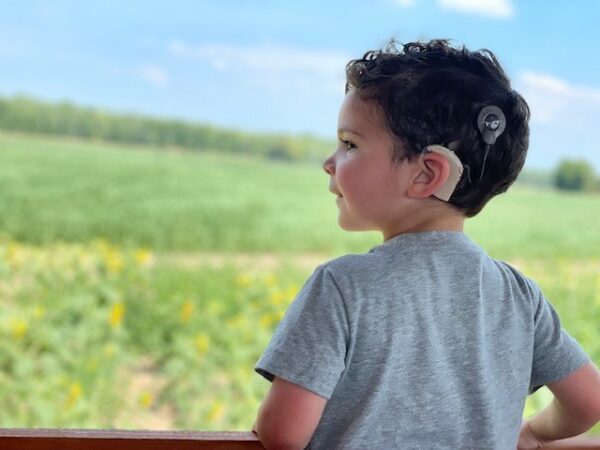 In the days that followed, I quickly realized this was not about me or anyone else other than my son. I made it my mission to learn as much as I could about hearing loss and to find out what I needed to do to ensure he would thrive in his development, and not fall behind his hearing peers. In addition to Miles' pediatrician, I assembled a team of providers including an audiologist specializing in children that use cochlear implants, an early intervention case coordinator through the county we live in, a speech therapist, teacher of the deaf and a pediatric otolaryngologist.
At the suggestion of our speech therapist, I took the additional step of applying for and enrolling Miles into a two-year study with Northwestern University that has been evaluating new early intervention strategies to reduce the time it takes children with hearing loss to catch-up with their hearing peers. It was also around that time we began researching cochlear implants and surgeons. Miles received his first set of hearing aids at 7 weeks old, and we were diligent about making sure he wore them during all waking hours even though it was evident he still was not able to hear with them.
In September, when Miles was about 10-weeks-old, my husband and I met with the surgeon that would be performing our son's cochlear implant surgery. He informed us that pending the results of an MRI to detect the presence of the auditory nerve on both sides of the brain, Miles would be a candidate for the surgery. Under the current FDA guidelines1, it could be performed as early as 9-months old. His MRI appointment was scheduled – I was a nervous wreck waiting for the MRI appointment and the results. I was made aware of the date the results would be available. As midnight approached on that day, I was up all night long, checking his medical portal every hour to see if the results were posted yet. Finally at eleven o'clock in the morning, I saw the report confirming the presence of the nerve on both sides of the brain. At that time Miles was scheduled to receive his cochlear implants in April 2021. He became the youngest recipient of cochlear implants in Western New York.
A unanimous decision based on tech, reputation and reliability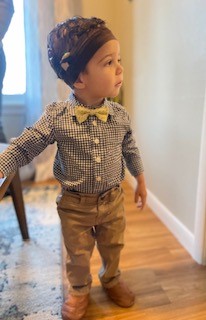 When we received the MRI results, we were also given a stack of information about the different implants and manufacturers there were to choose from. We spent the next several weeks reading through the materials, reviewing all their websites and finding out anything and everything we could to help inform our decision. My husband and I decided unanimously to select the Cochlear™ Nucleus® 7 Sound Processor for our son. The cutting-edge technology, reputation, and reliability of Cochlear, combined with the ease of use, customer support and wide variety of accessories made it the obvious choice for us.
On activation day, Cochlear provided us with two large bookbags filled with headbands, spare parts, different sizes of batteries, chargers, dry boxes, adapters and so much more. I was so impressed with the number of items that were provided to us. To this day, I still come across new and helpful accessories. The best part was the video handbook for the cochlear implants! It made it simple to share information with our family, daycare and other caregivers to teach them about his processors and how they work.
New and engaging activities for learning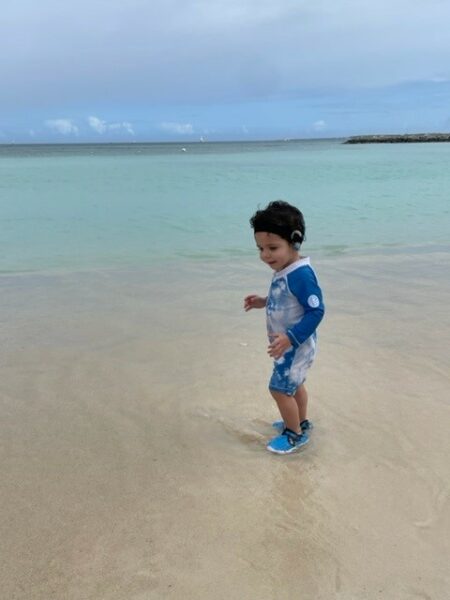 Our family has always treated Miles like any other child. Prior to having cochlear implants, we always spoke, sang and read stories to him just as we have done with our hearing children. He enjoys several different activities, but most of all loves visiting museums, the zoo, swimming and travelling.
Miles began swim lessons when he was 15 months old, and loves being in the water. We use his Aqua+ kit2 at least once a week, and it is our favorite accessory! We love it so much, we have the standard size Aqua+, and an extra one that fits the compact batteries. Using the Aqua+ during swim lessons and in the bath, has given us the opportunity to teach Miles plenty of new vocabulary while engaging in the activities he loves the most. We have discovered the more interested Miles is in an activity, the quicker he understands and retains the new words he hears.
At 2-years-old, Miles had a comprehensive assessment done as part of the study he is participating in. During that assessment they looked at several different areas of speech and comprehension. He scored at or above the score for his hearing peers in every measurable area and has completely closed the gap of any deficit that existed from not hearing for most of his infancy. Miles continues to be a happy and thriving toddler. I owe it all to the excellent care he has received from his team of interventionists, our family's consistent work and dedication to his hearing and most of all, to Cochlear!"
Are you seeking early intervention for your child diagnosed with hearing loss? Contact Cochlear for options today!
In the US, the cochlear implant system is intended for use in children 9 to 24 months of age who have bilateral profound sensorineural deafness and demonstrate limited benefit from appropriate binaural hearing aids. Children two years of age or older may demonstrate severe to profound hearing loss bilaterally.
The Nucleus 7 Sound Processor with Aqua+ is water resistant to level IP68 of the International Standard IEC60529. This water protection means that the sound processor with the Aqua+ can be continuously submerged under water to a depth of 3 meters (9 ft and 9 in) for up to 2 hours. This water protection only applies when you use a Cochlear Standard Rechargeable Battery Module or Cochlear Compact Rechargeable Battery Module. The Nucleus 7 Sound Processor is water-resistant to level IP57 of the International Standard IEC60529 without the Aqua+ accessory for the Nucleus 7 Sound Processor.