After Giada was born healthy and happy, her parents were surprised when she was later diagnosed with profound hearing loss. Giada's parents share below in their own words why they chose Cochlear for her cochlear implants and how early intervention helped their child hear the world around her:
"Giada Capri, our 4th of July baby, is a healthy, happy and motivated baby girl who loves to be outdoors, whether we are at the park, the zoo or in her kiddie pool. At 3 weeks old Giada was diagnosed with profound hearing loss after failing her newborn hearing screening 3 times after her birth. Finding this out was a shock because of how alert and eager to learn, even at just a few months old, she was.
With no one else with hearing loss in our family, we knew we wanted Giada to hear and to speak so that she could have the brightest future she could possibly have. When she was ready, we began the process of seeing if she was a candidate for bilateral cochlear implants at our Children's Hospital here in San Diego, California.
Researching Cochlear after diagnosis of hearing loss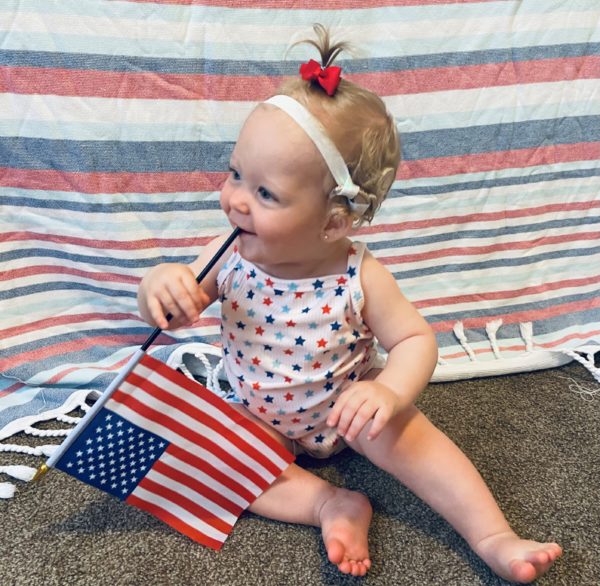 Shortly after finding out about my daughter's hearing loss, I began to research the various companies for implants, and which one would have the best outcome for our daughter. After coming across Cochlear America's social media page and seeing all the accessories our daughter could benefit from, from the TV Streamer to the Aqua+1 Kits, we were set on our decision.
The Mini Microphone has been a great way to minimize surrounding sounds in an overstimulating atmosphere. Learning that we would be able to track our daughter's hearing and the volume of her processors through our phones on the Nucleus® Smart App2 put my mind at ease to know we would be able to see that she would be benefiting from her implants.
After no benefit from hearing aids over a 3-month hearing aid trial, Giada was bilaterally implanted at our Children's Hospital in San Diego, California. A week later she was activated at their audiology department. Seeing the Nucleus 7 Sound Processors in-person during activation, and how exactly they work, we were relieved to see how simple they are to charge, put together, replace parts and put on our daughter's head.
Adjusting to her new world of sound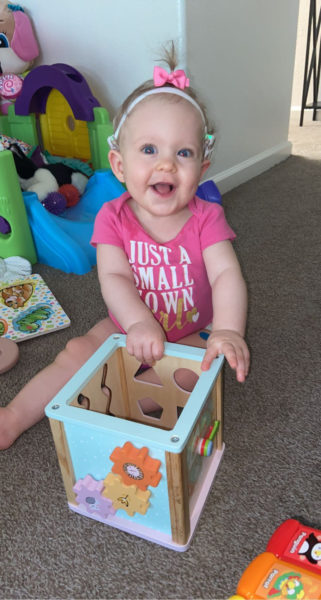 We couldn't believe the number of accessories each processor came with to ensure we had enough extra parts and various ways to help our baby girl to keep her processors on her head. The processors are simple to keep clean and any information needed is easy to find inside of the electronic manual provided in the backpack we were sent home with that holds all of our accessories.
Giada has adjusted to her new world of sounds wonderfully. She loves to wear her N7's and we are excited to learn that Giada can wear them in her kiddie pool without the fear of being damaged*. Being able to control the features of her implants from my iPhone®3 makes it very convenient, especially in noisy situations since sounds are still so new to her.
She loves to listen to the music from her toys that she couldn't hear before. She loves to dance and clap her hands to the beat. A week after activation she began to respond to hearing her name. It puts me at ease to now know that my daughter knows where I am at all times because she is now able to hear when I call out to her, wherever I may be.
Giada's future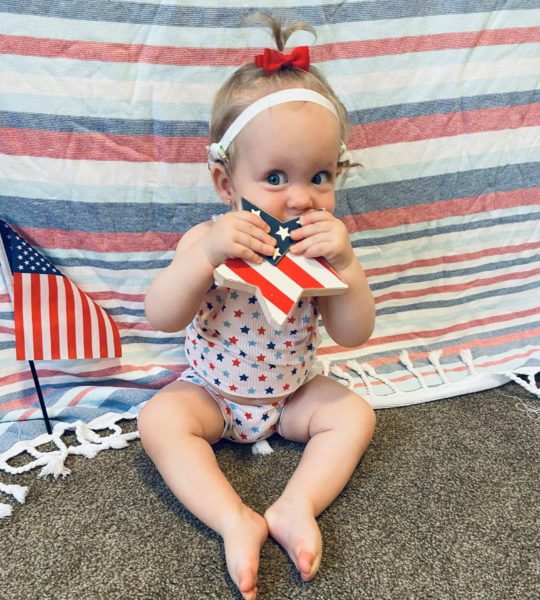 Giada is currently receiving audiology and auditory rehabilitation through the Children's Hospital to ensure her implants are working properly. We cannot wait to see what she does next! Cochlear has changed our lives forever, along with all the doctors and services who care for her. We are beyond thankful and can't wait to see why her future holds!"
Was your child diagnosed with profound hearing loss? Learn what steps you can take next to explore cochlear implants. 
4