Penelope's family was prepared in every way they could be for her birth. What they weren't prepared for was when she was diagnosed as deaf in both ears. After a failed newborn hearing screening and later a failed auditory brain response test, they sought out options to help Penelope hear the sounds of the world. They discovered cochlear implants and now she is bilingual and participating in listening and spoken language therapy. Read more:
"As a mom-to-be, I read all the 'what to expect' books and downloaded all the apps. Nothing prepared us for the day doctors told us our baby, Penelope, was deaf in both ears and the journey ahead. I remember that feeling like it was yesterday.
Nothing routine about this newborn screening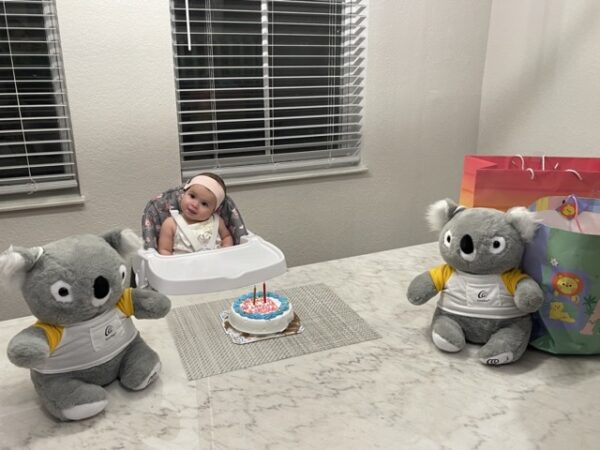 About 12 hours after Penelope was born, the nurse walked in to do her routine newborn screening. I didn't think much of it until I heard her say 'we need to repeat the exam tomorrow because the results were inconclusive.' The postpartum anxiety and baby blues kicked into full gear instantly. Every moment I could I tried making noise to see if Penelope would startle but nothing happened.
The next day, the nurse came back and repeated the test; as my newly found motherly intuition predicted, it was negative again. I was handed a folder with her results. I pretty much blacked out the rest of the hospital stay until I was supposed to take this baby home and figure out how to calm her down when she couldn't hear me. I don't remember much of how it happened, but my brain kicked into full blown gear. I knew early intervention was critical if I wanted Penelope to thrive.
A profound diagnosis
I made it to the hospital where the audiologist performed her first Auditory Brain Response (ABR) test. A test that had my heart in my throat for about 2 hours. Since all of this was happening in the midst of COVID-19, I had to attend all of the appointments alone. The audiologist told me 'I performed the test at the highest level the machine allowed and did not get a response. Your daughter has profound hearing loss. I did the fluid test and her ears are clear.'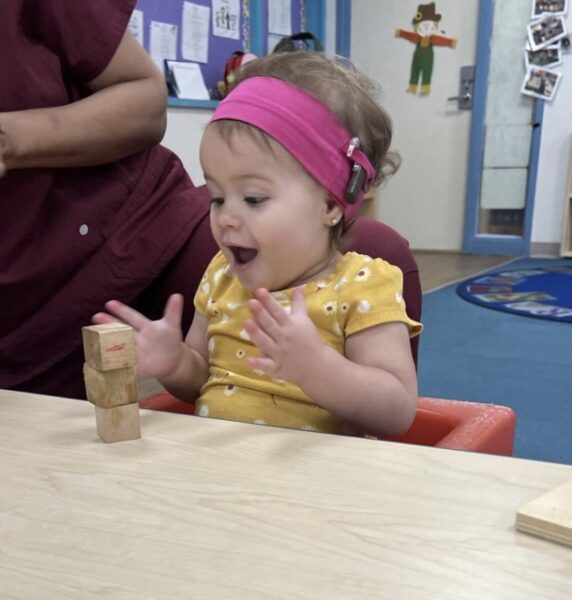 At that moment, my world stopped and I think I blacked out. I didn't know anyone with hearing loss on either side of the families. That day we told each other that we would allow ourselves ONE DAY to grieve and cry it out. All three of us took a nap and I vividly remember having a dream where Penelope said 'Mama.' The next day I began the long and hard road to cochlear implant surgery.
An easy choice for Penelope's future
When it came to choosing a brand, we had no doubt that Cochlear was the company we were going to choose. From the variety of processor colors, the Aqua+ Kit1 and their renown customer service, it was an easy choice.
Since Penelope's cochlear implant activation, we've experienced such a positive reaction. Penelope loves to listen to the sounds of the world and it reassured us that we made the right decision.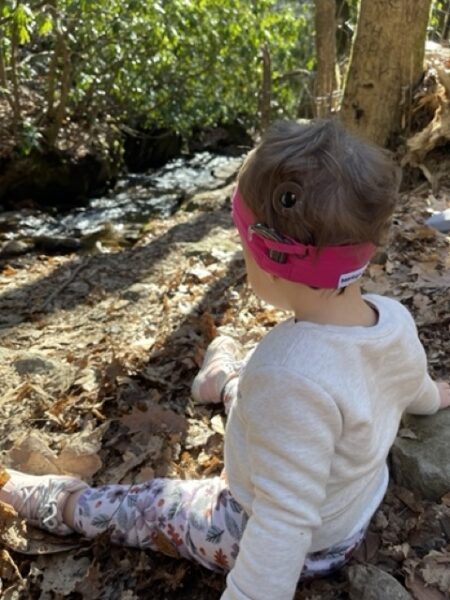 Our family has chosen to focus on Listening and Spoken Language (LSL). She attends a school with the only Auditory Oral Program in our area. She's progressing so quickly. We're a bilingual house (English & Spanish) – Penelope can say 'gracias (thank you),' 'Mama,' 'Papa,' nicknames for grandparents and so much more. I'm truly impressed by the hard work she and her auditory team put in every day. Cochlear implants have given our entire family the ability to communicate with Penelope and she loves every moment of it."
If your child has been diagnosed as deaf in both ears, cochlear implants may be a solution for them. Contact us today for information.
The Nucleus 7 Sound Processor with Aqua+ is water resistant to level IP68 of the International Standard IEC60529. This water protection means that the sound processor with the Aqua+ can be continuously submerged under water to a depth of 3 meters (9 ft and 9 in) for up to 2 hours. This water protection only applies when you use a Cochlear Standard Rechargeable Battery Module or Cochlear Compact Rechargeable Battery Module. The Nucleus 7 Sound Processor is water-resistant to level IP57 of the International Standard IEC60529 without the Aqua+ accessory for the Nucleus 7 Sound Processor.