Amber W. was shocked to find out her son, Kade, had sensorineural hearing loss and cochlear nerve deficiency. Wanting an opportunity to give him sound, she got him cochlear implants in hopes of keeping him safe and allowing him to hear her say, "I love you." See how he is doing today:
"After the birth of our first child, we discovered he had a bilateral sensorineural profound hearing loss. He had failed multiple newborn hearing screens at birth, which resulted in a referral to the ear, nose and throat doctor (ENT) for further examination.
We were in shock and had no idea what laid ahead. We were almost in disbelief, as we were feeling so many emotions. We are a hearing family, having no experience with hearing loss or any knowledge of sign language. With all the things you plan for in pregnancy, this was not something we could have prepared for.
Obstacles on our hearing journey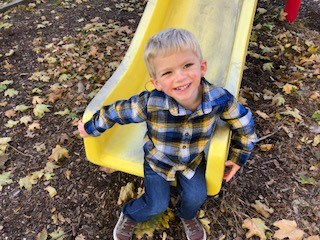 Through our hearing journey, there were many obstacles: an MRI/CT scan, several hearing tests and a hearing aid trial. I will never forget being told 'your child's hearing loss is profound, his hearing aids cannot produce enough sound to give him access to speech and language.' We just sat there, looking at each other, trying to process what we had just been told, our brains running wild. All the 'what ifs,' the worries and fear for the future, the questions that have no answers and the wonders of what we do next…how do we best help our child?
At this time, we were introduced to cochlear implants. We had very limited knowledge on them and had only heard of one child in our family that had cochlear implants. It was a lot of information to process. We thought we had taken the brunt of the information, until we received the MRI results; they were the most challenging to hear. His auditory nerves were so tiny they appeared absent on the scan, a diagnosis called cochlear nerve deficiency.
Taking the opportunity to give him sound
At this time we knew what we wanted, we wanted the opportunity to give him sound: a chance to hear, to hear our voices, to hear the rain outside and the cars drive by. We wanted him to have sound awareness of potential dangers around him, such as a car honking or a train coming, we wanted him to hear us calling his name and hear us saying, 'I love you.' All this could be possible if we decided to get him a cochlear implant.
Due to his nerve deficiencies, there were many worries about whether the implant would be beneficial, as there has to be a working auditory nerve to stimulate for the implant to work, but we were blessed with just the right surgeon who had hope that he could provide Kade with sound, even with his questionable anatomy. In our hearts, we knew this is what we wanted and if there was a possibility to give him the best of both worlds, to give him sound, we absolutely wanted that for him!
Why we chose Cochlear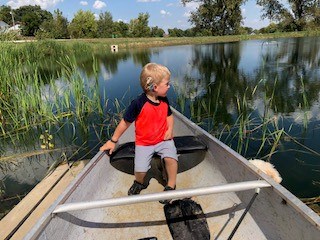 We chose Cochlear and the Cochlear™ Nucleus® 6 Sound Processor because of the personal family experience we had with the company. We also chose Cochlear for the technology, because that was the technology our hospital was most acquainted with and because of the wireless options Cochlear provides.
Our favorite accessories are the Aqua+ kit1 that allows him to hear in the water and the True Wireless™ Mini Mic 2+ that allows us to talk directly to him in a busy area.
Today he is thriving. He loves to hear and to listen, especially to music, and he is learning to speak and has blown us all away with his progress. He is your typical ornery, smart and social 4-year-old who does not skip a beat or let anything hold him back.
His processors stay snug on his ear while using the Cochlear Snugfit so he can run, jump and play at the park. Anything his heart chooses to do, he can do. Our child, born deaf with rare nerve deficiencies, is now hearing in the normal hearing range, all thanks to our incredible surgeon, audiologists and Cochlear's technology.
Our goals for Kade
Our goals for him are simple, to help him hear and communicate well, to enjoy life and love others. We use a total communication approach, meaning he is learning spoken language and using his listening skills, as well as using sign language. The more knowledge and language, the better in our eyes. Seeing him light up to the oven beeping, our phones ringing, thunder, siblings crying, his name being called while in a different room, dogs barking outside and to most importantly, our voices, is a feeling that cannot be described. It is an overwhelming joy!
To see your child respond to sounds is a huge milestone I never knew I would celebrate and cherish so much. Cochlear implants have given our child a whole new world to experience, have opened up our eyes and introduced us to so many new amazing people. Hearing loss was not a journey we planned, but it has been pretty incredible.
Cochlear's incredible customer service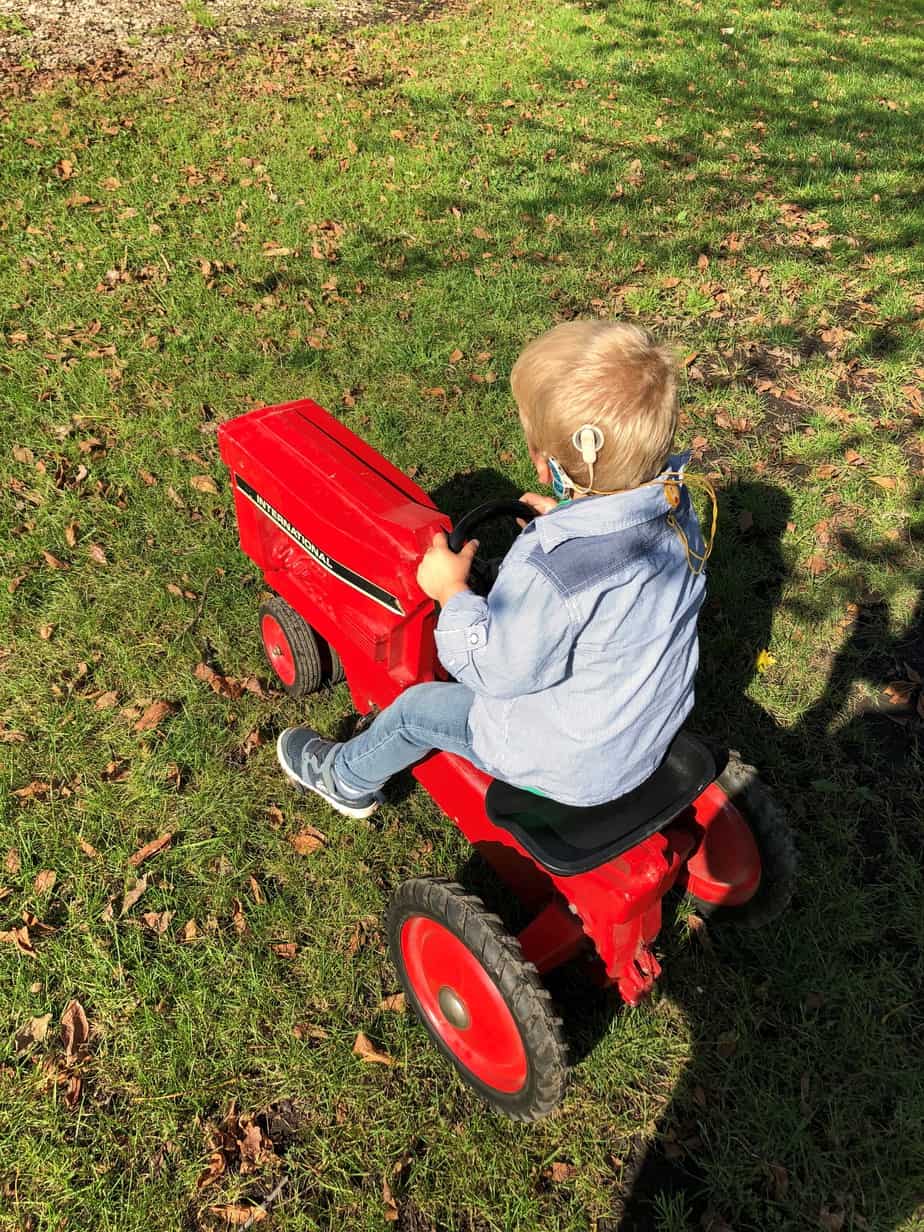 Something that stands out about Cochlear is their customer service. Being a parent comes with many worries, especially to a young child with additional needs. With the warranty given by Cochlear and their incredible customer service, I never have to worry about getting replacements for broken parts, as young children inevitably roughhouse and break equipment. One quick call and they are more than helpful to send you what you need (and fast) as they understand how important it is for your child to hear.
They are not just a company, they truly want to help and go above and beyond, even just by being friendly over the phone. Between getting insurance information lined up, ordering parts, making sure you have what you need and know how to use them, helping with any troubleshooting and just in general, they make that phone call pleasant. That is huge for a parent, to be able to focus on their child and know the rest is taken care of.
We cannot thank Cochlear enough for what they have given our child, the gift of sound! I encourage any parent of a child with hearing loss, to not give up hope, to explore their options and know they are going to be more than okay; they are going to thrive. These kids can do anything!"
Was your child diagnosed with cochlear nerve deficiency? Learn about cochlear implants as a potential solution to unlock their world of sound.