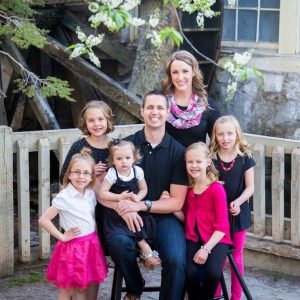 Kimber P. has five little girls. Only one has hearing loss. Born with congenital cytomegalovirus (CMV), Alyssa began losing her hearing when she was 3 and lost all her hearing at 6. Researching options to keep her part of the listening and spoken world their family had built for their daughter, Kimber found cochlear implants and the new discreet sound processor option, the CochlearTM Kanso®; a solution to get her daughter back to hearing all the sounds of their family and her life:
"Alyssa is our fourth child in a family of five little girls. She was born with CMV. Hearing loss is the most common health problem in babies born with congenital CMV.
Surprisingly, Alyssa passed her newborn hearing screening. However, a month after her third birthday we learned through an auditory brainstem response (ABR) test that she had profound hearing loss in her left ear and mild-moderate loss in her right ear.
Alyssa was fitted with hearing aids, which she wore throughout preschool and kindergarten. Since we knew that progressive hearing loss was common with CMV, we continued to closely monitor her hearing regularly.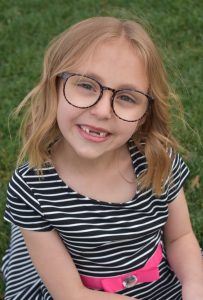 Sure enough, at the age of 6, her hearing in her right ear dropped drastically within a six month period, making her a candidate. Alyssa uses listening and spoken language to communicate and attends a mainstream school. The thought of her going completely deaf at age 6 was very scary for her and for our family.
Communicating with Alyssa became difficult and frustrating. While she had always done well academically, her time at school became more and more challenging as her hearing declined. We also noticed her struggling to communicate with her friends.
We decided that cochlear implants would be the best answer for Alyssa and quickly went through the candidacy process with her surgeon and audiologist.
Alyssa had her left ear implanted this past fall, and she was activated a few days after her seventh birthday. Alyssa received a cochlear implant in her right ear three months later.
As we were researching which cochlear implant to pick for our daughter, we discovered that the Kanso Sound Processor was just being released from Cochlear. Like computers and cell phones, cochlear implant companies seem to always be coming out with the newest, latest and greatest technology every couple of years. Because we wanted the best for our daughter, Alyssa currently has bilateral Nucleus 6 Sound Processors as well as Kansos.
As Alyssa becomes a tween and eventually a teenager, we felt that having a more discreet sound processor would help her to feel more confident and comfortable in social situations. The Kanso stays on her head well, and she has never complained about it being uncomfortable. She does wear the hair clip that connects to the Kansos for added retention.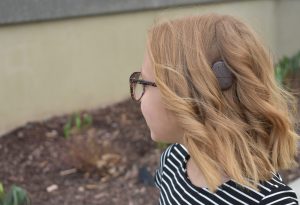 Although Alyssa's Cochlear Implants are still new, we are very pleased with how well she is hearing. At her one week follow-up appointment with the audiologist, Alyssa was repeating sentences in the sound booth with 86 percent accuracy in the left ear and 88 percent accuracy in the right ear.
Alyssa uses an FM system in her mainstream first grade classroom and is excelling academically. She is passing her Individualized Education Program (IEP) goals and hearing so well with her new Cochlear Implants that the district's teacher of the deaf services will no longer be needed for Alyssa.
At home, we connect the CochlearTM True WirelessTM Mini Microphone 2+ to her personal MP3 player, and she loves rocking out to One Direction and the Trolls soundtrack. Alyssa is currently in swim lessons and is planning to start either piano lessons or a dance class this fall.
We're excited for the what the future holds for our daughter."
For more information on hearing loss solutions for your child, visit IWantYouToHear.com.