As a young child, Jackson was meeting all of his physical development milestones, but when it came to his hearing and speech he stopped meeting those milestones. It was determined that he was experiencing hearing loss from Usher syndrome. Jackson was identified as a cochlear implant candidate, and now with his "ears," he is in mainstream schooling with his brother and sister and is even trying out for his first baseball team. Read more:
"We were standing in the Florida heat waiting for Jackson's turn to swing the bat and run the bases in his first ever baseball tryout. In all honesty, I couldn't understand why we were expected to 'try out.' I mean, he is only 6 years old and the most baseball exposure at present was from our epic summer family backyard wiffleball games.
Each season we let our kids try something new to find out what they are drawn to. After an hour of waiting and wrestling him to stop kicking the clay dirt from the field, to stay in line and stop running on the field during someone else's tryout, it was his turn.
He was so excited and we were excited for him!
He turned back to me before he put the helmet on and said, 'Oh no-my ears!' He knew there was a chance that they would fall off and he wouldn't be able to hear. I quickly pulled out his athletic headband and got him situated. The relief on his face was priceless. He got up to bat and after swinging and missing 3 times, he looked at me puzzled as if to say, 'what is happening?'
Jackson's Developmental Milestones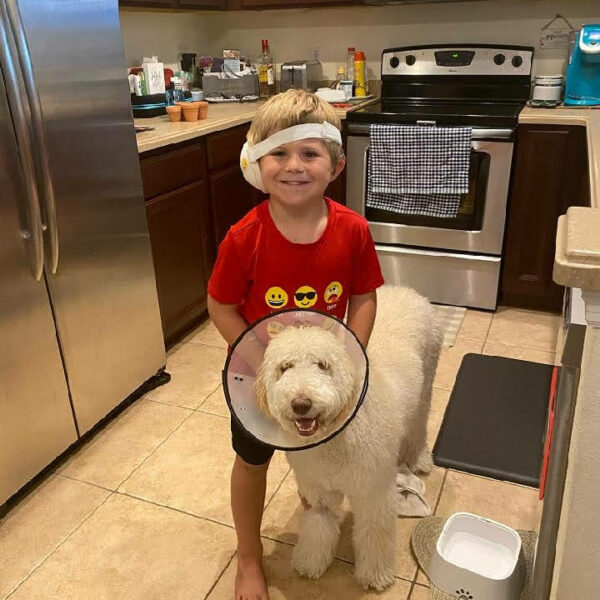 Jackson is a solid 65lbs. 6-year-old boy, with incredible athletic ability and strength. In fact he prides himself on his strength. I remember walking down the street when we lived overseas in India and he would look for chunks of concrete or giant rocks amid the unpaved roads and flip them as if he was in a gym flipping tires for a workout. At the time he was 3.
When we got home that evening, my husband was heavy-hearted. He felt as if he hadn't prepared his son enough for this unexpected tryout. I quickly reassured him that while there may not have been an 'organized' moment where father and son went in the backyard like the days of old, set out to instruct on how to throw a baseball, he has been playing with his kids in every way their entire lives! And most importantly, I said, 'Remember, for the past three years, we have spent the majority of our time making sure that he can hear!'
See, as Jackson met some of his physical development milestones, he stopped meeting others.
It was around 12-18 months of age when something was suspected. I never knew that a child could start speech therapy so early in life with so few words and such limited ability to talk.
The chronic ear infections were to blame. So, we got the tubes, and went to speech therapy. Got more tubes and went to a different speech therapist. Then finally when we were headed into the third round, my mama's heart just felt something was not right.
Receiving a diagnosis, and a path forward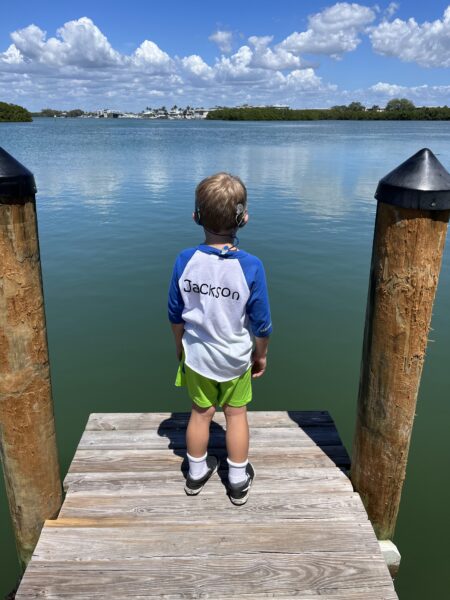 At his next audiology visit, I could feel the tears welling up and my throat getting tight as I geared up to ask if there might be something we were missing. I'll never forget that day. I believe God prepared that day in advance, because the audiologist that heard my heart and tested Jackson in the booth paved the way for Jackson's life to be forever changed for the better.
It all happened so fast after that.
Jackson completed a sedated Auditory Brainstem Response test (ABR)…Moderate Bilateral Sensorineural hearing loss diagnosis…hearing aids…new speech therapist…support group for parents of children with hearing loss…Cochlear presentation.
I remember sitting with my husband at our table listening to all of the technology terms and questions tossed into the air and the Cochlear Representative effortlessly fielding them like a ground ball. I, of course, had no idea what anything meant, and kept telling myself, 'It's OK, just remain in your lane with hearing aids, this topic isn't relevant to you…yet.'
Until I asked.
Do many people progress from hearing aids to cochlear implants? As if it was just an upgrade in technology. The response from Cochlear and the other parents in the room was incredible. I felt heard and seen and known. I saw children thriving with hearing aids and cochlear implants. And I was assured that if cochlear implants were necessary, we would know because our audiologist and Cochlear representative will be walking this journey with us.
And they did.
Three months later the genetic test results that would provide us with the 'why' of Jackson's hearing loss came in. I remember sitting on the stairs a couple of days after we came home from the geneticist. The results came back that Jackson's hearing loss was caused by a syndrome he was born with called Ushers syndrome type 2. Adam and I both had no idea that we were recessive carriers.
We were informed that Jackson's hearing loss was moderate and currently cared for well with his hearing aids, but progressive hearing loss and future vision loss was highly likely.
Cochlear implants as a solution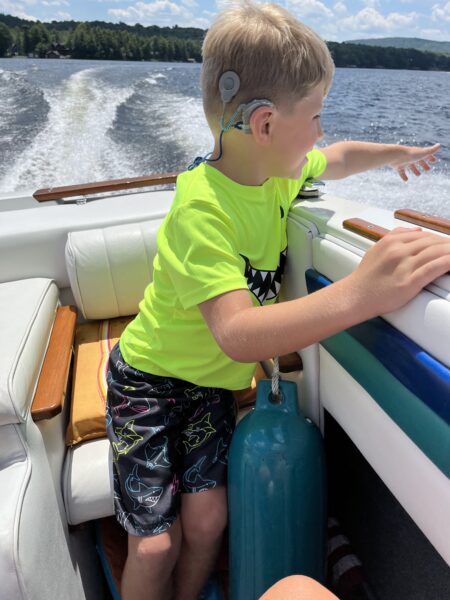 Sometimes I wish life would just toss you a softball but for us it just so happened that we physically relocated 3 times during Jackson's rapid hearing decline. The combination of moving a young family of 5 while having literally no control over your son's hearing made it feel like the floor was falling out from under us and we would never regain our footing.
Before it all, we had what we dreamed or assumed life would be like for our son and then we had nothing but uncertainty. I imagine most parents of children with hearing loss feel this way. Until they meet their audiologist and she literally walks side by side with you from hearing aid to cochlear implant. For us, regardless of what state or country we were in, she was there.
And then you find the business card you saved from that Cochlear representative we met way back at that parent support group at the beginning of Jackson's hearing loss journey. She answered all of our questions and went above and beyond her role to make sure that we felt well-cared for. When it is finally time to pursue cochlear implants – we already know where to start.
I pray that anyone whose child is experiencing hearing loss is able to acquire an amazing team of professionals who embrace your child and your family and encourage you that uncertainty may be ahead; but so is complete and total awe and celebration of the incredible and the miraculous.
After two years with cochlear implants and attending a therapeutic school, Jackson is attending mainstream kindergarten this year! I am still in awe and in constant thanksgiving.
But what I do know is he has worked so hard this year and because of this incredible technology, his priceless care team of audiologists, surgeons, doctors and therapists, he gets to go to school at the same school as his brother and sister. We could not be more proud and thankful. And we continue to trust Jesus with all of our tomorrows!"
If your child is experiencing hearing loss from Usher syndrome, find out today if a cochlear implant solution may help.
1
2
In the US, the cochlear implant system is intended for use in children 9 to 24 months of age who have bilateral profound sensorineural deafness and demonstrate limited benefit from appropriate binaural hearing aids. Children two years of age or older may demonstrate severe to profound hearing loss bilaterally.
In Canada, the cochlear implant system is intended for use in children 12 to 24 months of age who have bilateral profound sensorineural deafness and demonstrate limited benefit from appropriate binaural hearing aids. Children two years of age or older may demonstrate severe to profound hearing loss bilaterally.