Cece was born with bilateral profound hearing loss. After a hearing aid trial, Cece's parents were determined to get her access to sound. After discovering she was a perfect candidate for cochlear implants, Cece received her cochlear implants and with them came a love of music, singing and hearing:
"Cecilia (Cece) was born with severe to profound sensorineural hearing loss bilaterally. When Cece was born, she failed multiple hearing screenings in the hospital, and we were referred to an audiologist after a repeat failed screening at 3 weeks old. In January of 2020 we visited the audiologist and were given her diagnosis. Cece received her hearing aids at about 3 months old, but it was quickly evident that she wasn't getting the access to sound that she needed. This was in March of 2020 at the start of the COVID-19 pandemic.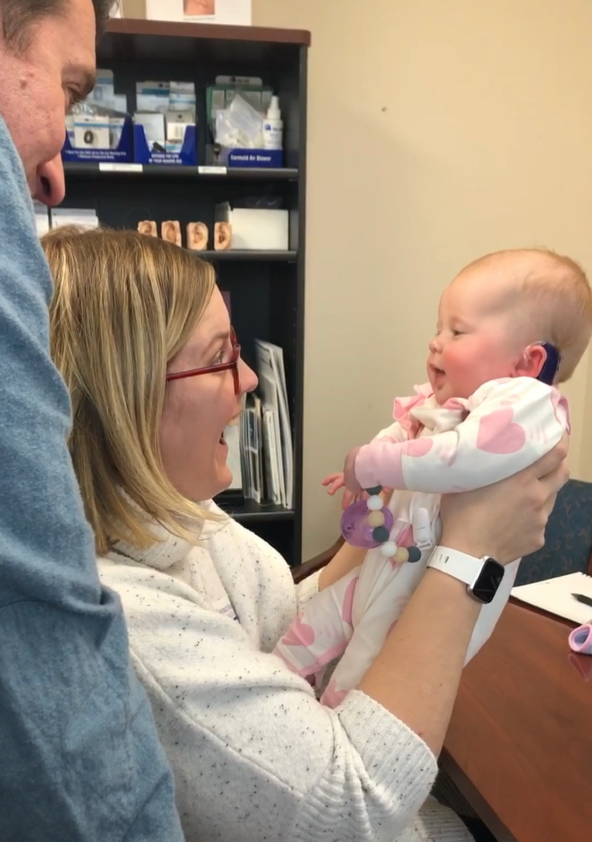 We then started the journey to cochlear implants with the help and support of our awesome team at our local medical center. Cece had hearing aids from about 3.5 months of age to 9.5 months. After genetic testing we found out that Cece has Connexin 26 and was a perfect candidate for cochlear implants. Cece had surgery at 9.5 months at our local medical center in Baltimore, MD.
Cece's activation and sound processors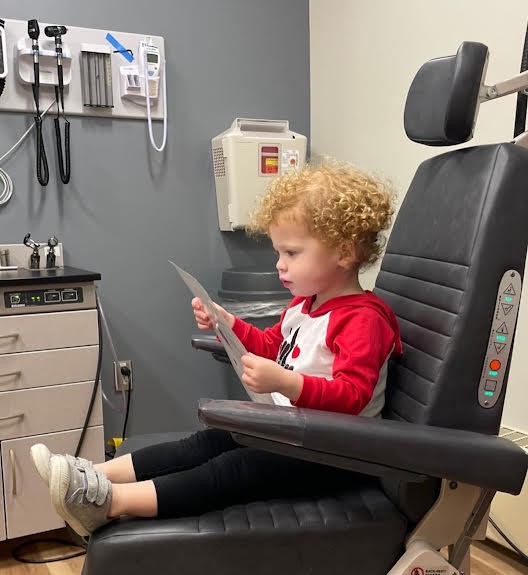 Cece was activated on October 1, 2020, at 10.5 months old and we received both the Cochlear™ Nucleus® 7 Sound Processors and the new Kanso® 2 Sound Processors. She immediately had a positive reaction to the sounds she was hearing around her and started babbling and 'talking' right away! We alternated weekly between her Nucleus 7 Sound Processors and Kanso 2 Sound Processors, but Cece very quickly showed a preference for her Kanso 2 Sound Processors. We use the hair clips and wig tape for retention.
Cece turned 2 years old in November 2021 and has caught up with her hearing peers, with regards to receptive and expressive language! We've spent the last 16 hearing months working with our Speech Pathologist in Baltimore, MD and the Early Intervention Research Group from a University in Chicago participating virtually in a study they're conducting on language development. Through these interventions Cece has truly thrived on her hearing journey and loves to talk about the sounds she's hearing around her!
Cece's progress with hearing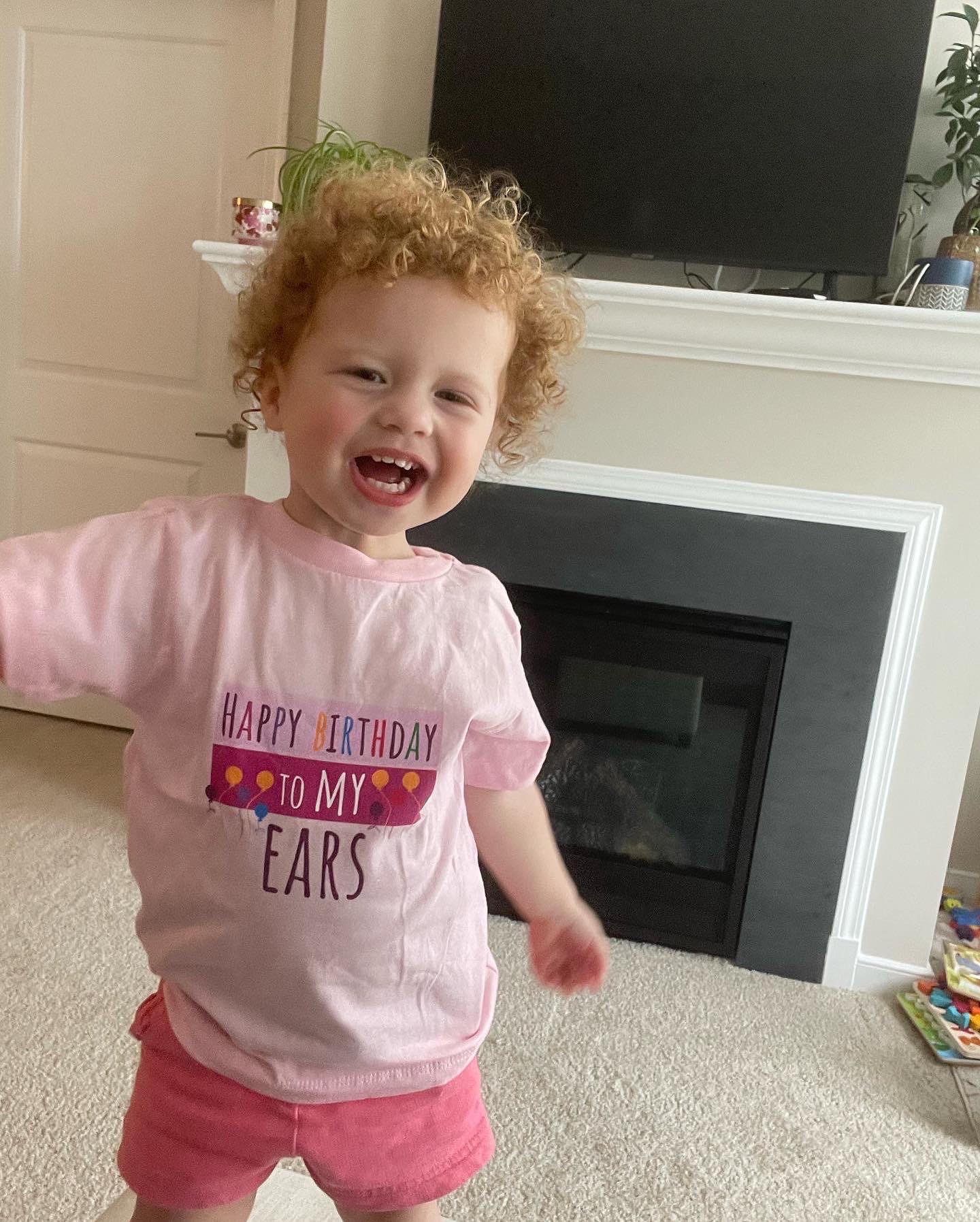 Cece attends daycare in our area. She loves 'school' and playing with her friends. She also loves music, dancing and singing!  We are constantly amazed at the sounds Cece is able to hear through her Kanso 2 Sound Processors and we look forward to the features she'll be able to use as she gets older.
I love being able to track her hearing and enjoy having the peace of mind of the Find My Processor feature on the Nucleus Smart App1. Cece has started replacing her sound processors herself when they come off during play and likes to help put them back on the charger at night after we sing 'Good Night Ears' and thank them for their hard work during the day.
Why we chose Cochlear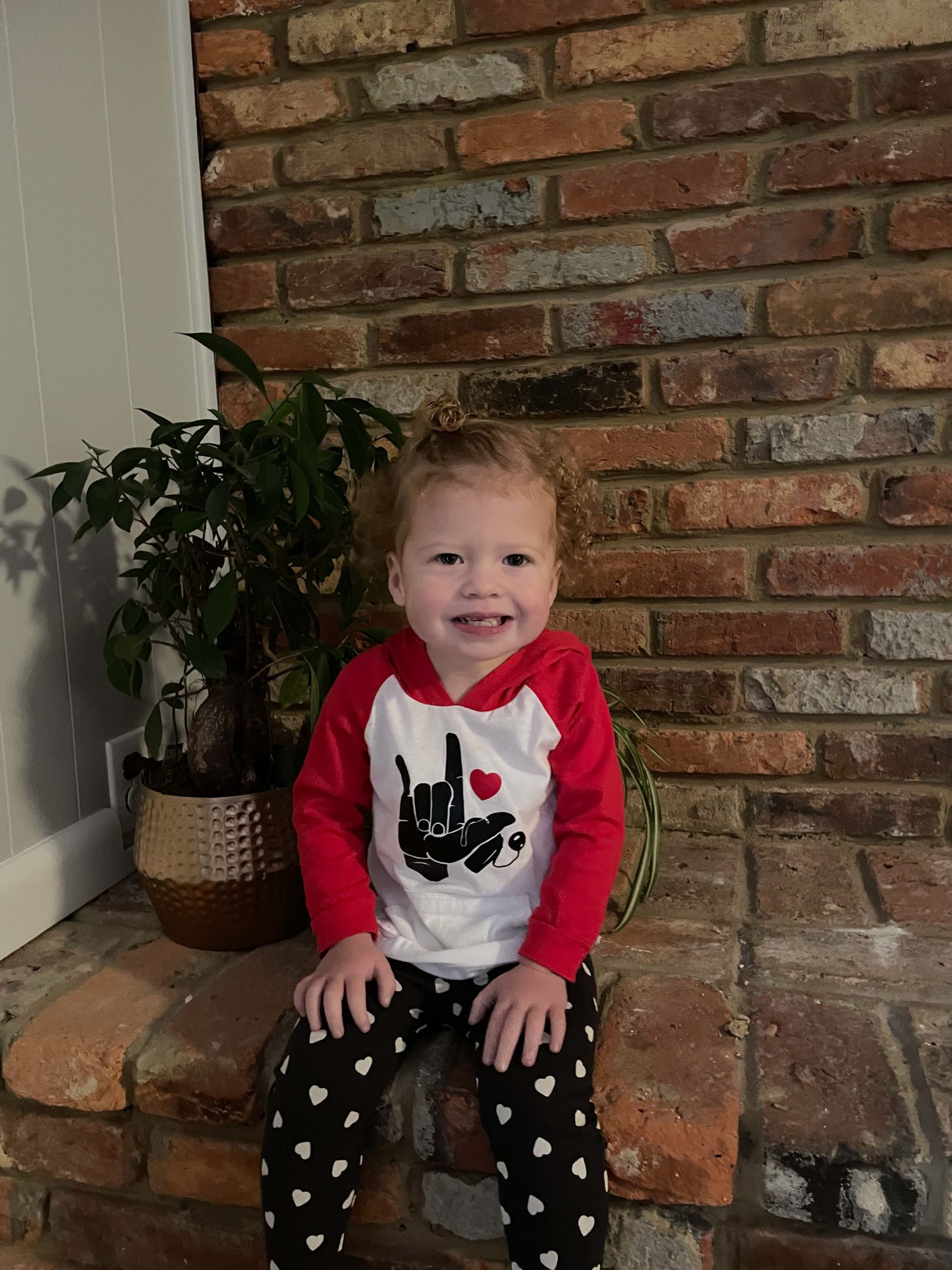 We found Cochlear at the recommendation of our Audiologist and our good friend who has a daughter who received cochlear implants about five years ago at age 2, and also chose Cochlear. They've had a wonderful experience and our friend is thriving with her Kanso Sound Processors as well. This connection helped us to find our way on this hearing journey, has given Cece a wonderful friend in hearing and provides support during our ups and downs.
We started an organization called Ears of Support to connect families on their hearing journey and to raise money for organizations supporting kids with hearing loss. Being a part of a community and having friends who've walked a similar path will be invaluable to Cece on this journey. We're all very excited to see what she can do and are so very proud of how far she's come in such a short time, thanks to her 'special ears'!"
Was your child born with profound hearing loss? If you are looking for options to help your child hear, learn about cochlear implants here.
2
For compatibility information, visit www.Cochlear.com/compatibility.
The Nucleus 24 cochlear implant system is intended for use in children 9 to 24 months of age who have bilateral profound sensorineural deafness and demonstrate limited benefit from appropriate binaural hearing aids. Children two years of age or older may demonstrate severe to profound hearing loss bilaterally. In younger children, limited benefit is defined as lack of progress in the development of simple auditory skills in conjunction with appropriate amplification and participation in intensive aural habilitation over a three to six-month period. It is recommended that limited benefit be quantified on a measure such as the Meaningful Auditory Integration Scale or the Early Speech Perception test. In older children, limited benefit is defined as ≤ 30% correct on the open set Multisyllabic Lexical Neighborhood Test (MLNT) or Lexical Neighborhood Test (LNT), depending upon the child's cognitive and linguistic skills. A three to six-month hearing aid trial is recommended for children without previous aided experience.