Upon learning that their newborn daughter had bilateral, profound sensorineural hearing loss, Vivienne's parents were filled with anxiety and fear. Their fears quickly faded when they began to explore treatment options and discovered the life-changing technology offered through the Cochlear™ Nucleus® 7 System.
"One miscarriage and many months of struggling to get pregnant later, on May 30, 2020, we found out our precious baby girl was on the way. I was so excited!! We opted to have the noninvasive prenatal testing done, to screen for chromosomal abnormalities and the test came back negative. At the time, we interpreted this information to mean that our little girl was 'normal' and 'healthy.' Little did we know the journey not only our daughter, but also our entire family, had waiting ahead. After an uncomplicated pregnancy, and easy delivery, our Vivienne entered the world on February 2, 2021.
Vivienne's bilateral, profound sensorineural hearing loss diagnosis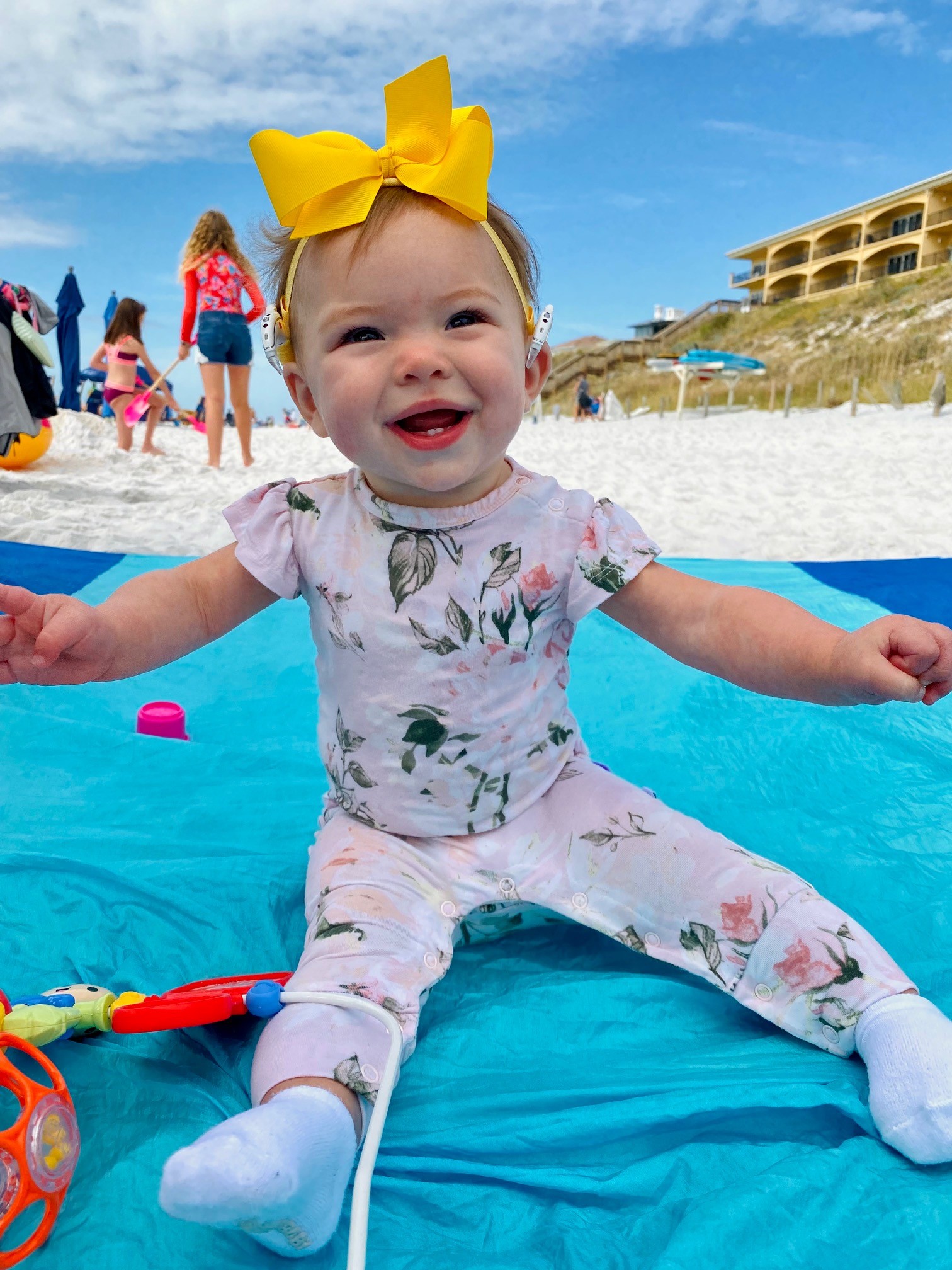 My husband Adam and I were so in love and so excited to finally be mom and dad. The next day, the hospital conducted their routine tests on Vivienne, including the newborn hearing screening. We did not think much of it at the time, but when the audiologist technician walked back into my post-partum room, I knew something was wrong. Call it mother's intuition… I just knew bad news lied ahead. After three failed tests, we were instructed to return three weeks later to try again. When Vivienne showed no response, we were referred to our local children's hospital for diagnostic testing.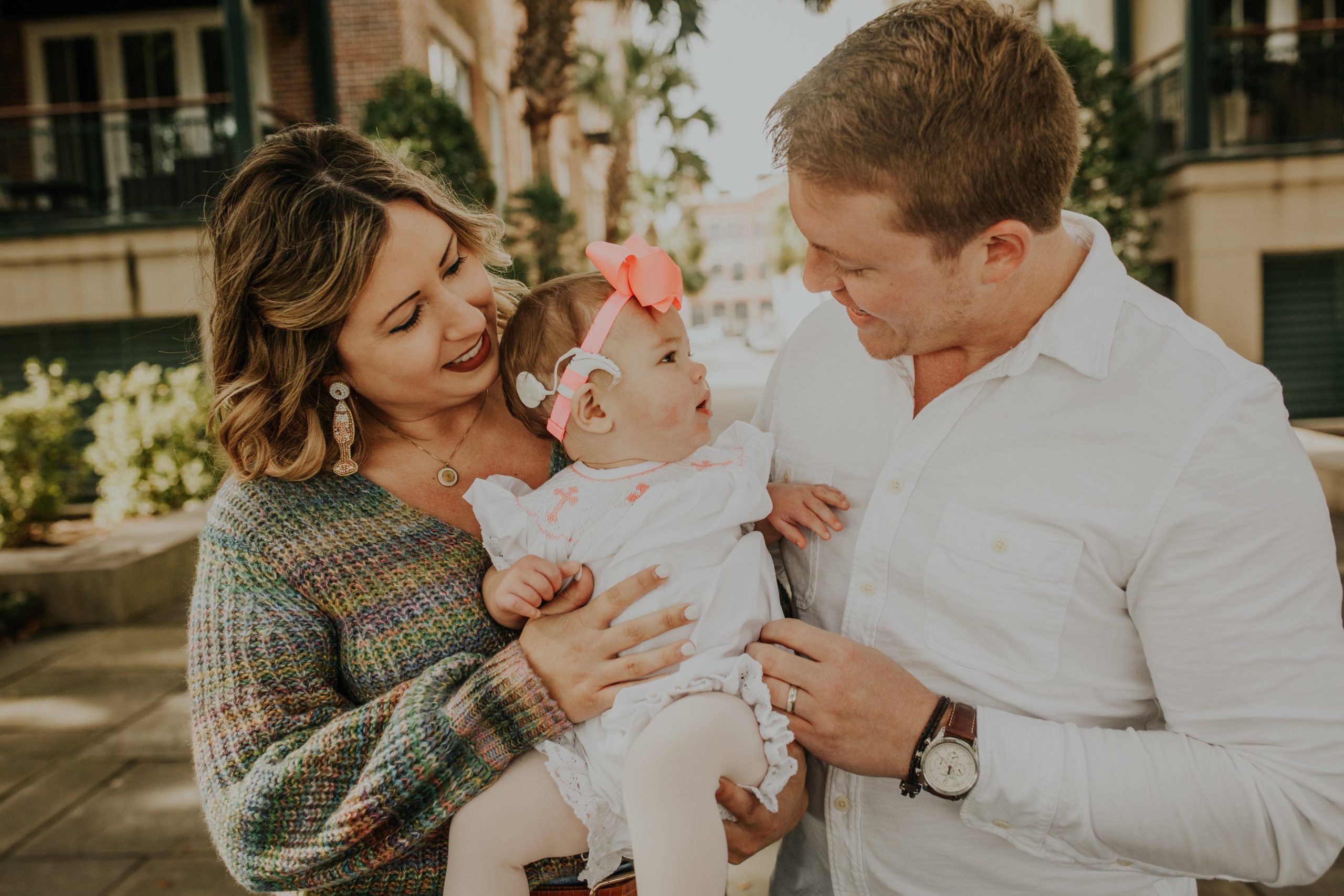 Many weeks, and many sleepless nights later, we discovered via an auditory brainstem response test that Vivienne had bilateral, profound sensorineural hearing loss. It was March 11, 2021, and it goes down in history as probably one of the worst days of my life. I felt intense sadness, extreme anger, and utter hopelessness. I couldn't eat, couldn't sleep, couldn't even care for my daughter. Life stood still. What would life look like for Vivienne? For our family? With no family history of hearing loss, we were confused, scared, and depressed.
Exploring hearing loss treatment options and landing on Cochlear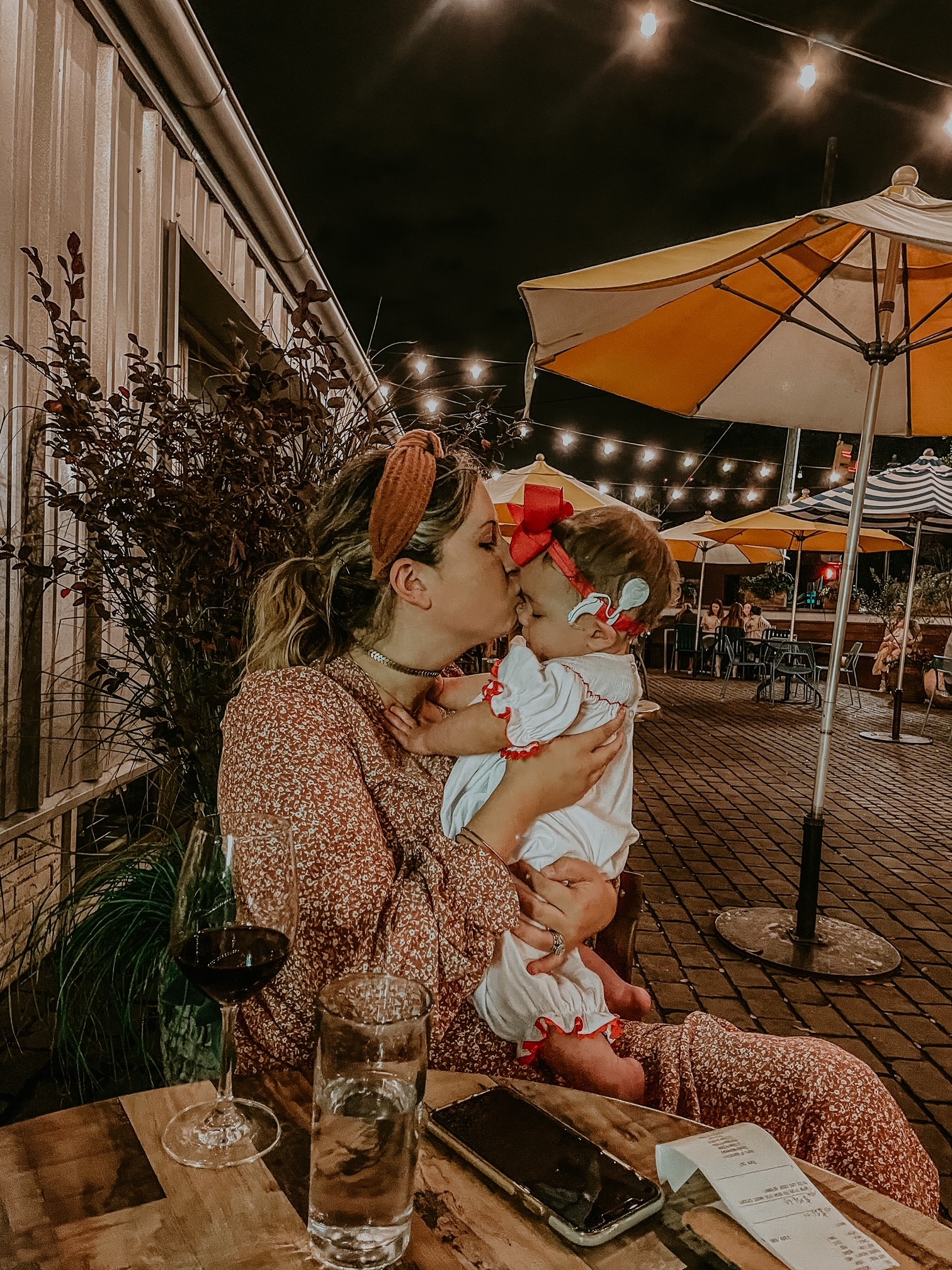 Researching hearing loss became a coping mechanism for me, and I longed to find a way for my baby to access the hearing world. After several trips to the ENT (ear, nose and throat doctor), an echocardiogram, renal ultrasound, ophthalmologist exam, and genetic testing – we discovered my husband and I are carriers of a very rare genetic variant (on the TMPRSS3 gene) that leads to prelingual and/or post-lingual hearing loss. Learning just how rare this variant is for our demographic truthfully put a smile on my face – as odd as that sounds – because it further reminded me that Vivienne's existence was completely meant to be.
After a long hearing aid trial, Vivienne was bilaterally implanted with Cochlear and she did wonderfully! It was a no brainer when asked what company we wanted to use for her devices – Cochlear's reputation precedes itself, and after talking to several other parents of CI (cochlear implant) users, I learned Cochlear was certainly the gold standard. We have been more than pleased with Vivienne's all white Nucleus 7 Sound Processors.
Experiencing the joy of watching our baby girl grow up as a hearing child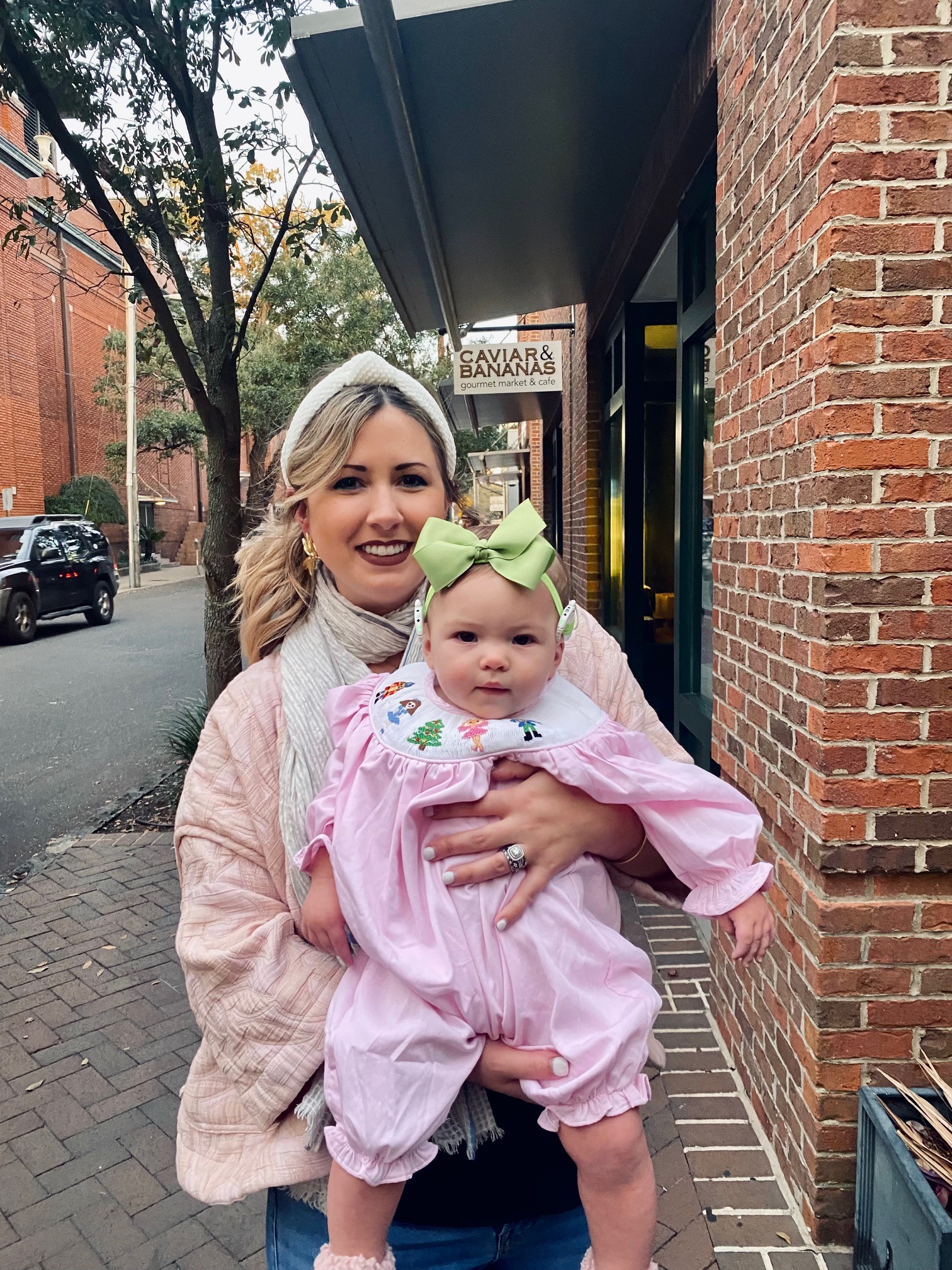 While she is only 12 months old, we are so excited to begin using all of the fun accessories – especially the Cochlear Aqua+1 kit this summer! She is such a water baby, and I know is going to be a frequent Aqua+ kit user. On activation day, learning how to operate such foreign equipment felt like information overload, but Cochlear's user guide is so user friendly – even for timid new users like us! After a week's time, my husband and I felt like pros!
We enjoy teaching and educating others about her Nucleus 7 Sound Processors, and love when we get stopped from a curious passerby asking questions. Our entire family is so grateful to Cochlear for giving our rainbow baby the gift of sound. This past year has been an emotional rollercoaster, but I feel like we are the luckiest parents in the world to have our deaf baby girl.
The gift of sound is truly that: a gift. A gift I have taken for granted my entire life. Vivienne has taught me so much in just 12 short months, and I feel beyond blessed that God placed our family on this journey. It has come with many challenges, but boy has it come with many rewards! With the help of Cochlear's technology and modern medicine, Vivienne will move mountains."
Has your child been diagnosed with bilateral, profound sensorineural hearing loss? Click here to learn more about cochlear implants for your child.
2
The Nucleus 7 Sound Processor with Aqua+ is water resistant to level IP68 of the International Standard IEC60529. This water protection only applies when you use a Cochlear Standard Rechargeable Battery Module or Cochlear Compact Rechargeable Battery Module. The Kanso 2 Sound Processor is dust and water resistant to level of IP68 of the International Standard IEC60529. The Kanso 2 Sound Processor with Aqua+ is dust and water resistant to level of IP68 of the International Standard IEC60529. This water protection rating means that the sound processor with the Aqua+ can be continuously submerged under water to a depth of up to 3 meters (9 feet and 9 inches) for up to 2 hours. The Aqua+ accessory should be used when participating in prolonged water activities.
The Nucleus 24 cochlear implant system is intended for use in children 9 to 24 months of age who have bilateral profound sensorineural deafness and demonstrate limited benefit from appropriate binaural hearing aids. Children two years of age or older may demonstrate severe to profound hearing loss bilaterally. In younger children, limited benefit is defined as lack of progress in the development of simple auditory skills in conjunction with appropriate amplification and participation in intensive aural habilitation over a three to six-month period. It is recommended that limited benefit be quantified on a measure such as the Meaningful Auditory Integration Scale or the Early Speech Perception test. In older children, limited benefit is defined as ≤ 30% correct on the open set Multisyllabic Lexical Neighborhood Test (MLNT) or Lexical Neighborhood Test (LNT), depending upon the child's cognitive and linguistic skills. A three to six-month hearing aid trial is recommended for children without previous aided experience.