After being diagnosed with bilateral profound hearing loss, Jack's parents were determined to find the best treatment option to help Jack have access to sound. After getting Jack cochlear implants at 10 months old and focusing on speech therapy, Jack is now saying 850+ words. His sister, who is hearing, loves helping him with his hearing therapy and even checks Jack's "ears" at night! Read his story here:
"A few days after we received Jack's diagnosis of bilateral profound hearing loss, our state shut down for the global COVID-19 pandemic. Hearing is something that most people take for granted and that was certainly true for us prior to Jack's diagnosis. Until our son was born, hearing loss was not on our radar and we had very little interaction with anyone who was deaf. Needless to say, we were not prepared and had very little understanding of what his diagnosis meant and what his options would be for communication. We spent the next weeks and months navigating next steps while also dealing with office closures and delays in appointments.
Access to sound for bilateral profound hearing loss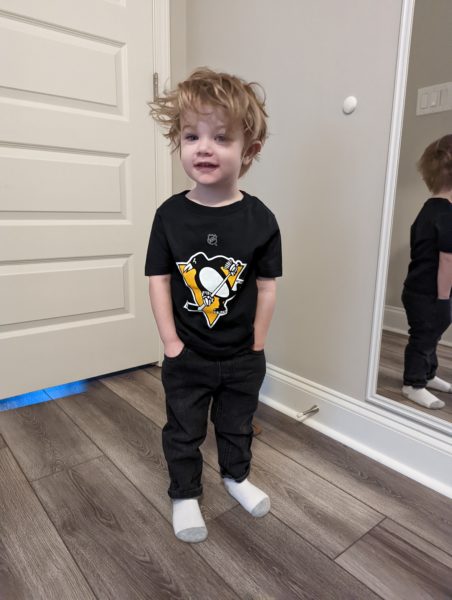 At 3 months old, Jack received hearing aids with little or no expectation that it would result in him having access to sound. We began the process for genetic testing and cochlear implant candidacy. We found out through the genetic testing that his hearing loss was due to connexin 26. We spent the next few months traveling back and forth to appointments and worrying every day that the pandemic would bring our journey to a halt.
Thankfully we were able to complete our candidacy process and Jack was implanted at 10 months old. His activation day was shortly after. Every day we worried that we would be delayed, but we finally made it to activation day. Jack turned his head, paused and intentionally responded to sound; something we had not seen him do before. It was an overwhelming but rewarding experience. The evening of his activation, we had a small party with his older sister Kate. We let them eat too much cake and had finger puppets as gifts that were intended to match the learning to listen sounds for animals.
Why we chose Cochlear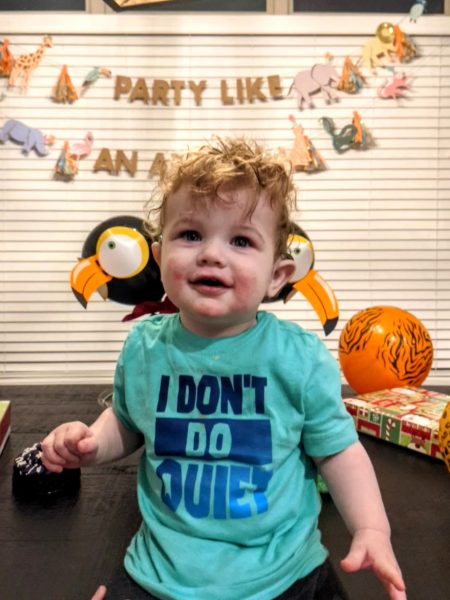 We chose to go with Cochlear after speaking to a representative regarding the equipment. She was willing to explain the products and met with us via Zoom to answer all of our questions. She even continued to follow up with us through our journey to activation. Cochlear is also the brand that seems most familiar to the professionals we work with.
In the year that Jack has had access to sound, his language and speech development has taken off! The first learning to listen sound Jack said was 'bu-bu-bu' for bus. It was during a speech therapy session and his therapist celebrated and then quickly said, 'Okay, now let's get back to work!' His hard work has paid off. At 23 months old, Jack tested six months ahead of schedule. He is saying 850+ words. He is able to recognize and identify sounds in quiet and noisier situations. He loves music and loves to dance. Jack has become one of the loudest people in the house!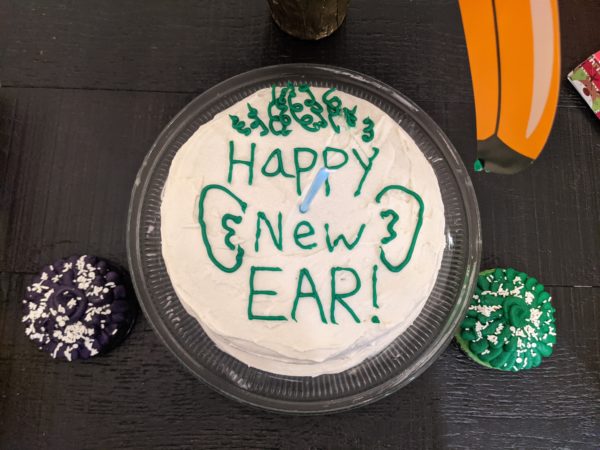 Jack wakes up and asks for his 'ears' and also tries to extend his bedtime as long as possible to not have to give up his ears. He also gets our attention if one processor comes off during the day by saying 'uh-oh ears mama/daddy!' and he is starting to try and put them back on himself.
A sibling's support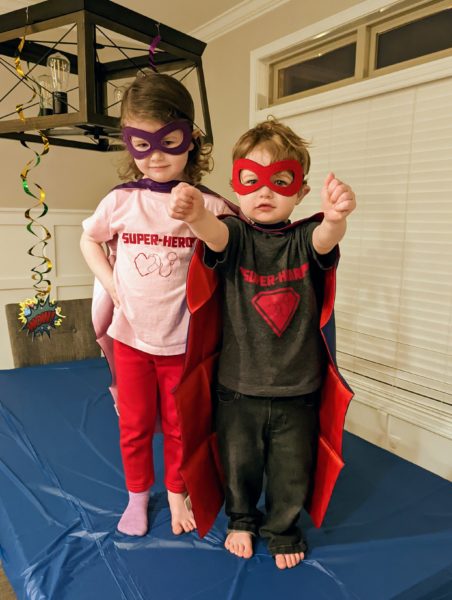 Jack has an older sister, Kate, that has been extremely helpful in his journey and is an excellent language model. From the beginning, Kate participated in Jack's speech therapy appointments. She has helped Jack learn the learning to listen sounds, plays the listening game (ling six sound test) and helps check Jack's 'ears' at night. She gets a lot of enjoyment out of asking Jack to repeat words or phrases. She will celebrate new words with him and brings a lot of excitement to his hearing journey.
One of our favorite accessories has been the Mini Mic. It has been great to use in louder settings with other kids at home, at the playground or at restaurants. The Mini Mic is really beneficial in the car as a way to still get speech activities in and also while wearing masks out in the public. It's also very versatile and we love that we can use it in a pinch to hook him up to sound like the output of his tablet for longer car rides. We utilize the Nucleus® Smart App1 and are always pleased when we can exceed our speech goal of 4 hours. The App is also extremely helpful in locating a processor when it comes off and we need a little extra help finding it."
Was your child diagnosed with bilateral profound hearing loss, like Jack? Learn more about the importance of early intervention for access to sound. 
2
Nucleus Smart App is available on App Store and Google Play. For compatibility information, visit www.Cochlear.com/compatibility.