Hearing aids weren't enough for Gramm, who is a child with bilateral hearing loss. Identified as a cochlear implant candidate, his family made the decision to get him cochlear implants and now he is able to keep up with his fellow hearing children. Read more:
"Gramm was born with bilateral moderately severe to severe hearing loss. It was detected one day after his birth. He was officially diagnosed at 5 weeks old with an auditory brainstem response (ABR) test. He received hearing aids on Halloween Day when he was 7 weeks old. Gramm's hearing loss dropped to profound by the time he was 21 months old. Gramm received the gift of his life, his cochlear implants, one month before he turned 2. Gramm's devices were activated just a couple of weeks before he turned 2 years old.
Making the decision to get Gramm cochlear implants was very easy for me, as his mother. I always had this gut feeling that the hearing aids just weren't providing him with enough amplification. I prayed a lot for that feeling to either come to light or go away. I was almost relieved when the audiologist who performed his sedated ABR told me he was profound in both ears. That sounds awful, but I knew then, the constant wondering of if the hearing aids were truly providing him with enough amplification was over.
Gramm is a candidate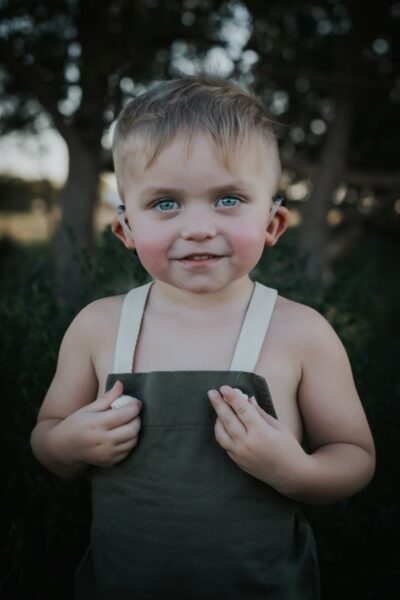 We had done so much research and networking with families with cochlear implants that we were ready to make the decision to move forward with the cochlear implants if the time came. The next prayer was that Gramm would indeed be a candidate for cochlear implants. We did not know the exact cause of Gramm's hearing loss, so there was a risk of the inner ear makeup to not allow for successful cochlear implantation. The CT scan revealed that he was indeed a candidate, another answered prayer.
After deciding to move forward with implantation, the audiologist informed us that we had to pick a manufacturer for his devices. Knowing the manufacturer for Gramm's cochlear implants will be the same for his life was intimidating, but the decision to go with the Cochlear brand was a very easy decision.
Cochlear already had the off the ear (OTE) sound processors and we instantly knew that Cochlear's research and design team will constantly work on improving their processors. We knew without a doubt that Cochlear is keeping up with technology and utilizing it in the processors. We felt Cochlear is the leader in sound processor improvement and we expect that to always be the case.
Benefits of the technology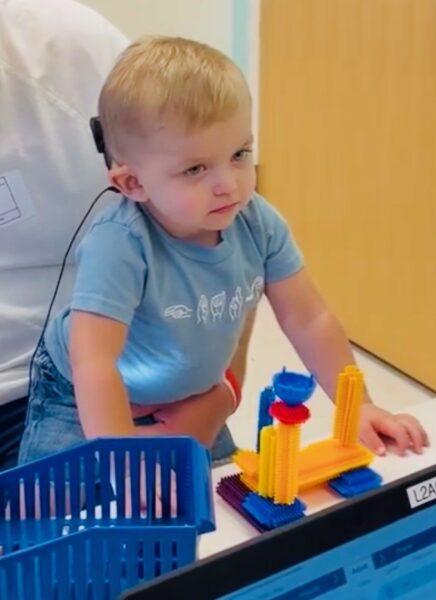 Gramm has both the Cochlear™ Nucleus® 7 Sound Processor and Cochlear Kanso® 2 Sound Processors. He primarily uses the Nucleus 7 Sound Processor. He uses the Hugfit™ for retention and they work great for him. The Bluetooth®1 capability is simply amazing and genius. That blows the minds of every person when we explain to them the blinking blue light means he is connected to Bluetooth and is listening to the phone2 straight to his devices and also that we can find the location of his processors if they are lost. I love accessing the Cochlear Nucleus® Smart App3 to see his battery levels and watching the sound level detection. We have used the find my processors a handful of times in pure panic mode. With a toddler running around, you can imagine how that feature would come in handy.
A glimpse at the future for Gramm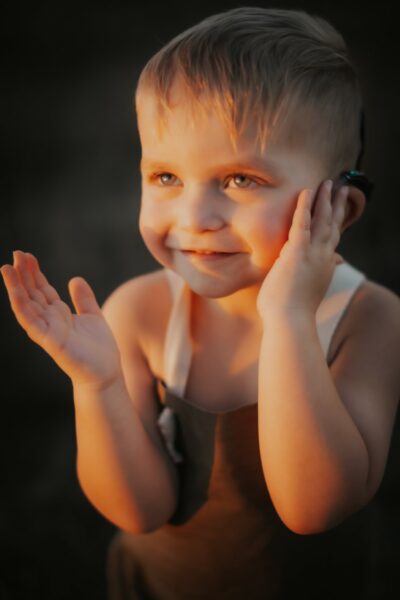 Gramm is not held back from doing any activities that hearing toddlers/children participate in. That is one of the best things about them. Sure, his sound processors fall off at times but he is a wild 3 year old, so that is expected. Gramm knows how to place his processors back on by himself. He is still learning how to hook the processor to his ear with the Hugfit but that will come with time. The Aqua+ kit4 even ensures water can't hold him back!
Gramm will continue to work hard in ABR therapy, speech therapy and overall learning, just like hearing children. Gramm asks for his ears in the morning and even sometimes at night, doesn't want to take them off for bed. Watching Gramm's love for his 'ears' ensures us that implantation was the right decision for him.
Gramm loves his 'ears' and we highly encourage any parent on the fence about cochlear implants, to give their kid this gift and watch their child soar!
Fun Fact: We had Gramm's name picked out long before he was born. Graeme Clark invented the multi-channel cochlear implant. The cause of Gramm's hearing loss is unknown but what we know was he was meant to be Gramm, whom is an absolute perfect gift from God. It's probably my favorite story to tell."
If your child was born with bilateral hearing loss, cochlear implants may be a solution for them! Find out your options here.
5
6
7