Are you ready for some exciting news? Here it is: Cochlear Americas is introducing a new online community, just in time for the new year.
Hear & Now is a brand-new blog that will include all the stories and articles you've come to love, plus exclusive features that will make it easier than ever to connect with other members of the Cochlear family.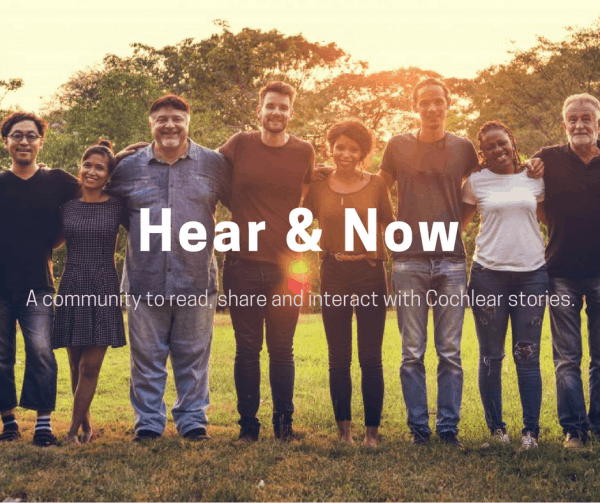 There's something on the site for everyone, whether you're researching Cochlear Implants for the first time or you're a lifelong recipient looking to connect with others.
Here are 5 new features you can look forward to on the new blog:
A fresh design makes it easy to find the latest Cochlear stories. The Hear & Now home page displays the most recent and most popular stories. With one click you can read success stories, tips and tricks, and information about the latest Cochlear products. You can also connect with Cochlear on social media by clicking on the icons at the top and bottom of the page.
Comment using Facebook to share your thoughts on each story. Now you can respond to what you read! If you're logged in to Facebook, you'll be able to comment using your Facebook account—no extra login information needed.
"Hear Now" is the place to learn more about Cochlear technology and read inspiring stories about real-life recipients. If you are considering a Cochlear implant or Baha device, it's the perfect place to get information to help you embark on your hearing journey. Also, if you're feeling inspired, you can submit your own story to Cochlear to be featured in an upcoming blog!
"Hear Always" is where you can find tips and tricks for living with a Cochlear implant or Baha device. It also includes success stories and insights from other recipients. If you already have Cochlear technology, it's the perfect place to continue learning and improving your hearing experience.
"Hear With You" is a brand-new section that makes it easier than ever to connect with Cochlear volunteers. Browse the profiles of volunteers, read their stories, and connect with them via email to ask questions or learn more. You can even filter the results by relationship to the recipient (recipient, parent, or loved one), processor type (Baha, Hybrid, Kanso or Nucleus), and preferred language (English or Spanish).
Continue to read, share and interact with Cochlear stories by subscribing to Hear & Now today!