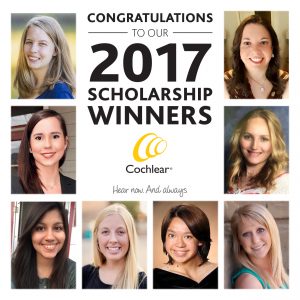 Cochlear is proud to announce the eight winners of the 15th annual Graeme Clark and 6th annual Anders Tjellström scholarships. Named after hearing implant industry pioneers, the annual scholarships recognize Cochlear™ Nucleus® Implant and Baha® System recipients who not only demonstrate exemplary success in their academic pursuits, but also leadership and humanity in their local communities.
Five students were awarded the 2017 Graeme Clark scholarship:
1. Jessica Hill (University of Alabama at Birmingham)
2. Shani Summers (Brigham Young University)
3. Mary Jane Rogers (University of Missouri)
4. Miriam Almanza (The University of the Incarnate Word)
5. Victoria Popov (Rochester Institute of Technology)
"Before the Cochlear Implant, my world was relatively silent. I couldn't detect the melody of wind rustling leaves or the hum of the air conditioning at school. After the Cochlear Implant, my world is anything but silent," said Mary Jane, a Graeme Clark scholarship winner. "The Cochlear Implant helped me reach my full potential and gave me the capacity to connect to the hearing world in a powerful way."
Three students were awarded the 2017 Anders Tjellström scholarship:
1. Abigail Rose Brewer (Liberty University)
2. Caroline Moran (Nova Southeastern University)
3. Johanna H. Urbach (Western Washington University)
"For me, turning on my Baha System for the first time was like turning on a surround sound system," said Abigail, an Anders Tjellström scholarship winner. "My Baha elevated the volume of sound around me, and it allowed me to hear the little sounds that I had previously not been able to hear. My Baha System enables me to stay in tune with the world around me, and I am grateful to be able to turn it on every morning."
Each of the eight students will receive $2,000 per year for up to four years at an accredited college or university, for a total of $8,000 per student.
The Graeme Clark Scholarship is named after Graeme Clark, the inventor and pioneer of the multichannel cochlear implant. The Anders Tjellström Scholarship is named after Anders Tjellström, the research physician at the Department of Otolaryngology at the Sahlgrenska University Hospital in Sweden who collaborated with Per-Ingvar Brånemark, a pioneer in his field, to treat the first patient with a Baha device.
Watch for each of their stories over the next few weeks, these are amazing young women.
For more information about the scholarships, visit www.Cochlear.com/US/Scholarship .