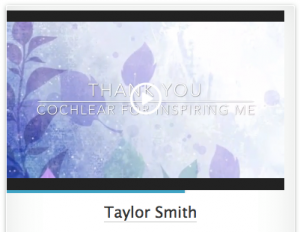 This week, 12-year-old Taylor Smith was announced as the winner of the 2017 Cochlear Celebration video contest. Her entry, which received more than 7,000 votes, was filmed to answer the question, "What does Cochlear Family mean to me?"  "Inspiration," Taylor answers in the winning video. "Growing up and being the only deaf person in my family and at school, you feel like you're in a bubble sometimes. No one knows what it feels like to be me."
In her video she said she hoped to attend Cochlear Celebration in order to make connections with other Cochlear Implant users who can share their hearing journeys.
"In Orlando, I hope to meet all the CI users who've inspired me," Taylor said. "I want to meet kids my own age so we can encourage each other and maybe listen to music together. And I want to meet younger kids, so maybe I can be an inspiration to them."
Taylor was born without hearing. When she was 12 months old, her parents had her tested and found out she was deaf. After learning that hearing aids would have no effect but cochlear implants could offer a solution, her family decided to go ahead with the process toward hearing. She received her first implant when she was less than 2 years old and her second implant when she was 5 years old.
Taylor's mom, Kirsten, said having Cochlear Implants allowed Taylor to live and grow alongside her classmates."It's opened up the hearing world to her. We come from a small community that doesn't have a really big deaf community, and she's usually the only one in her school with hearing loss, so it's helped her communicate with people," Kirsten said.
Kirsten said their family is looking forward to meeting other recipients and their families at Cochlear Celebration 2017, as well as learning more about Cochlear's newest off-the-ear solution, the Kanso™ Sound Processor.
For more information on Cochlear Celebration 2017, click here.