Did you know there are alerts and alarms designed specifically for people to stay safe with hearing loss? Here are some of the alerts and alarm systems available today.
Alerts to stay safe with hearing loss
Removing your sound processors and not being able to hear your environment is a pleasure for some but for others, it may create uneasiness – especially when you go to bed.  
When removing your sound processors at night, do you get a restful sleep or do you worry about a fire alarm that you might not hear?  
For eight-year-old Eline from Belgium, who uses two Cochlear™ Nucleus® 7 Sound Processors, the worry about not being able to hear a fire alarm causes her to have bad dreams. 
Eline's father, Sebastian, says there hasn't been any particular incident that has triggered his daughter's fear of not hearing a smoke alarm while asleep, but it's a very real concern for her as she is unable to hear any sound without her sound processors.   
"You see it a lot with children of this age," he says, adding that older adults who live alone would typically experience the same concern.  
So, how do alert systems work?
Alert systems use other techniques, such as flashing lights, vibrations and lower frequency sounds, as well as loud sounds to let you know something is going on, whether it be a baby crying, a sink left running or a fire. They may also be called signalers or notification devices. 
Most alert systems work by sending signals to receivers, which then produce a visual alert (often a flashing light) or a vibrating alert, which may be attached to a pager in your pocket or on your clothing.  
To help you relax during the night, some systems offer a bed-shaker function, which will vibrate under your pillow when there's a smoke or fire alarm, and these can be used to wake you up like an alarm clock. 
You can place remote receivers around your house so you can receive an alert from any room. 
Depending on the system, it may work with your existing alarms and doorbells, so you may not need additional electrical wiring, and as smartphone technology improves, many of these functions can be accessed via your cell phone.  
Here are some examples of alerts available
Smartphone sound detection apps 
Newer versions of Android™1 and Apple®2 cell phones offer alerts from their "Accessibility" menus.3
 Apple's iPhone Sound Recognition can not only distinguish between alarm sounds for fires, smoke, and sirens, but it can also offer day-to-day household alerts, such as running water, appliances, glass breaking, doorbells, door knocks, people shouting or a baby crying.  
Notifications are displayed on the phone screen, along with a brief description of the sound detected.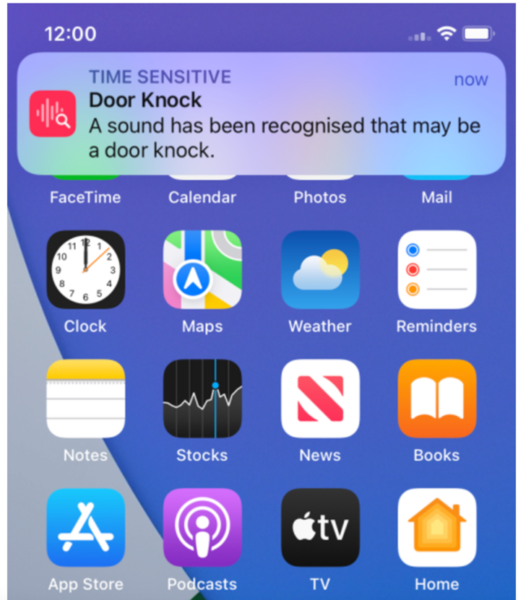 Android Sound Notifications work by sending you a push notification, a flash from your camera light, or by making your phone vibrate.
Sound Notifications can listen for different sounds including: smoke and fire alarms; sirens, baby sounds, dog barking, appliances beeping, and water running. Learn more about household sounds here> Important household sounds become more accessible (blog.google)
Smartwatches
Smartwatches can work with your phone, so even if your phone is out of sight, you can still receive alerts. Today, there are smartwatch apps, such as SoundWatch®, specifically for people with hearing loss
Smoke alarms
Smoke alarm systems may use a strobe light function so you can see as well as hear the alarm, or a vibrating function that you can wear on your clothing or place under your pillow at night.
Doorbell
This will alert you when someone is at the door and may work with or without an existing doorbell system. If you have a doorbell camera, you can turn on vibrating cell phone notifications when the camera senses motion or someone rings the bell.
Landline phone
You can use a visual alert signaler that flashes a light, vibrates or alerts a pager to let you know someone is calling. Some signalers plug into the telephone line and electrical outlet; others attach to the side of the telephone.
Baby crying alarms
If you can't hear regular baby monitors, you can use a portable vibrating pager to let you know when your baby is crying. Some baby monitoring devices analyze a baby's cry and illuminate a picture to indicate that the baby sounds hungry, bored or tired.
Weather alert
In areas where wild weather can be a problem, you can use a weather alert system. iPhones and Android phones have many options for weather alert apps, and depending on your local area, you may also be able to buy a weather alert radio that can emit a flashing light and/or vibration to warn you of upcoming hazardous conditions.
For more help staying safe with hearing loss check out the alarm clocks in the Cochlear Store. 
Apple, the Apple logo, Made for iPad logo, Made for iPhone logo, Made for iPod logo, iPhone, iPad Pro, iPad Air, iPad mini, iPad and iPod touch are trademarks of Apple Inc., registered in the U.S. and other countries. App Store is a service mark of Apple Inc., registered in the U.S. and other countries.
For complete compatibility information, please visit www.cochlear.com/compatibility