Gay and Wally M. of Belleville, IL were named Cochlear Volunteer Lifetime Achievement award winners at the eighth annual Cochlear Celebration event held last month in Nashville, TN. Gay is a Cochlear implant recipient and wears an off-the-ear CochlearTM Kanso® Sound Processor and Wally, her husband and biggest supporter, pay it forward by helping others dealing with hearing loss.
The Volunteer Lifetime Achievement Award is given to a volunteer or volunteer family who has made significant contributions to Cochlear's mission, day in and day out, for 10 years or more.  This award is a very special one, as it demonstrates how our commitment to recipients translates to Cochlear volunteers' commitment to helping others.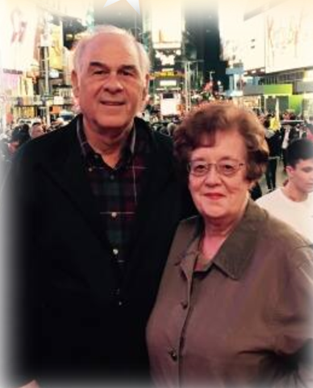 Since 2007, Gay and Wally have been very involved in the Cochlear community. They've spent countless hours mentoring candidates and their loved ones; speaking to audiology classes; and serving as clinic mentors. They have also volunteered at senior fairs and graciously participated in Cochlear marketing campaigns.  Their local Engagement Manager says, "Gay and Wally step up and are willing to help out in every way.  They always say 'yes' when asked to help, and both are willing to share their hearing journey stories."
Sharing Our Experience
Today, when Gay speaks with others considering a CochlearTM implant, she shares how she felt being told there wasn't a solution to treat her hearing loss.  But instead of giving up, she continued to search until she found someone that offered her hope and a solution.  Wally shares from the perspective of the spouse and family, providing understanding and support to loved ones experiencing some of the same things he and his family experienced along the way too.
"When Gay lost her hearing at age 58 and hearing aids did not seem to help, our world started to get smaller since Gay couldn't hear that well at social activities," Wally said.  Once she received her Cochlear implant, we were back and living LIFE!  "There is nothing that we do not do, including movies, eating out and attending our grandson's activities."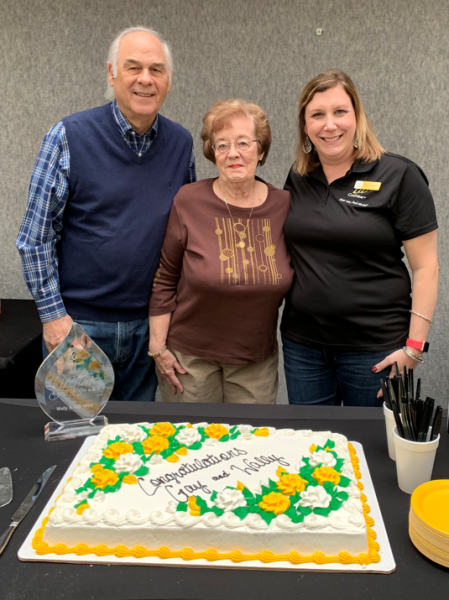 "We want to make sure that others know that they have an opportunity to restore one of their primary senses and can enjoy life again," they said.
About Cochlear Celebration
The annual Cochlear Celebration event is centered on helping people make the most of their Cochlear device and is always filled with fun activities for families from all across America. Gay and Wally have attended six of the eight Cochlear Celebrations. They love meeting other recipients, sharing their joys, challenges and personal triumphs and learning new ways to improve hearing performance. Gay and Wally enjoy attending breakout sessions about Cochlear products and services, and participate in various events held throughout the weekend.
"One of our favorite parts of Cochlear Celebration is getting to hear about and meet the Scholarship winners.  The recipients are truly outstanding. If the scholarship session does not bring a tear to your eye, nothing will!"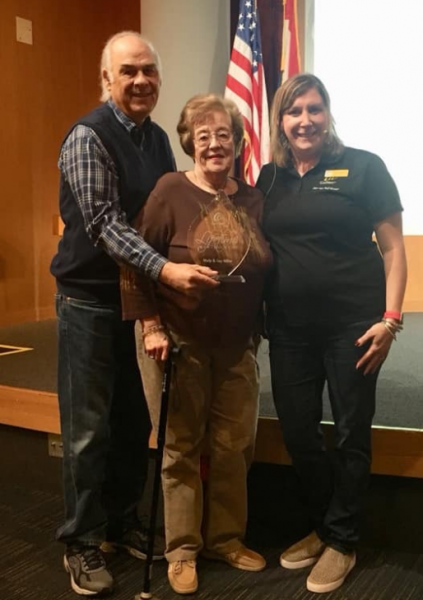 Life with a Kanso®
Gay likes the simplicity of her off-the-ear Kanso® Sound Processor. "I put it on in the morning and it stays put the whole day!" she said. "I very seldom use my remote or change my programs on my Kanso. I prefer the automatic features of the SCAN technology rather than manually having to change the settings using my remote."
The SmartSound® iQ* with Scan technology enables Gay to automatically and easily adapt to a changing hearing environment. "SCAN allows me to hear more clearly and fully in any environment," Gay said.
When they're not volunteering or spending time with their grandson, Gay likes to play tennis and does arts and crafts and Wally enjoys playing golf. Wally said, "The Cochlear implant allows Gay to be more independent. She doesn't miss out on anything at all."
Interested in volunteering with Cochlear?  Visit the Volunteer Hub located in your Cochlear Family account to learn more.
*It is recommended that SNR-NR, WNR, and SCAN be made available to any recipient, ages 6 and older, who is able to 1) complete objective speech perception testing in quiet and noise in order to determine and document performance and 2) report a preference for different program settings."