Lori O., a Nucleus® 7 recipient and Cochlear volunteer, and team captain for the Michigan Walk4Hearing last spring, shared what the HLAA Walk4Hearing 2019 means to her and what drives her to be a passionate Cochlear volunteer.
Building a passion for volunteering in the community
Since my teenage years I've always been passionate about volunteering.  I believe it is my life's calling.  Being a volunteer for Cochlear, along with other local community organizations, has fulfilled my life in ways that cannot be put into words.  And volunteering at the HLAA Walk4Hearing 2019 was just another call I answered to help others.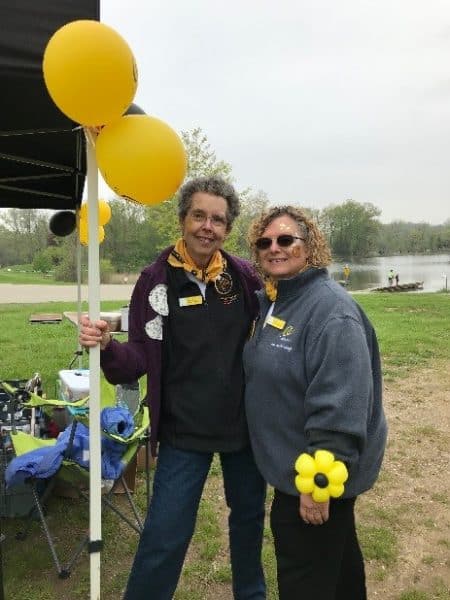 My first volunteer opportunity after I received my Cochlear implant was at the Hearing Loss Association of America's (HLAA) Michigan Walk4Hearing.  There, I met a wonderful woman who was a Cochlear volunteer, Margo K., who received her Cochlear implant in the late 1980's and volunteered for the Walk4Hearing for many years.  Her cochlear implant knowledge and enthusiasm that she so generously shared inspired my commitment to volunteer with Cochlear at the HLAA Walk4Hearing and other events.
Cochlear implant created a new world of sound
When I became a candidate for a cochlear implant due to many years of hearing loss from an autoimmune inner ear disease, I didn't know anyone else who had a cochlear implant. Luckily, my ENT was wonderful in explaining the process of receiving a cochlear implant, but I didn't have the opportunity to talk with anyone who was a recipient.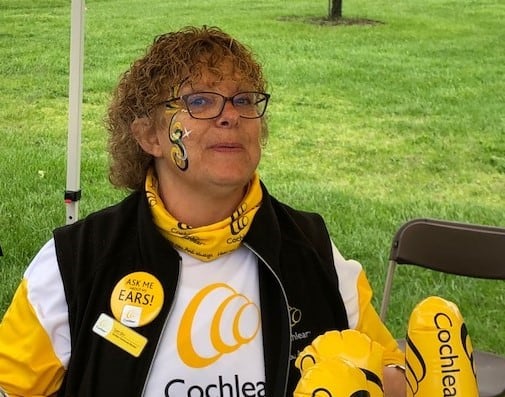 In July of 2012 this wonderful technology brought me back to the land of the living, the world of sound and a new found love for this noisy world we live in.  I was ready to pay it forward and provide support, encouragement and guidance for those people, like me, who were not acquainted with anyone with a cochlear implant.
"I knew that becoming a Cochlear volunteer was what I was meant to do."
Now, with my Nucleus® 7 Sound Processor, I feel comfortable helping others on their hearing journey whether they are considering a cochlear implant or want more information on cochlear implant accessories.
Stepping up to be a team captain at the HLAA Walk4Hearing 2019
After my first Walk4Hearing I've been to every local Walk4Hearing since! As the beginning of each year rolls around I begin promoting the walk with anyone who will listen.  I share with them what the Walk4Hearing is all about and the importance of spreading awareness through walking, or just attending to show support for those with hearing loss.  I encourage everyone, with or without hearing loss, to attend a walk near them and help raise awareness for hearing loss and hearing health.  My son, granddaughter, other family members and friends attend the Walk4Hearing with me. Everyone benefits by supporting others while enjoying some exercise.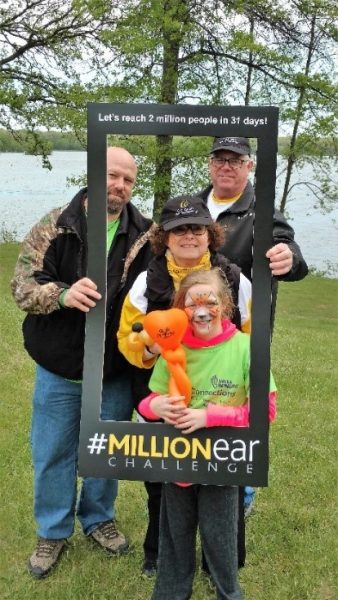 To me, volunteering at the Walk4Hearing means sharing my story and helping those with hearing loss realize that there is hope for bringing back the gift of sound.  I feel I've made an impact on those with hearing loss as well as their loved ones.  Oftentimes that one brief encounter isn't enough to answer all of their questions, so I routinely share my Cochlear volunteer contact card so they can reach out to me if they would like more information.
You don't go through your hearing loss journey alone
As I share my story I also stress that it's not just my story.  My hearing loss affected everyone close to me.  All the frustration, anger, withdrawal from social activities, denial, and feelings of hopelessness are shared by all those around us.
"For me, it is important to let others know they are not alone."
I have learned to work as a team alongside my husband, for his story is just as important as mine.  He can relate to the loved ones of those with hearing loss, letting them know that even though it can be difficult, there are solutions that make a world of difference.  He attends every event with me because he wants the loved ones of those with hearing loss to know that he is there for them too.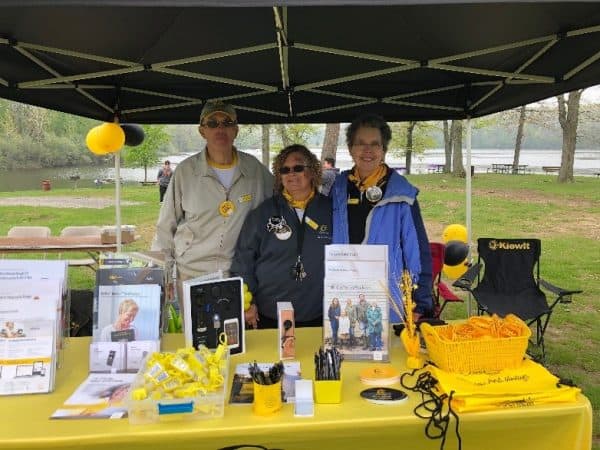 For those who struggle with hearing loss but are reluctant to address it, the best advice I can give is that there is nothing to lose and everything to gain when you take that leap of faith and have a hearing evaluation.
I encourage you, along with your family and friends, to join Cochlear at the Walk4Hearing to spread awareness and show support for the hearing loss community and for everyone who cares about their ears!
Join Cochlear at a fall HLAA Walk4Hearing 2019 near you! Visit the links below to register for the Cochlear walk team in your community.
2019 Walk4Hearing Fall Walks
NYC Walk4Hearing – September 22: http://hlaa.convio.net/goto/CochlearNYC
Chicago Walk4Hearing – September 28: http://hlaa.convio.net/goto/CochlearChicago
Buffalo Walk4Hearing – September 29: http://hlaa.convio.net/goto/CochlearBuffalo
San Diego Walk4Hearing – September 29: http://hlaa.convio.net/goto/CochlearSanDiego
Houston Walk4Hearing – October 5: http://hlaa.convio.net/goto/CochlearHouston
New Jersey Walk4Hearing – October 13: http://hlaa.convio.net/goto/CochlearNewJersey
North Carolina Walk4Hearing – October 13: http://hlaa.convio.net/goto/CochlearNC
Washington DC Walk4Hearing – October 19: http://hlaa.convio.net/goto/WashingtonDC
Pennsylvania Walk4Hearing – October 20: http://hlaa.convio.net/goto/CochlearPennsylvania
New England Walk4Hearing – October 27: http://hlaa.convio.net/goto/CochlearNewEngland
Arizona Walk4Hearing – November 2: http://hlaa.convio.net/goto/CochlearArizona
Kentucky Walk4Hearing – November 2: http://hlaa.convio.net/goto/CochlearKentucky