Join us in congratulating Tom R. of Palo Alto, CA, for receiving the 2018 Cochlear™ HearO of the Year Award! The HearO of the Year award recognizes significant contributions to Cochlear's community outreach and engagement efforts.
Our volunteers truly embrace and embody Cochlear's mission. They empower others by instilling confidence to advance their hearing experience. In addition, our volunteers transform lives by spreading awareness about hearing loss and by changing the perception of how hearing devices can impact one's life. Our volunteers similarly find innovative ways to connect with others and support them on their hearing journey.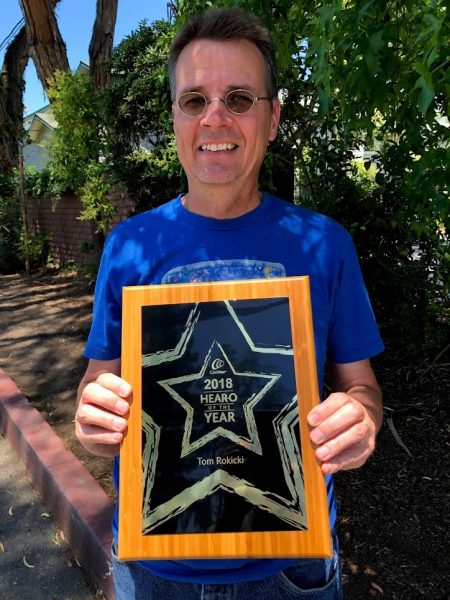 Through Tom's outstanding volunteer efforts, he has made significant contributions to his community. "I am humbled to be chosen from such a large group of wonderful volunteers, many of whom I have had the pleasure of meeting over the years," Tom said. "It inspires me to increase my efforts and help more people."
Northern California Engagement Manager Rachel Tempesta, said that Tom has been one of her most engaged volunteers for the past five years. He is active on social media, attends all Community Chapter Meetings, participates in office hours and independently meets with candidates and recipients. Local clinics know Tom and feel comfortable sending their patients to him.
"He really is an amazing asset to our community," Rachel said. "Tom is very tech savvy, and displays great patience when working with recipients who are struggling to use their accessories, smart apps, or want to maximize their MiFi capability."
Tom describes himself as a "full time geek." He loves the Made for iPhone12 technology that allows for direct streaming to his Nucleus® 7 Sound Processor.
"It's by far my favorite feature. Phone calls are clear and easy. Music and audio books stream wherever and whenever without needing to keep another device charged and on me."
Giving back through volunteering
Tom expressed that the best part of volunteering for Cochlear is the opportunity to pay it forward.  "My cochlear implants have enabled me to do so much more than I could with hearing aids.They allow me to participate in events and relationships that would have been otherwise impossible. I seek volunteer opportunities so more people can benefit from this incredible technology and live their lives to the fullest."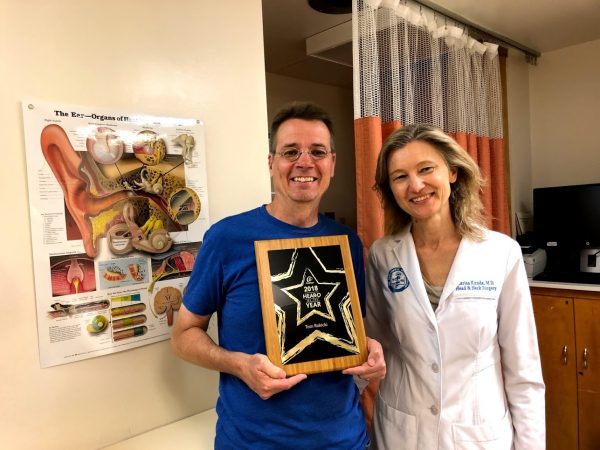 In addition to volunteering with Cochlear, Tom also volunteers at mathematics festivals to share his love of math with children. He teaches kids how to solve the Rubik's cube at local libraries and also likes traveling, trying new restaurants, and going to concerts and the theater.
When asked what is the one piece of advice he tries to convey to someone inquiring about or considering a Cochlear implant, Tom responded with "don't wait!".
"Every day you delay is another day of frustration, of avoiding social engagements, and missing out on so much life has to offer." Tom says, "I love conversing with people just starting their journey to better hearing; their worries and hopes often mirror my own experiences. It is gratifying to be able to encourage them and see them do well!"
Congratulations Tom on your well-deserved award!
If you're like Tom and love attending concerts and listening to music, check out Bring Back the Beat, a fun learning app that helps people with Cochlear implants develop their listening skills and regain the joy of music.
The Cochlear Nucleus 7 Sound Processor is compatible with iPhone, iPad and iPod touch. For compatibility information visit www.cochlear.com/compatibility
Apple, the Apple logo, FaceTime, Made for iPad logo, Made for iPhone logo, Made for iPod logo, iPhone, iPad Pro, iPad Air, iPad mini, iPad and iPod touch are trademarks of Apple Inc., registered in the U.S. and other countries. App Store is a service mark of Apple Inc., registered in the U.S. and other countries.