Cochlear implant and Baha® Sound Processor recipient, Tiffany, admits that the holiday season can bring sensory overload sometimes. She shares her recommendations to enjoy hearing during the holidays and experiencing the delight of the gift of sounds. Read Tiffany's recommendations here:
"Oh, the gift of sound!
Sound, to me, is the spice of life during the holiday season.
Conversations with loved ones gathered around the holiday table, holiday music, children laughing, more holiday music and the crackling of a cozy fire. Yes, please!
The sounds of the holidays are music to my ears, more now than ever before in my life. As someone who experienced sudden hearing loss, I reflect on how lucky I am to be re-gifted with sound thanks to the progressive ingenuity of my cochlear implant (CI).
Reflection on the ability to hear during the holidays
The holiday season always sparks deep reflection in me for all of my blessings. At the top of my list, is being able to hear again!
The implantation of my CI in September of 2022, marked a rebirth for me. Once again, and this time for always, I was re-gifted with human connection, conversational intimacy, enhanced personal safety, and emotional healing that came from rejoining the conversation.
Hard-of-hearing or not, I hope my words ignite gratitude for all the 'gifts' we oftentimes take for granted that allow us to indulge in the sensory explosion that is the holiday season.
For instance, the gift of scent as we take in notes of pine in the air whiffing the Christmas tree. The visual feast of brightly lit homes and front yard displays. The taste of rich eggnog sipped out of a peppermint candy straw. The sound of holiday hymns that we can't resist singing along to. The feel of my ultra-soft cashmere sweater. The 'gifts' that enrapture us and invite a deeper meaning of what the holiday season truly means.
As we step into the hustle and bustle of the holiday season, let us honor the gift of sound and safeguard it in equal measure. The holidays can be tricky for our Cochlear community with so many competing sound components. There is a lot of extra auditory work to keep up with! The anticipation of added auditory pressure can take a toll on us, and if not careful, find us wiped out with auditory fatigue even before Christmas Eve.
Tips to make the most of the gift of sound
Because we can't think in noise, we need to implement and ritualize silence into our daily routine. When things start moving too fast, this is when we need to consciously slow down and 'sound off' so we can return to all the good stuff.
Here are a few tips to consider that have worked for me:
Ritualize silence. Even if it's only 15-30 minutes of silence, take the time to remove your sound processor(s) and quiet your head. There are many ways to seek out silence and stillness. For me, it's called the 'Golden Hour.' Whether I fall asleep or not, I remove my CI and my Baha Sound Processor and gently place them in a beautiful coconut bowl on my nightstand. I thank them for keeping up with me all day, then light a candle, throw on a sleep mask, cozy up in my weighted blanket and slip away for 60 minutes. It's a non-negotiable. Once restored, I can't reach fast enough to put my devices back on and return to sound on!
Indulge in JOMO! Believe it or not, my hearing loss does not have me in a constant state of FOMO (fear of missing out). JOMO, the joy of missing out, is a much better description. In fact, I can honestly say I am grateful for my hearing loss win!
As someone who struggles with sensory overload, the sound-off option has been a sanity saver in many airports, overly loud restaurants, during sleep and prayer, in times of concentration and during deep soul dives. Sound-off has gifted me with a new personal boundary protector. When I climb into bed at night and remove my CI, my entire world stops moving. It is in these quiet moments with myself at night that I find restoration. We get to access the gift of silence anytime we choose. We are unicorns in this way! This is not a loss, it's a win! It is a superpower.
So as we enter the holiday season, let us be mindful of our auditory thresholds and reframe our pace so we can delight in all the sensory blessings the season has to offer."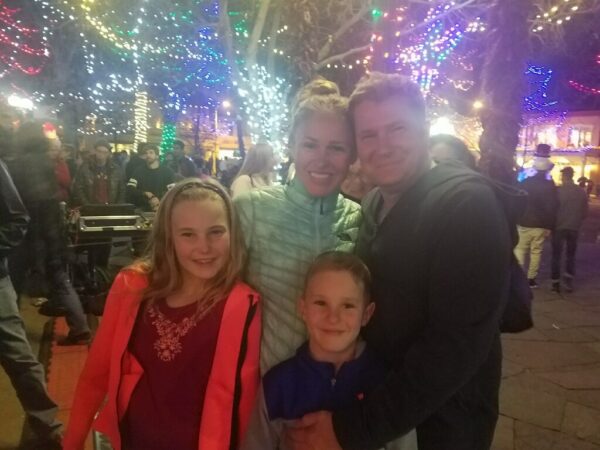 By Tiffany Storrs, Author of Adaptability, a true story about transforming pain into purpose.
To learn more about Tiffany's hearing journey, and how hearing implants can help you embrace the gift of sound read her story today!