Stephen K. has been a longtime Cochlear volunteer. Through his mentoring efforts he's found great satisfaction in being able to help people along their journey, one that he's already been on as a Cochlear implant recipient. Learn more about Stephen's volunteer efforts below, and if you're a cochlear implant candidate looking to connect with a mentor, visit our Cochlear Connections page.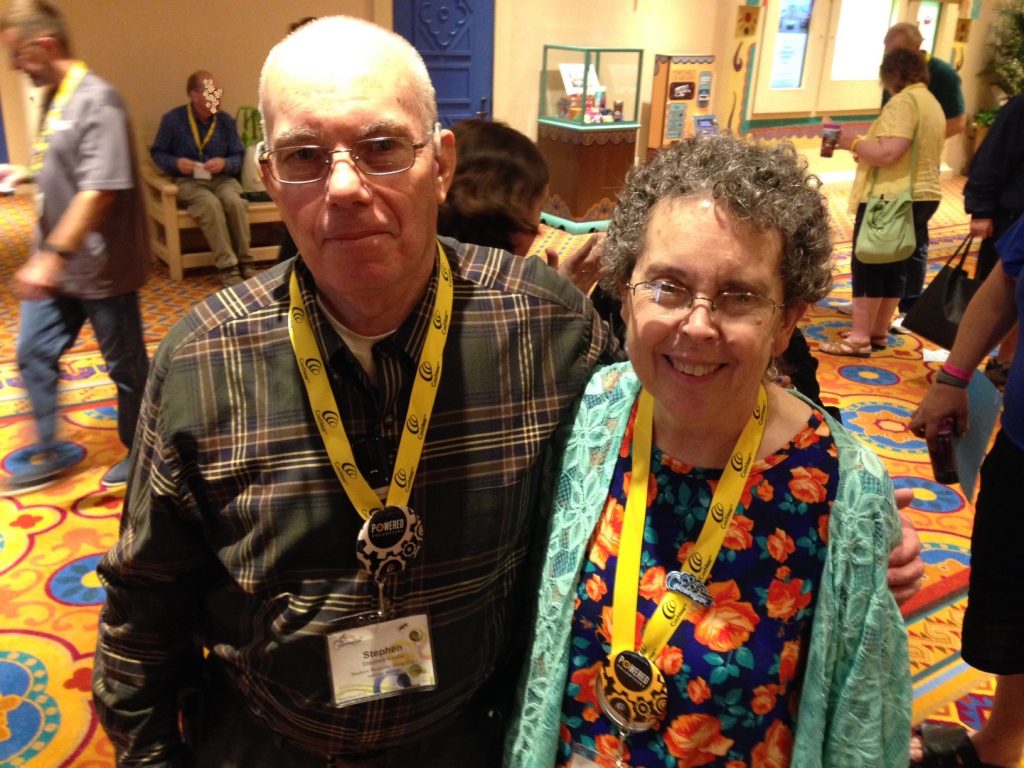 "Not too long after I received my cochlear implant (CI), Margo Klug, a longtime Cochlear implant recipient, and I became acquainted and we became friends. She is also a longtime Cochlear volunteer.
There were some large Cochlear public forums being held in our area, and the Cochlear volunteer manager needed some extra help. Margo contacted me and asked if I could come and help.
Margo is such a caring and sweet individual you can't say no to her, so I went to the event and helped people get signed in, gave directions to the room, etc.
I guess Margo was doing some training, and I did not realize it. When the meetings started, I observed how the people interacted with the Cochlear volunteers and vice a versa. It's a pretty awesome thing.
Margo and I became co-leaders of a Hearing Loss Association of America cochlear implant chapter in Michigan for a while.
I received my cochlear implants through the Veterans Affairs (VA) health care system. I have been very fortunate to receive outstanding care through the VA, and I have a patient support system that those with cochlear implants in the private sector would love to have. I really appreciate the support that all of the people in this country have contributed to provide for veterans.
So my becoming a Cochlear volunteer was a way to pay it forward – for what I had received and will receive in support of my quality of life.
Getting a Cochlear implant or the Baha System is a process of many steps. There is so much to understand. By being a mentor you can take your acquired knowledge of the process after going through it yourself, plus the training that Cochlear gives you and impart it to the person going through the process, thereby making it easier for them.
Some of the people I've had the pleasure of meeting along their journey include:
A couple who is part of our local Cochlear Community chapter had met me at a Hearing Health Seminar several years ago, and upon talking with me, the wife made the decision to be implanted. The couple came up to my wife a few years later to tell her that I was the reason she started on her CI journey. She is now bilaterally implanted, and they both are Cochlear volunteers.
We stopped to visit a couple in Virginia while my wife and I were on vacation this fall in the state. I'd been mentoring the husband, and I spent time with him going over his kit, the True Wireless accessories and getting better acquainted with he and his wife.
In my state, I did some mentoring of a Korean War veteran who became a great friend of mine. I gave him information and connected him with a veterans counselor who got him enrolled in the VA health care
I have talked to people in restaurants, grocery stories, a dress shop, a used book store in Alaska while I was on vacation, several times in an airport when somebody had a question as someone they know were or was just implanted, or someone they knew had a hearing loss and they wanted to know more.
No matter what capacity or where we met, it gives me great satisfaction knowing I have helped so many people. I have received many positive comments that they were glad I was there for them, and I'm glad people were there for me too."
If you're interested in hearing implants and connecting with someone who has experienced a personal hearing journey similar to yours, click here.