Camping, surfing, and helping recipients like her hear their best motivates and challenges Kate. After 10 years at Cochlear she shares her story of hearing loss and a few things she's learned along the way.
Where are you located?
I live in a beautiful little village called Shoal Bay, in Port Stephens, New South Wales, Australia.
Where did you grow up?
I grew up in a small town on the edge of the Australian outback called Dubbo, which means "Red Earth" in the local Aboriginal language.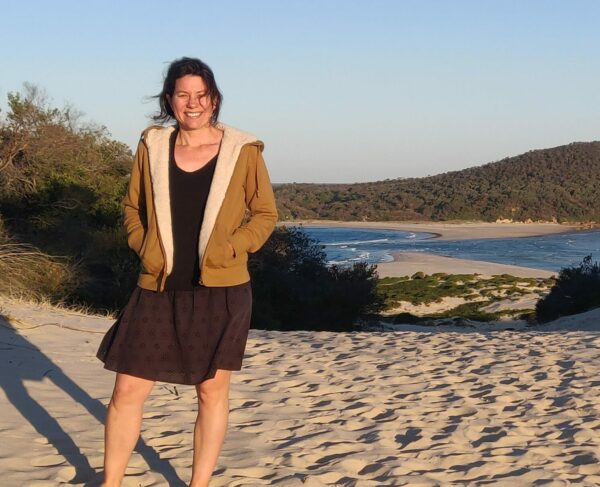 How long have you had a hearing loss and do you know what caused it?
I was officially diagnosed with a mild to moderate sensorineural hearing loss when I was about 11 years old, and it was a slow steady decline until I had severe to profound hearing loss by the age of about 21 years old. I didn't really know about cochlear implants. I got my first at 29 years old, and the second only four years ago.
How long have you been at Cochlear?
I started working at Cochlear in October 2012. Wow, ten years!
What do you do at Cochlear?
I work in the Global Strategic Marketing department, in the Upgrades Enablement Team, so my focus is trying to help recipients understand that upgrading can be a part of their hearing journey for the rest of their life. Many people don't even realize they can upgrade their external sound processor without the need for further surgery.
What has been your highlight of working at Cochlear?
Traveling to Japan to meet the Cochlear Japan team and touring some cities and universities and hospitals to introduce the Japanese people to the Nucleus® 7 Sound Processor when it was launched. It was amazing to meet cochlear implant recipients from Japan and to realize we had the shared experience of hearing loss, even though we didn't share language or culture.
What sound processor/s do you have?
I have a Nucleus 7 Sound Processor on both sides. I also have the Kanso® 2 Sound Processor, which I like to wear when I feel like having a change, and my Nucleus 6® Sound Processor which I use at night, ready for whipping on when small children come to me in the night asking for things! Or for listening to late night meditation when I can't sleep. Each time I upgrade my sound processor, I keep my old ones for these sorts of useful things.
What are your interests outside of work?
I love camping – I've got an awesome VW two-tone Kombi campervan. And I love surfing – I've only just taken it up as a hobby/sport, since we moved to this stunning part of the world last year. I live right near the beach. I have recently bought myself a surfboard, which I can now stand up on, and catch waves. I got advice on surfing with my cochlear implants from our Australian pro-surfer Andy King.

Any fun facts?
In 2009 I was recognized with a Human Rights award in Australia for my work in fighting for better captioning for deaf people, and audio description for blind people, on TV, at movie theaters, and on DVDs in Australia. At the time, it was really patchy, and often there would be no captions at all for hours, even on the news on TV. It was awful.
I'm married with two kids and a German Shepherd dog – and here's a hilarious photo that my kids particularly love of me and the dog – who looks very worried indeed.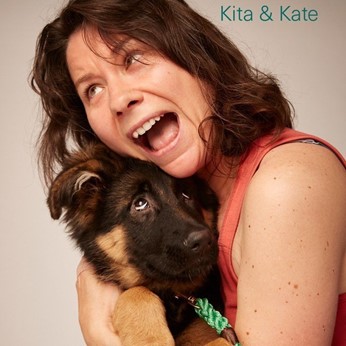 Best "advice or tip" for other recipients?
My advice to other recipients is take advantage of the upgrades offered by Cochlear, and keep your old sound processors for things like camping, swimming (with the Aqua +1 of course), and as an emergency back-up.
Interested in upgrading your cochlear implant sound processor? Learn more here.